AS SEEN ON THE HUFFINGTON POST:
Once Upon a Time in the land of Highland Park, if you don't know where that is, it is in Northeast Los Angeles on the west side of the Arroyo Seco. This neighborhood has gone through an abundance of changes over the past 20 years, yet it has kept its original flavor and family history without becoming too gentrified. Perhaps that is because there is still a bit of gang activity, but nothing like it was before the mid 1990s.
Since then, artists of all stripes have made it their homes and low-rent studios. But as the story goes, this is exactly what proceeds gentrification. Whether long term or for a short time, artists inevitably find many of our LA neighborhoods for what they are: gems, before the poor and the artists are squeezed out to make way for Starbucks and Banana Republic. But not just yet in the area around Figueroa and Ave 50.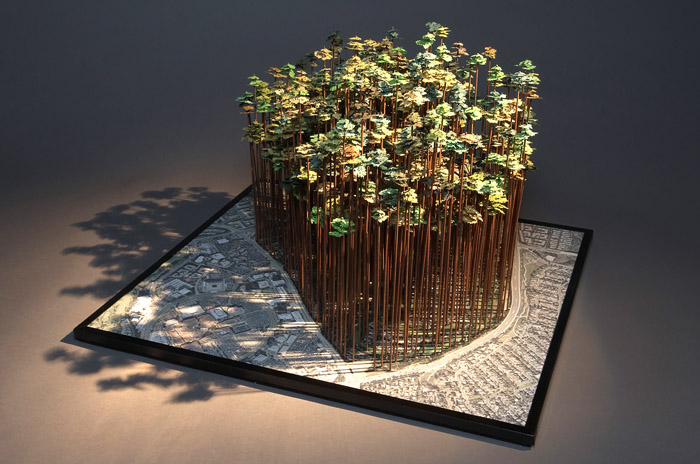 Enchanted Forest (and golf course) by Kim Abeles.
About 13 years ago, Kathy Gallegos founded Avenue 50 Studio. A social, cultural, and political activist for most of her life, Ms Gallegos has helped Avenue 50 Studio sponsor over 300 events as a source of cultural responsibility. She recently approached award-winning artist, José Lozano, to curate a show at the gallery. In his own words, José's ideas for the exhibition, Seven Beauties, were:
I had the phrase seven beauties in my mind for a while when I was approached by Avenue 50 Studio to curate a show. I know seven beautiful female artists whose work is spiritually and intelligently beautiful, and whose work I really admire. These are disciplined artists producing very wonderful art. My first choice was Kim Abeles who is my mentor. She was the professor at Cal State Fullerton who directed me toward the artist I am today. It's an honor to have her in the show. This is not a feminist show. It's just art done by women. Many different approaches and sensibilities run through this exhibition. It shows where women artists are at today in the making art in Los Angeles.
José Lozano is also exhibiting small portraits of each artist in this show and these are just wonderful. I thought they were truly great additions to the exhibition and brought the whole thing together to make it more meaningful.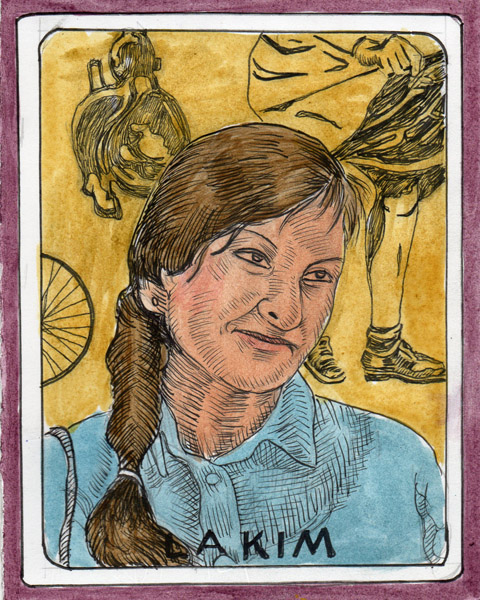 Kim Abeles by José Lozano.
The other excellent artists in the exhibit include: Leigh Salgado, Rochelle Botello, Poli Marichal, Stephanie Mercado, Linda Arreola and Lili Bernard.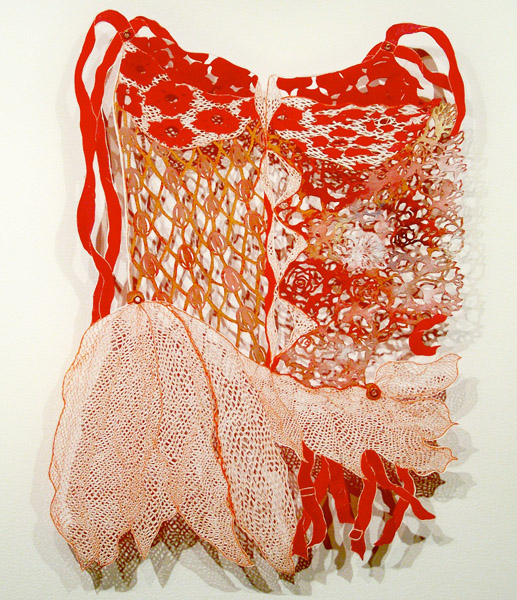 Daylight Savings by Leigh Salgado.
I went to the opening on Saturday, May 11, 2013. Much fun was had, and I have to say, when most galleries in Culver City, Beverly Hills, and Santa Monica are having their own opening nights – of which I have been o'plenty – none of them have ever held a candle to what I saw at Ave 50 Studio's amount of hors d'oeuvres and wine, and variety, plus mojitos. Spectacular! All of you prestigious galleries: learn yourselves something.
During the course of the show, which runs until June 2nd by the way, the gallery will be screening the film, "Seven Beauties" by Lina Wertmuller. Participating artist, Poli Marichal, will lead a discussion on how the movie relates to feminism paralleling and modifying the present day. More information on this screening will be forthcoming, so you can still see the show and participate in this upcoming event, which should be quite interesting.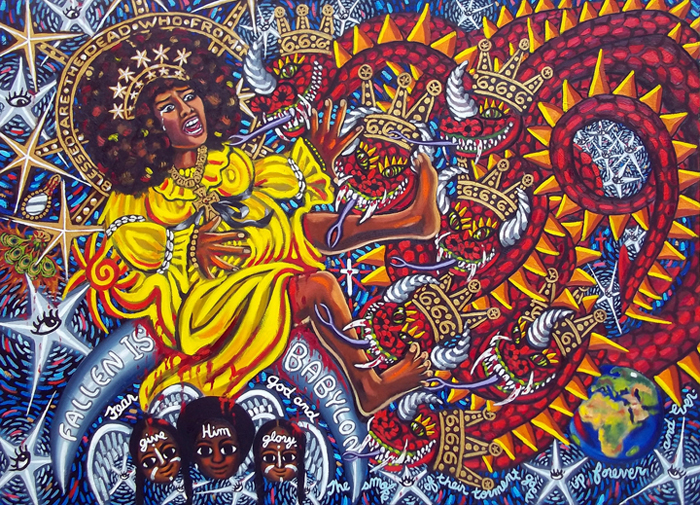 Blessed Mother and the Dragon by Lili Bernard.
The opening reception was absolutely packed and it seemed like more than 10 different people were taking photographs with expensive cameras. I have a feeling I'm going to wind up on Facebook with my eyes in a half-blink between a couple of these great looking artists, a few of whom I know very well. Had I known I was going to wake up today and write about this show, I would have brought my own fancy camera so I wouldn't be hunting down all the artists down today for images.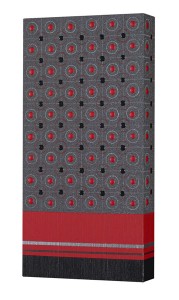 Agnes by Linda Arreola.
Now, even though I had good friends among the crowd with their original art hanging along the walls, I have to be honest about my very favorites that stood out for me – without playing favorites. You get me?
Rochelle Botello, who usually produces sculptures with colored tape and cardboard, or rather, more like installations, since they really are temporary constructions. Most of them are destroyed after they are exhibited and documented. Here, she has created two dimensional pieces with basically the same media. They are framed as 2D art and hung on the wall, akin to abstract paintings and (hopefully) not temporary at all.
This was something new for her and in some ways, I preferred it. Actually, I can't make up my mind. I might miss the absurdity of her installations. Those play with my dark sense of humor and I understand them easily, and now, this new work is a challenge. It's contemplative, and a new side of the artist I have never known. Her 3D is at times contemplative as well, and so I wonder if, like her drawings, if she could accomplish the same balance with only tape and paper.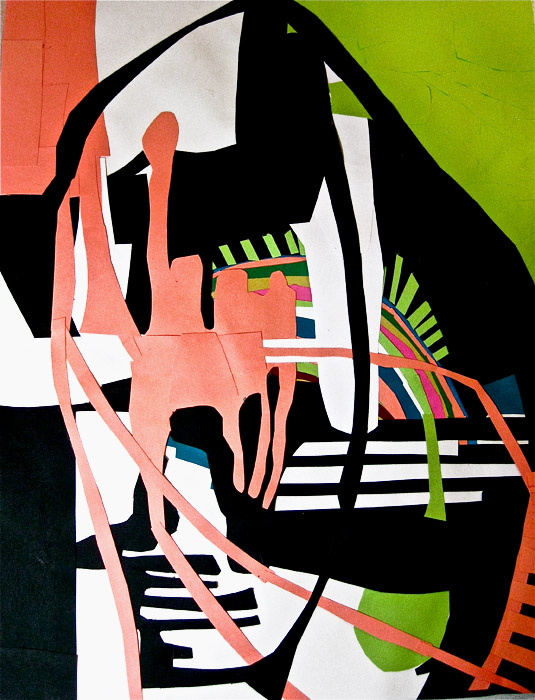 Kiss Off by Rochelle Botello.
Stephanie Mercado – she took over my old studio in Highland Park – has been outrageously prolific, cranking out seemingly a dozen amazing artworks at a time. Whether they are paintings, etchings, or dry points(?), she's mastering her crafts quickly and the subject matter, floating on water or not, is beautiful and brilliant! I can easily spot her work from across a 100-foot room and my eye sight sucks ass! She has come into a singular vibration that can not belong to anyone else even if they studied for their Masters in "Mercado." It's a kind of Raphael effect.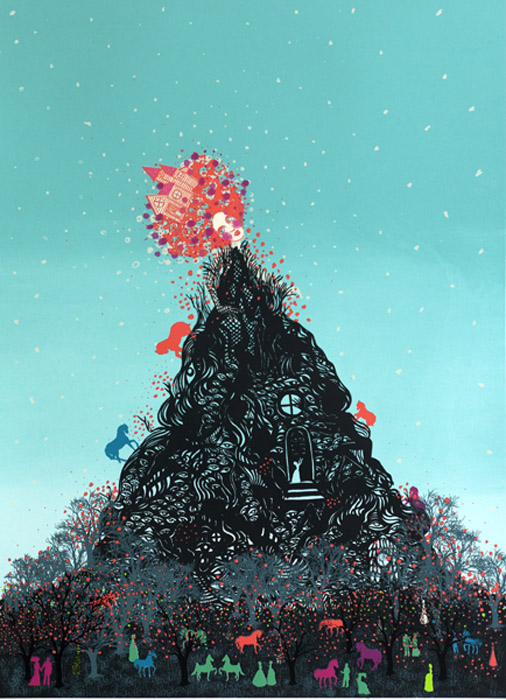 Untitled silkscreen print by Stephanie Mercado.
Now, just because I had favorites in the show doesn't mean the rest of you chickies didn't make me swoon and soar, ooh and ahh. You did. But you always do.
Seven Beauties is a MUST SEE! (Through June 2, 2013.)
Oh, and don't miss out on the little exhibit in the annex room by Frank Gutierrez called "Explain Yourself." Very cool, colorful and interesting paintings.
Avenue 50 Studio, Inc.
a 501(c)(3) non-profit arts presentation organization
131 North Avenue 50, Highland Park, CA 90042
Ph/Fax: (323) 258-1435
email: ave50studio@sbcglobal.net