I've been taking it "easy" this weekend by not over working. I spent some time with my nieces yesterday, along with my brother, but we didn't end up doing quite what be planned on doing since I got a flat tire.
The weekend of May 31st/June 1st, or nearby it, is significant to us because it's my dad's birthday, near Memorial Day (He fought in WWII), and the next day is my Parents' wedding anniversary,  and also the anniversary of the day my mom died. So my brother and I make sure to see each other around that time.
We usually go to their grave site. They are buried at Forest Lawn Hollywood Hills and it's in one of the older, nicer areas. There's a giant tree there in case it's hot. It's a nice place to have a picnic, which we'll do sometimes. Because of the flat tire thing, we skipped it and didn't get a chance for all that, but maybe later next week. We'll see.
His family was also having a yard sale that day. They are desperately trying to get rid of stuff and clear things out to make room for the kids they are  trying to adopt. The status on that, for those of you that are curious: it's been moving along, but slow-going. My brother and his wife are starting state-appointed classes for the next seven weekends, and a Home Study has been initiated by the state of Alabama through the interstate-whatchamacallit-bureaucracy-BS. That means that LA County Comes and does visits to their home, interviews the family, checks to see if there's poison under the sink, etc. and generally gets them ready to be appropriate foster  care providers.
Once they're approved, it's just a matter of the judge handing them over. Then  they can make adoption proceedings once they are living in the house.
Why do we have to do all this when we are family? Don't even get me started!
Anyway, I was going to talk about art, not family.
So, Last I left the underpainting sessions of the alef painting was like this: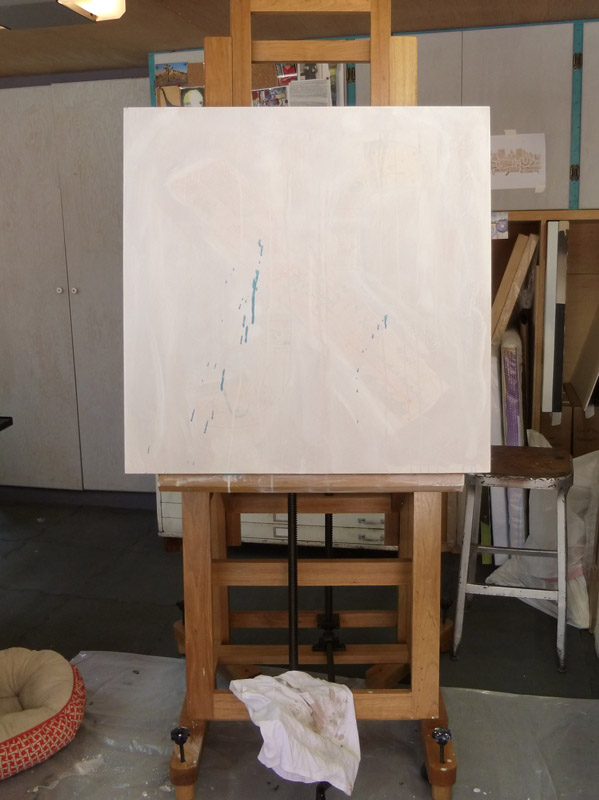 and I said that this was the last layer of translucent paint I'd use before I would start stitching it. But before I stitch it, I first have to take a pencil and very lightly draw the stitch marks on them. I didn't warn you about that part. Maybe because I forgot. But this is how I do.
Now, you may think I am doing all this the hard way, or being redundant, but just bear with me, or rather, don't give me any crap because this is just how I do it. It's a meditative process for me. I'm letting you into my studio here for Christ sake. Don't judge me. 😉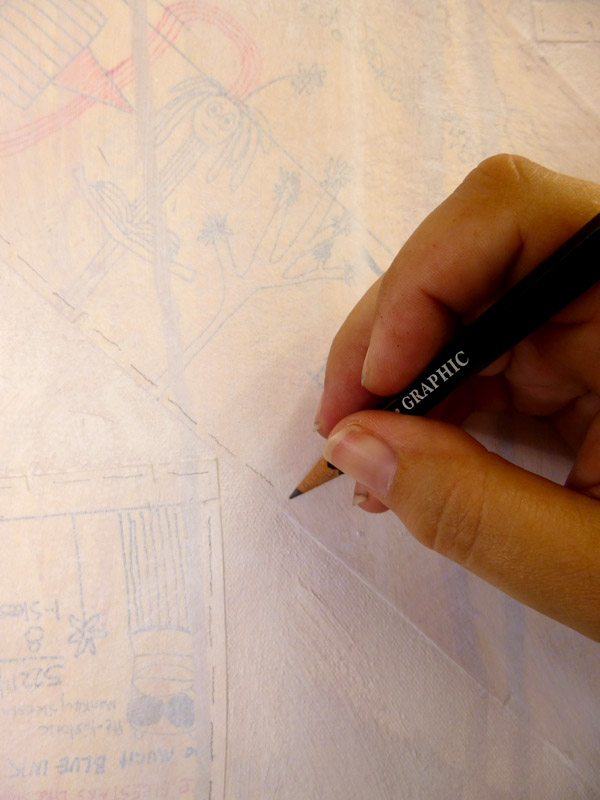 Once I make these little marks all around the edges of the patterns, I have to use a long steel push pin on the edges of each line.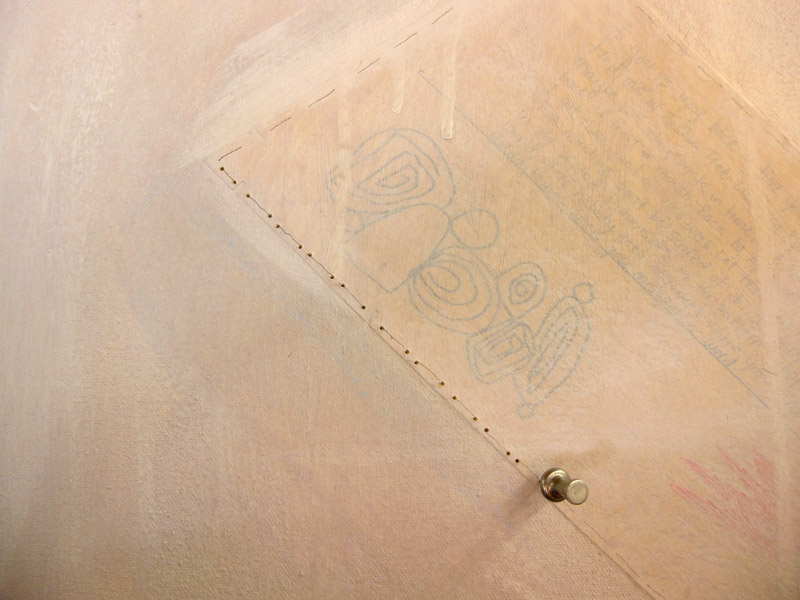 This is time consuming and sometimes it loosens the canvas just a little, but nothing that a spray of water can't fix. If you spray water to the back (or the front of an unused) canvas, it will tighten up when it dries.
I find that pushing this very push pin through the front like this, number one, punctures easier than anything else I have tried. That includes all kinds of awls, pins, etc. And it doesn't rip up the paper upon pulling it back out too badly. I mean, just the right amount really. It's nice to have a little of that puncture texture.
I mostly puncture both the top and the bottoms of the lines, so I can see where I am going from the back of the canvas.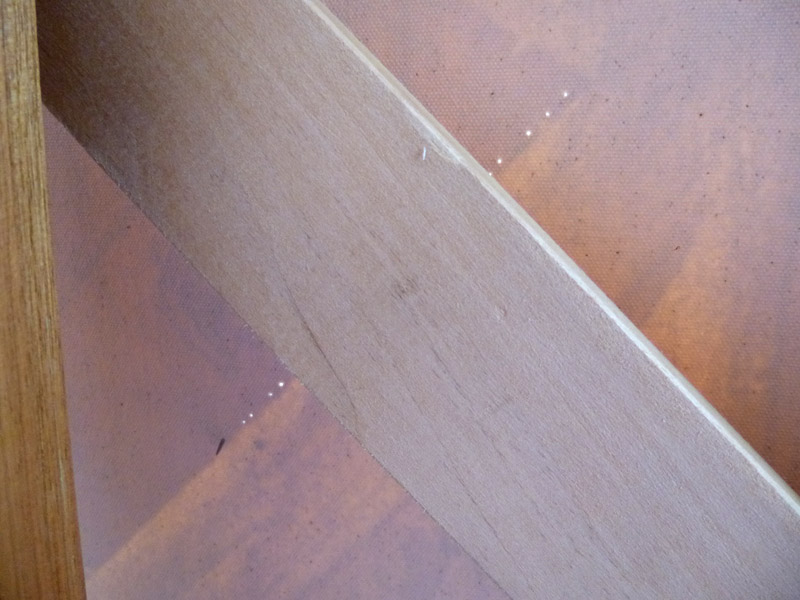 The light shines through the other side in all that shadow I have to work in back there. It's hard enough to maneuver around the stretcher/support bars (as you can see), let alone not having a big enough hole, or any hole for that matter. It makes the stitching from the back go so much faster because I can see what the hell is going on.
When will I start stitching? I have no idea. I haven't even finished poking holes. I just did a few so I could show you. It's hot out there and I'm not going to work today. I'm tired and sore all over. Not feeling my best, and tomorrow is full with non-art related business.
But the wheels in my head will be a-turnin'.