It's finally here. And I'm ready. Tomorrow I pack my car up for installation day. I'll leave at the crack of dawn the following morning, hoping to beat some traffic on my way into LA. 
According to the weather forecast, tomorrow will be the hottest day of this unruly heatwave out here in the desert at 105, but I plan to pack the car in the late afternoon. Otherwise, it will be too dark outside and cut into my bedtime. In any case, it's going to be hot as hell. It won't be fun. But it is what it is.
I'd been making more little drawings for the drawing wall up until yesterday, a few colored pencil ones to give a bit more color to the wall. Here's a couple of them: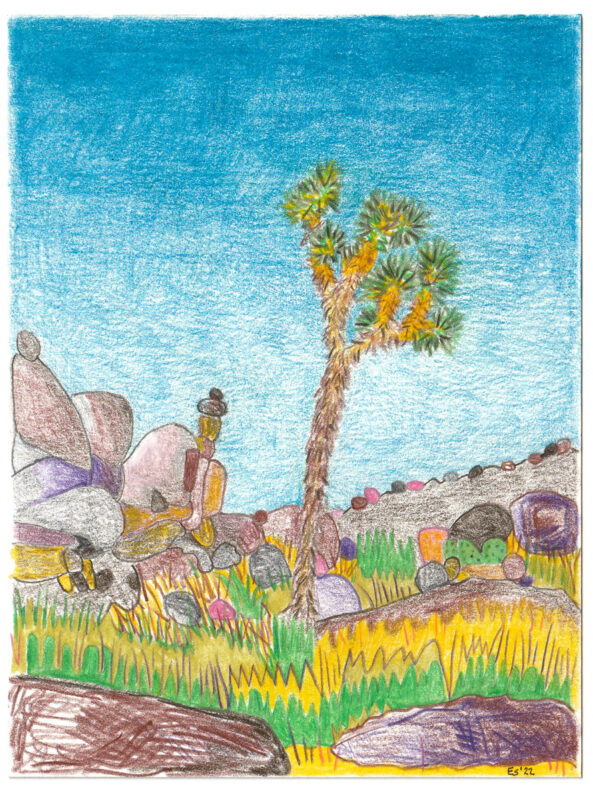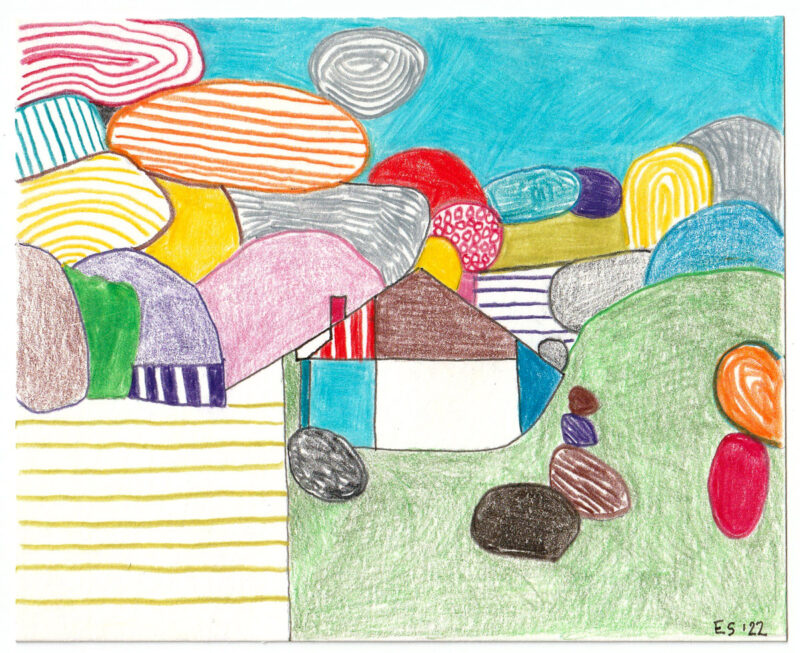 At this point, the work is all done now. (That's such a weird thing to say.) And today is my "day off." I'm to do this thing called "relaxing," whatever that is.
THIS LAND has been a year in the making, yet the artwork I've made for it didn't take that long. It mainly was the planning and all the other logistics. But that's all part of the cycle of creating a solo show. For me, anyway. 
These things only come around once every couple of years. They seem to take up every morsel of your being for about a year of that period. You conceptualize, work, plan, arrange, spend money, promote, and hope. Then comes installation day—the moment, or I should say my moment, of truth. It's the main reason why I'm doing it because that's when it all comes together. That's when I feel my great sense of accomplishment.
Maybe some artists are in it for the opening party, or even for the sales, but the reception is honestly the part I dread. I've always hated parties of any kind.
I recently talked to an artist friend about how we seem to conveniently get reception amnesia. If we didn't, would we really be putting all this effort into making these shows? Because it's seriously torturing for people who have social anxiety. I love putting the show up, no doubt. I just wish people could see it when I wasn't there.
At least the reception day is an excuse to be high. I couldn't get through it any other way. And I don't think I'd be able to remember those evenings whether I was high or not because I disassociate either way. The night becomes a blur.
I talk to a lot of people. Some are close friends. Some from long ago. Some are new people. Some say they have met me before, and I struggle to remember their names. Some say they read this blog, and I try to keep from feeling even worse anxiety over that. Some give me beautiful compliments, and I feel flattered and verklempt. I shake a lot of hands (ew!), and I try to talk above the murmurs in the room. My voice goes horse quickly and easily. I wait for the lulls, let out long sighs, and do what I can to go outside to get some air. It's a lot for an introvert, but I juggle the many tricks I've learned to seem like a "normal." If you are there, you'll see me do an award-winning acting performance in being present. Ha ha ha.
I am exaggerating, of course. I can't help but be genuine, even behind the social "on" mask. It's part of the artist's job, and I always do my best, but I suppose what makes me the most nervous is trying not to offend anyone and ensuring I am present in every conversation. It's probably just unnecessary pressure I'm putting on myself.
So, I don't do it for the party. And I don't do it for the money (if there's any to be had, that is). However, I'm really looking forward to installing the show and feeling the happiness that comes with it. I'll take pictures and videos. I plan on trying to do a time-lapse for the drawing wall. Hopefully, I can pull that off. We'll see.