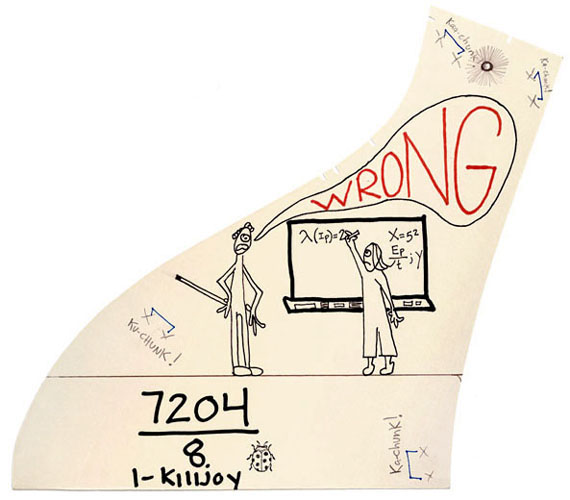 It's been a sad week with the death of Michael's mom, and I've been trying to keep busy as a means of distraction (as usual). I use my work like medication and always have. It's not easy though. It weighs heavily on my mind.
I just finished this large watercolor (22 x 30 inches), but not sure how I feel about it yet because I've been staring at it for weeks. After a while you go blind.
Which brings me to a bit of unfortunate news about my book. More mistakes!
I had a long conversation with an old drummer buddy of mine, Dave Mintz, and after him reading my book, he didn't point out any of the errors, but mentioned that I may have named the wrong person–a well-known drummer–in the book that I got mixed up with another well-known drummer. I talk about him filling in for me on a gig, and I can't believe I got that mixed up. I indeed named the wrong guy. How could I be so careless?
Well, I just so happened to be reading the first chapter, which I haven't looked at in months. I thought I would take a new look at it with fresh eyes–and not an editing eye–to see if I could actually enjoy it.
I thought wrong. I picked up so many little many mistakes (enough to be noticeable to me) that I thought I was going to die. How did this happen? There are still dropped words, un-closed quotes, superfluous commas, and the like. Some formatting issues as well. I wanted to pull my hair out.
I just need to say that the book went through a couple professional editors and proofreaders. I bought a text-to-speech program to make sure it read correctly. I feel like I covered all my bases. Maybe these little things aren't noticeable to most people, but, they were to me, and I do think they are noticeable to most people as a matter of fact. People aren't stupid.
I can forgive a couple tiny things, even in big-name, traditionally published books, but this was too much for me, plus I really do need to change that drummer's name anyway.
So here comes a second edition. I'm about half way through a thorough sweep. Most people will still be receiving the first edition of the book for a while because most book outlets are still stocked with that one, but eventually the correct one will hit the market one day. Either way, I'm going to hold off on any new promotional campaigns until I'm done with this file I'm now working on.
Since the launch, I need to pick it up. I fell way back on keeping up with promotion because of a lot of things, but mainly the move. I still love living here and we are put away, finally. I'm getting back to work, obviously, and I'd like to finish this book sweep so I can get back to the new writing pieces I was working on–the one about gender identity (I guess that is where it's going), and the book of short stories. Both will take a while, especially the short stories. I have a lot of them, but none are up to par yet.
Keeping up with social media is a real challenge for me, and I have to be very active there if I want to start getting readers, but it's so hard and overwhelming, especially to do all of them at once. There's Amazon, of course, then Facebook, Instagram, Twitter, Pinterest, ello, Medium, Goodreads, and I have to look into Wattpad, Fictionpress, and Smashwords to boot. Lots to do!
So I better get to it.