I've been falling back in love with the line. I mean it's been going on for a while now. I just haven't talked about it. I suppose I was embarrassed, or figured it would be boring. Who wants to hear about the simplicity of drawing?
For years I've kept my little moleskin notebook by the bed. mjp got me my handy and wonderful Space Pen – that I swear by – which is obvious since I've talked about it in several blog posts now, and I used that for the purpose of jotting down my most obscure thoughts – as I'm falling asleep or waking from a dream. Moving my body one iota would take the images away, and fast. If I am on my back I can reach for that notebook and pen, and write upside-down if I had to. I wouldn't have to move my head and shake my thoughts clean.
Then, I even made a little Artist's book of a few of those drawings from that moleskin book: Horsebucket. I turned them all into gouaches first, to make them a bit more interesting. I felt I stayed true to the original lines. It was all about the line there…
But about six months ago or so, I started seeing Ellie Blankfort for career consulting and she had me keep another type of sketchbook (like I didn't keep enough already) and that was the one that made me begin the realize how out of touch I actually was with the line. So, within the first few weeks of the exercises, I started to watch what I was doing. It was like starting all over again, like I was a child with a crayon, and now I'm just in love.
Whether it was apparent or not (it probably wasn't), I used to be such a perfectionist about my lines. The thickness of them had to always be consistent. I'd spend so much time on a painting making sure of that. It was so hard to break away from this habit too, but my tremor got worse and there was just nothing I could do about it anymore. I had to learn to like the wiggly line. And I learned to appreciate other artist's wiggly lines. I mean, I would kill to have one of Charles Schulz's later wiggly Snoopys, wouldn't you? I just saw that everyone had their own special hand and I began to love that too. It's what makes me love art in a general sense.
So now I'm just so in love with the very basic line. It's everything to me. I once hated that I "outlined" everything, and maybe everything doesn't need to be, of course, but lately I'm just into it. My hand is skilled enough to paint a damn good line, tremor and all. I don't have too much to worry about when it comes to that, and I can always go back and thin them out when I put the color down.
Here are a few I started over the past day and a half.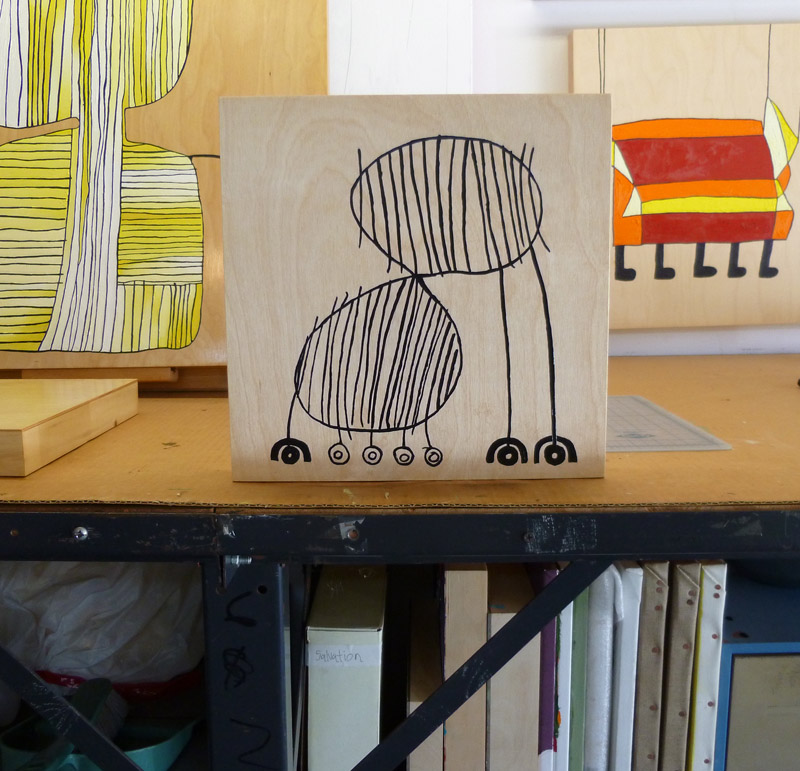 The one on the big easel is an older painting from 2003. I decided I wanted to fling into the ocean, but beings that I don't live anywhere near the ocean, I am going to salvage it and turn it into something better. It was once part of this horrible triptych called Full Person:

It even exhibited a few times, and once at Bentley Gallery in Phoenix.
And here was that part on it's own, which was called Not a Bulletproof Vest: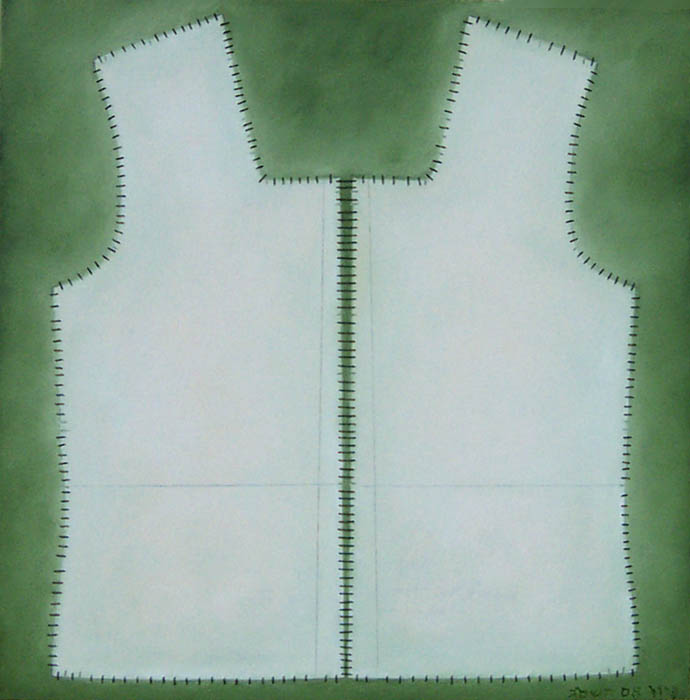 Now I'm turning it upside down and going to make it a kind of pink and lime, keeping those stitches in. We shall see…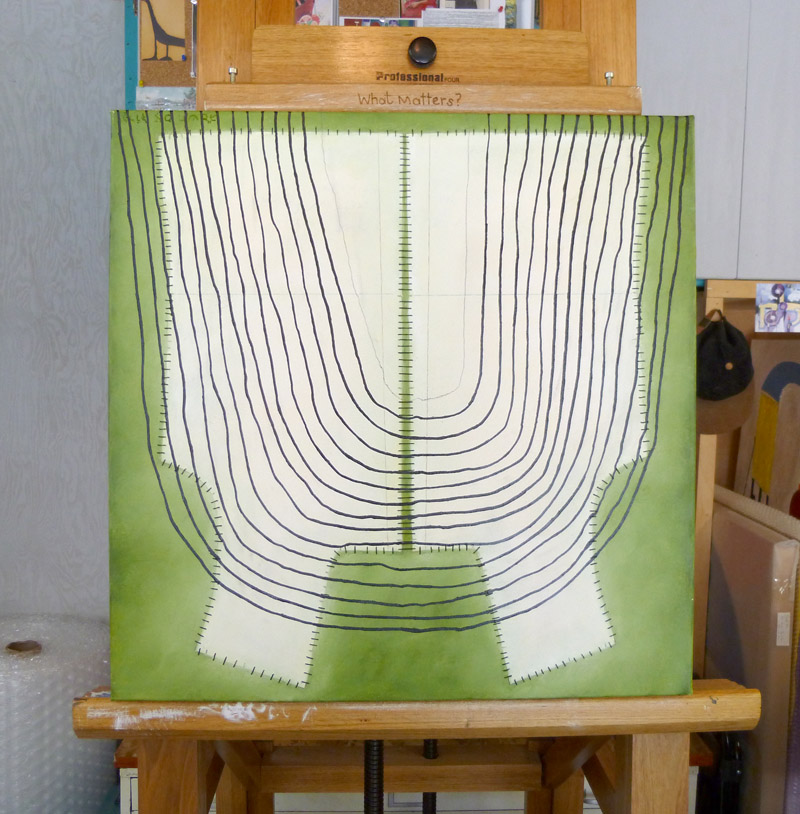 I'll do something with the pants too, but I will free the head, which is called Blush and see if anyone would like to buy it during the sale.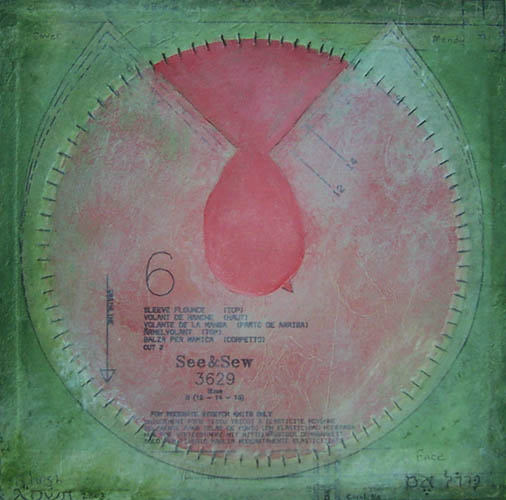 WHAT? You don't know about the sale? You better sign up on my newsletter list so you can get in on it before July 21st. I think this one will be 75% off. Uh…Yeah! No kidding.