I have been working like molasses. The art is coming out so slow it seems. I am still not in any kind of "swing" and especially not the same swing I was in before I moved. Working at home is something I used to do, so you'd think I would adjust after 6 whole months of settling in, but it's just not the same. Using both my office and garage space is a bit strange. It's cramped, and I don't want to make any kind of mess in a place I only rent. Not that I'm a big mess maker anyway, but a wet brush flying around is never a good thing, especially around all my completed work a few inches away. I miss having at least one clean white wall with ample space around it to create larger pieces.
That being said, here is another piece I did in my office that is just 30 x 30 inches. It seems to look good with Eve's Dilemma. I call it Head in the Soul (for now), which comes from the meaning of shin in the earliest extant book on Jewish esotericism. It's done in oil, pattern paper, pencil and thread on canvas. The shin is stitched with black and white thread through the pattern paper, and the black & red bugs are embroidered.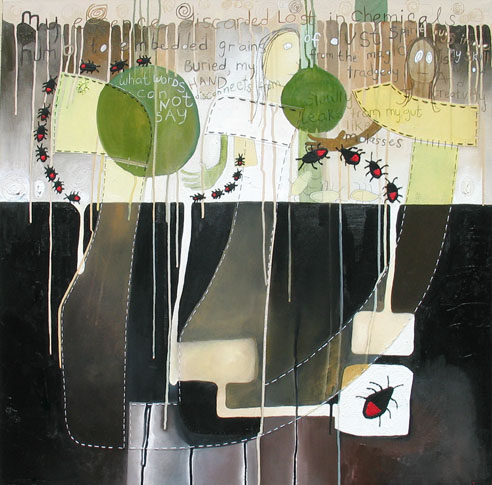 Many people like to read what I write in my work, and I must say that I never mean it to be read so overtly. It is supposed to be part of the whole painting, but I can not control the viewer, nor do I ever want to. But for those of you that need to know what it says:
What words can not say:
My essence discarded,
lost in chemicals,
numb to embedded grains of dust.
Spirit bugs invade my skill
is hollow.
Buried, my hand disconnects from the magic tragedy
and creativity slowly leaks from my gut like molasses.

Hey, don't ask why this stuff comes out of me.
I started working on a bigger piece the other day. I've been thinking about it for a long time and wanted to incorporate my Laplandic ancestory, likened to a genetic memory. It will be mostly white with some tiny reindeer and little lavvus (which is what the Saami people call the dwellings that look like teepees.) I should probably call that one, "I Bet You Never Heard of a Jewish Reindeer Herder, Did ya?" or something along that line. I just hope that one turns out remotely close to how I envision it. These last 2 canvases started with a pretty vague composition, while the rest of it just happened as I went along. I guess that is something I should embrace, since over-thinking art is just profoundly overrated. It's a fine line between instinct and plan. I'm always looking for that perfect balance between the two. I'll let you know when I find it.