I guess I've been in hiding, or something. I'm not sure. For anyone who's interested in knowing, moving was a double bitch. Although I have to admit that I love being back in the fold, close to all the stupid conveniences of life and amongst the living. Everything is close by: downtown, restaurants, freeways, old friends, museums, galleries. You'd think I'd be out and about this last weekend to see the opening of Jorge Santos at George Billis, or Souther Salazar at Giant Robot, but I went to neither when I planned to go to both. I guess I am still recovering from all the change and physical work. Or maybe I just wanted to be alone and relax this weekend.
My dreams have been vivid lately, last night I dreamt I was seeing an art show of my friend Tina Ng who made a video installation of all the TV footage of her childhood and I was transfixed on Ronald McDonald and the gang, along with old Matel and Hasbro commercials from the 70s. Weird dream, man. Then I woke up early to the sounds of migrating birds, way high up in the sky. Hundreds of them. It was crazy, loud but peaceful.
On Friday, I did manage to finish the drawing on a handkerchief for Edith Abeyta's Salty project that will show at El Camino College next month. Apparently I am still in mourning for San Pedro, since I wound up drawing the Vincent Thomas Bridge.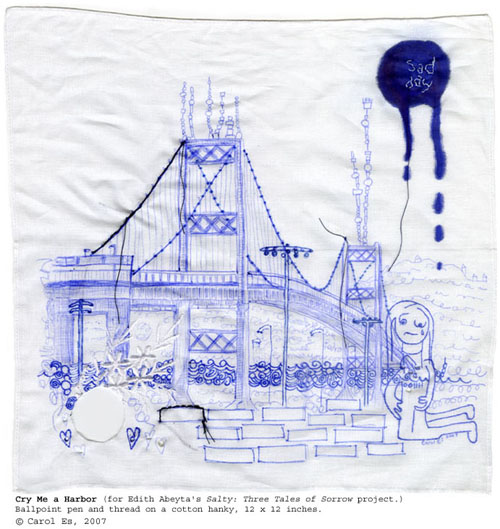 oh yeah, my trip to Houston:
In the days before I moved, I had an opening in Houston at Koelsch Gallery that went damn good. The gallery was stuffed with patrons and gallery supporters, all whom seemed genuinely interested in the work. I met lots and lots of wonderful people, which includes the gallery staff. They were special peoples who cared deeply about their jobs and the beauty of art. I have to say I love the South. It's lush with green landscape and sweet hearted people. The food was 10fold better than LA and no one was full of shit. It was an extremely comfortable setting and a perfectly relaxing. I hope to be back there sooner than later.
I saw the most incredible lighting storms from my hotel room. One storm hovered over the buildings in the Museum District for hours and it was a perfect show. I've never seen lightning bolts that enormous or that close. You could feel the hairs on your skin stand straight up.
The first 3 days I arrived I spent in the gallery mostly, installing a large 49-piece drawing display from my Journal Project which went over great. I never talked to so many people about my work before. People really related to it and I was actually delighted to connect like that, especially because I was so nervous about not only being a stranger in a strange land, but to be putting something so severely personal out in the public. Now I am very glad I did it. Koelsch is taking the installation to Flow Miami in December and I am curious to see how it will go over there amongst the art fair frenzy.
My friend William Betts showed up at the opening and his wife purchased one of my pieces. (William just has a big opening in NY at Margaret Thatcher Projects on Saturday.) My friend Debbie from Austin also drove in to see the show. She is the founder of Imagine Art, where I show some of my older work and who helped me get my start.