Saturday, and I'm getting bored. Nope, I'm actually a little depressed. Well, it's not so much that I'm depressed than I am miserable.
I had to change rooms at my motel. There were four rooms right next to me, both on the first and second floors, filled with a bunch of fraternity kids that were LOUD and partying ALL NIGHT LONG and through to the next morning. Next door, on the other side of me, lived a lady with many dogs that needed to be groomed (including the lady) and most visibly her teeth, as she had very few of them. The frat kids made friends with her, perhaps to buy meth, and were talking in groups with her outside my door, which had been broken into at some point in the past. Part of the door had been kicked in, so light shined in on the lower half of where the door should have been shut all the way. It needed to be slammed hard in order to lock it or even close it.
I didn't sleep much Friday night, but I got up on Saturday morning at 7:45 anyhow to meet Tressa for breakfast at a nice little place across the street called Rick's. It was good. I tried to gently push for her to place my work somewhere more prominent in the booth for the day. Friday, only one piece was hung – kinda. It was low on a wall — behind a wall – where no one could possibly see it. The other one was still wrapped right next to it because that was the little storage space behind that particular wall. She assured me she was going to move everything around before 10:am and my work would be in a better place. I mostly cared about the one I had framed nicely the week before. I thought it looked pretty good in the frame.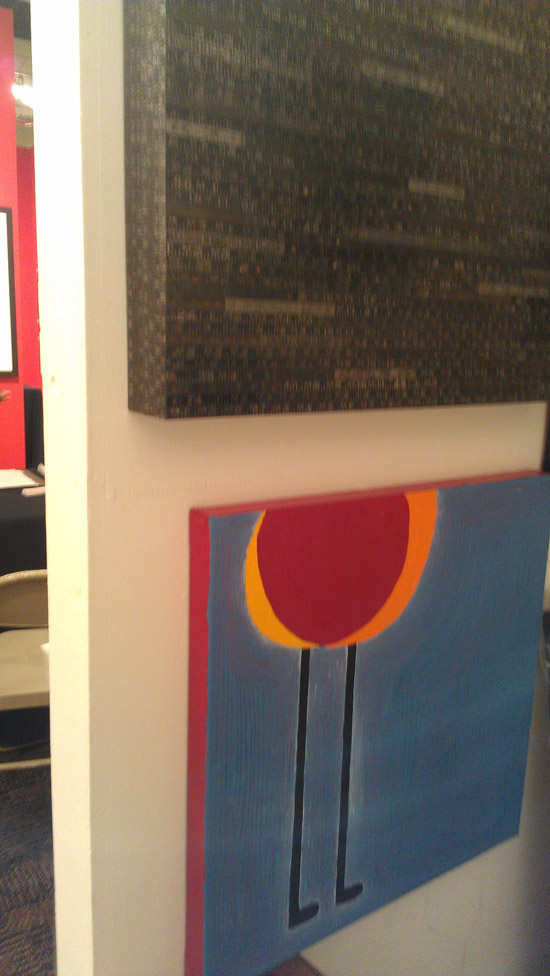 After breakfast I went back to my room and it was pleasantly quiet, so I took myself a nappie pie. My new room wasn't going to be ready until after 5:00 and I wouldn't be back from the fair until after 8:00 anyway. Maybe even later because I kind of planned on hanging out with Tressa if she wanted to, after she was finished working.
Friday night I met with some of my dearest and oldest friends that live there in Palm Springs. They live about three miles from the convention center. They made me a beautiful dinner and yelled at me about being in a motel in the first place. I promised I would never do it again and had learned my lesson. From now on I stay with them when I go there. We had a great time and talked and I was reminded how so very lucky I was to have such amazingly giving people as friends.
But back to Saturday. I put on the best clothes I have, which is not saying much. Well, wait, yeah it is! My $100 pants, Calvin Klein blazer, $300 shoes and a J Crew blouse…not bad for a schlub that usually wears Levis and a t-shirt most days. I have to say though, I'm always in expensive shoes, even when they look like shit. A long time ago I changed the way I shopped. I stopped buying cheap stuff. I buy what I like no matter what it costs, I just have a very small wardrobe, which is fine with me because a) I hate shopping, and 2) I don't like having too many choices when getting dressed.
So I "dressed up," got into the little, white Fiat, and got to the Palm Springs Convention Center right at 3:00pm, just in time for Andi Campognone's guided tour and lecture, which I find out very quickly is basically for total art novices. I realized, right after she brings the group to the first work of art (a video piece), that this tour is going to bore me to death, but I so wanted to talk to Andi.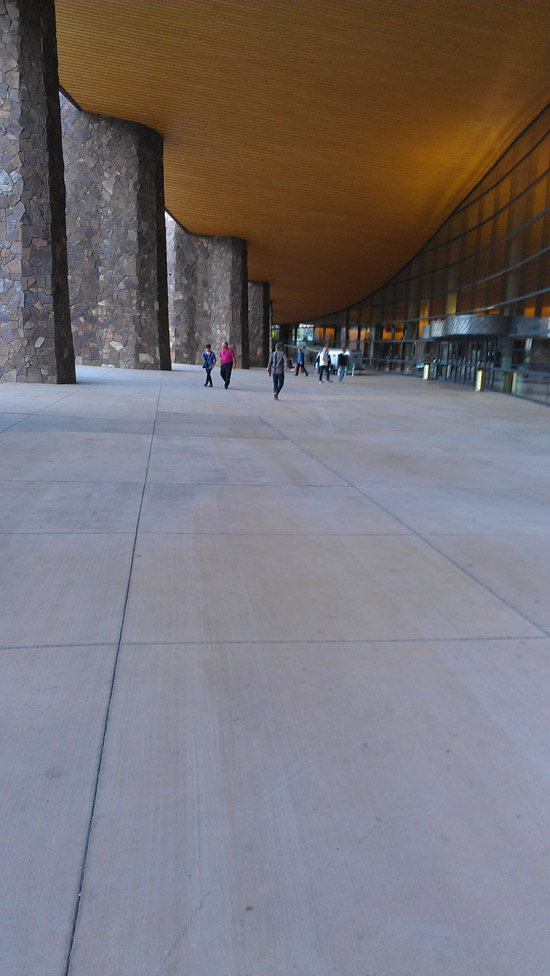 Years ago, when Andi was the curator at the Riverside Art Museum, she picked me as one of the artists for a very cool group exhibition called Material Girls. The show was amazing and I was really proud to have been invited to be part of that. The Riverside Art Museum is SUCH a beautiful building. I was blown away. The only downside was that it was Andi's last show there before Peter Frank took over her position and I was not able to meet her. I talked to her on the phone and I have been emailing her off and on all these years since, but I still have never met her in person, so while the group was observing the video art at the first booth, I took her aside and quickly/quietly introduced myself. She kind of squealed with excitement and told me she was such a fan of my work. Whaaa?! I told her it was I that was the fan of HER work. Before we started to argue over it, I excused myself and suggested we find each other after the lecture and have a cup of coffee. That was the plan anyway. Now Andi is the curator of the Lancaster Museum of Art and History.
Then I went to the Billis booth to see Tressa and the rearrangement of the artwork. I didn't notice that much of a difference, except my framed piece was now hung on the wall – behind that wall that my other painting was on the back of. Because those two walls were but a couple feet from each other, the framed piece was all in shadow. You could not really see it unless you kind of jimmied yourself back in that storage cubby. You could notice a portion of it if you went towards the back of the booth, but not passing by the booth. I passed by it twice and didn't see it, didn't say anything to her because she was closing a sale. But details, details. I was NOT happy. By the time I saw where it was exactly, I was about to burst into tears, but she actually needed a little bit of help wrapping up the painting (a beautiful one by Tom Gregg ) that she just sold. Once that was done, I made sure she didn't need a bathroom break or anything like that — so I could fly out the door to have a good sob.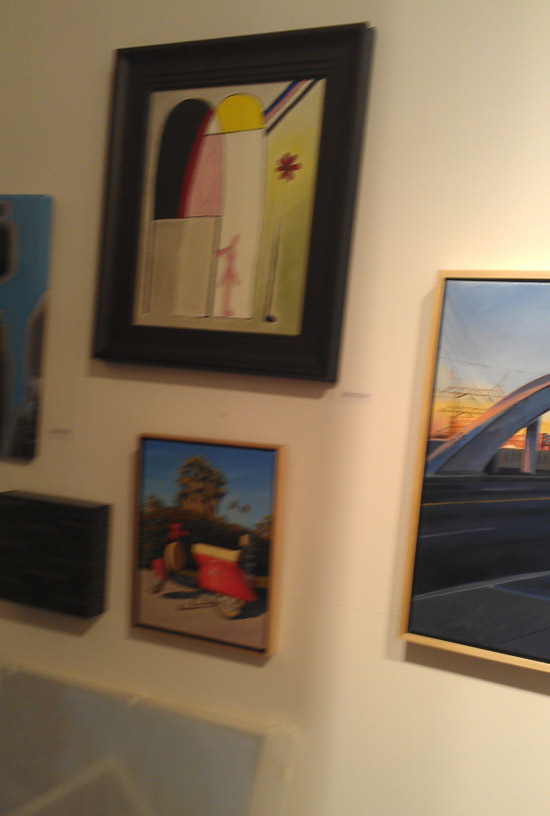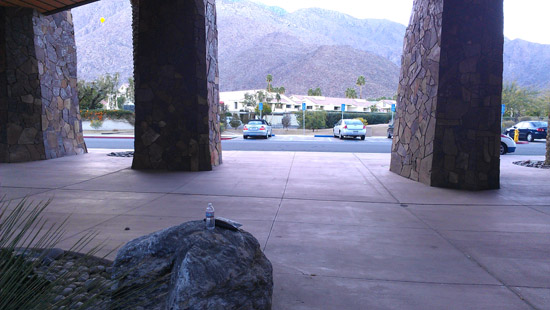 I was pretty greify for a while, while walking around and looking at art, trying to get inspired. Some things did the job, but most things either did not, or only lifted me briefly. I was killing time, taking pictures here and there, waiting for an artists' talk with Robert Kelly whom I truly admire. Quite a few of his works were there, as he was actually invited to especially exhibit and appear there at the fair by the Host Committee. In fact they were giving him a special award to honor him during Modernism Week in the city.
I took a seat in the theater early, in the back of course because that's what brooding people do. And when it started, the award was given in about two shakes and, before you knew it, Steven Biller (The editor for Palm Springs Life) was already asking him questions. Robert, an extremely articulate man, was able to give long, but not too long, descriptive, and almost scientifically poetic answers to questions. I was fully engaged. I was inspired. It was exactly what I needed right then and there. He took some questions from the audience after that. I did not have any questions ready for him, but I wanted to talk to him. I just wanted to know everything about him. I could have heard him talk about black for hours.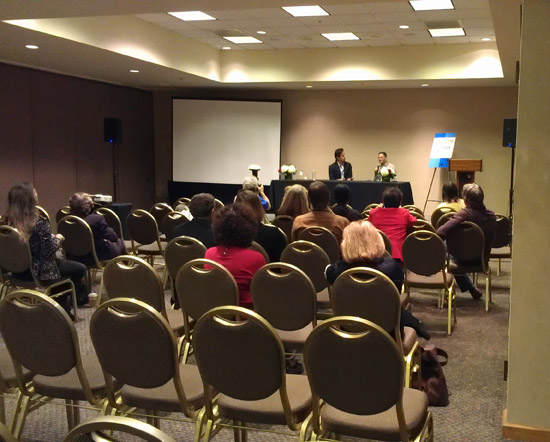 I wound up asking him something via another audience member who asked something about a piece of Robert's that he owned from 1992. I had wondered what the difference was in style, compared to the pieces at the fair to this particular one, or general pieces from the early 1990s. He told me that he had been working with a mentor back then that was a geologist turned painter and he had a strong influence on him. The work was a lot more painterly and expressive. It has taken him about 20 years to get to the standard he is at today. That just really put things into perspective for me.
We talked for about five minutes after his talk in front of a couple of his larger paintings, and then I thanked him and let him go. I went by the Billis booth and said goodbye to Tressa and let her know I would not be coming by the fair on Sunday. My plan was to leave early and come home.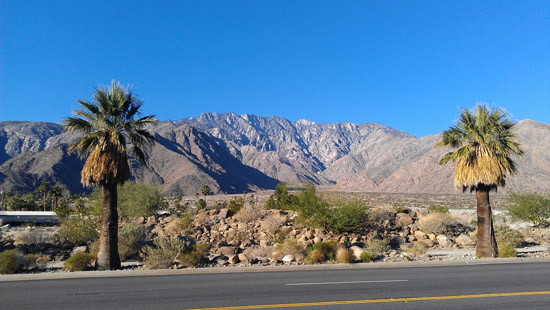 That's what I did. I got up at 7:30 and packed up and was home by 10:00 AM, still a blubbering mess.