Lately I've been blogging about a list a questions I made for myself regarding my art career. It's for the purpose of achieving the goals I've created on my new Art Plan. Once I've answered the next question, I'll be half way down the list. In the meantime, I've been chipping away at the paintings for my late November show and I finally finished these two, but these aren't the best photographs, so forgivem moi.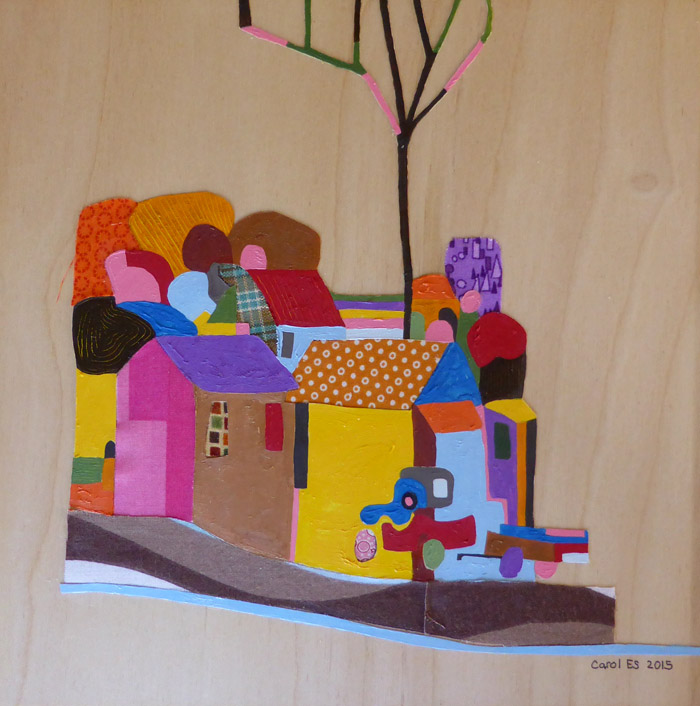 Key's Ranch, 2015. Oil, paper, and fabric on birch wood panel, 10 x 10 inches.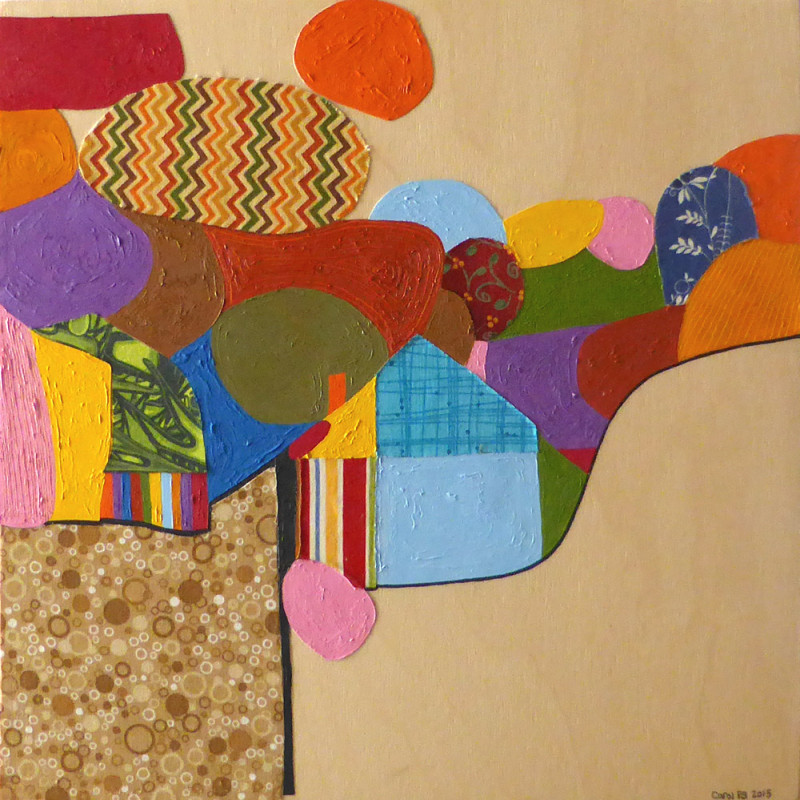 Dust House, 2015. Oil, paper, and fabric on birch wood panel, 12 x 12 inches.
Thursday I sealed the rest of my panels, and now that I'm done with these three (the two above plus Flintlock Terrace), I am ready to start on some of my other compositions which I've either been drawing or working on in Photoshop: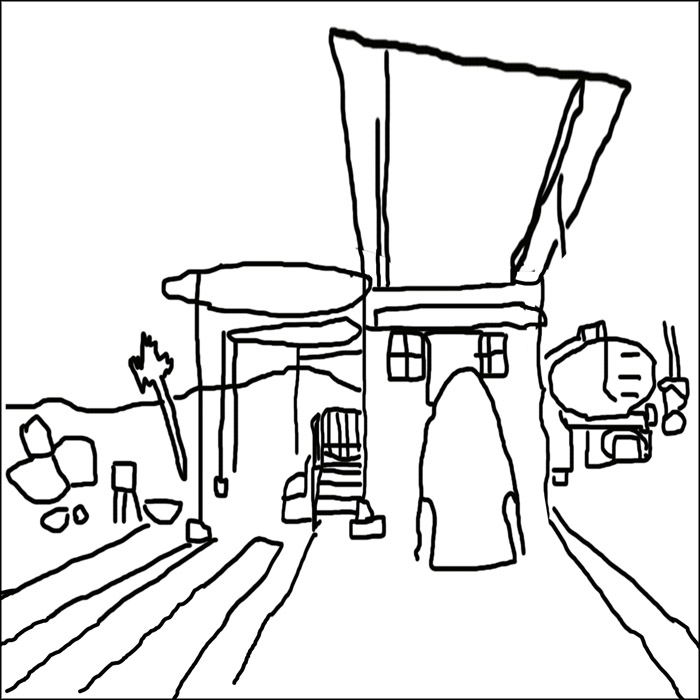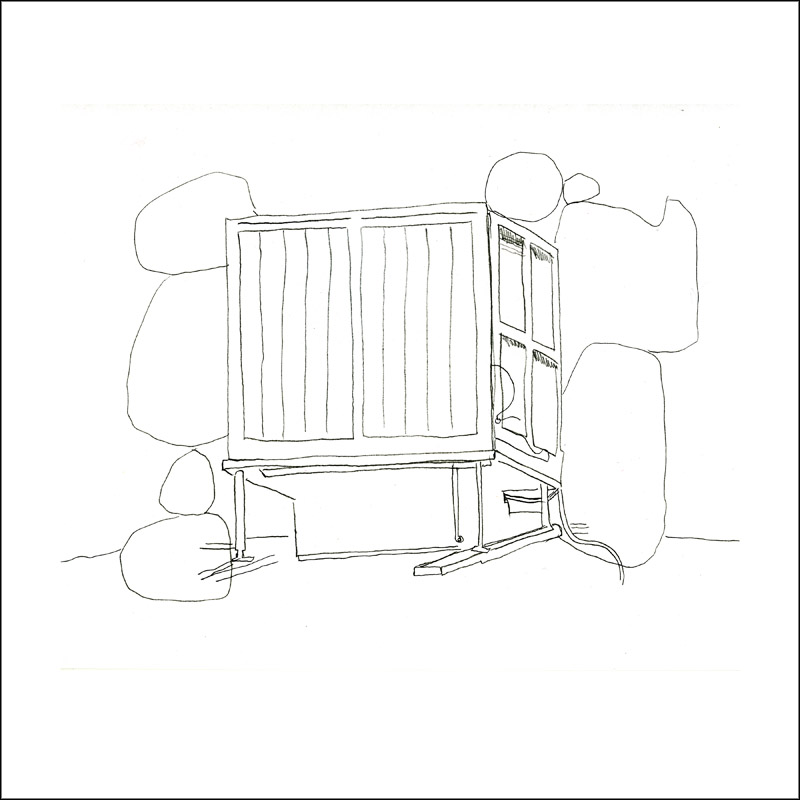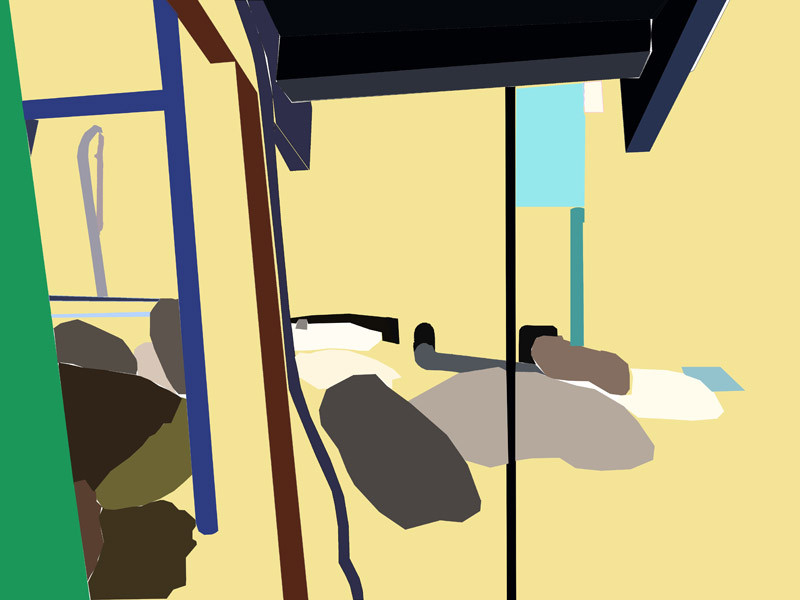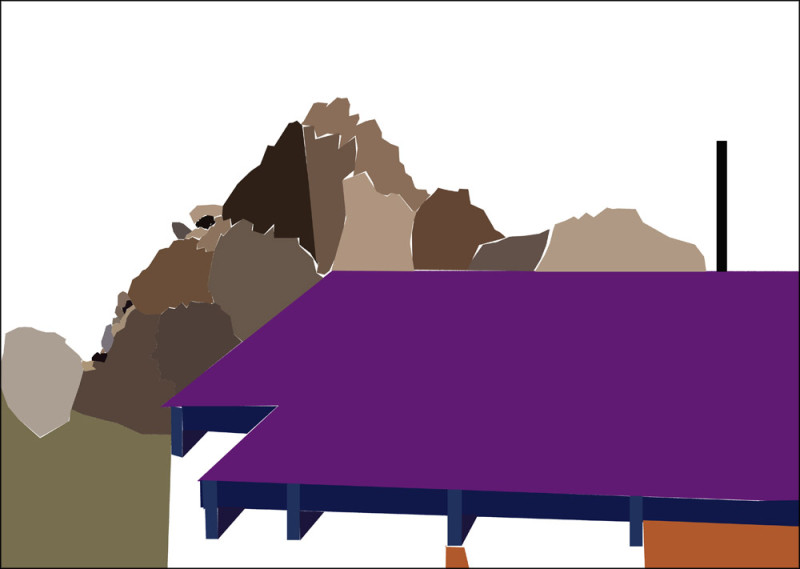 I will get to those later in the week. I started writing this on Sunday and it's 104 with 25% humidity! A bit brutal really. The humidity is not as bad as it was last week, so I suppose it could be worse, but it's still awful. I actually couldn't imagine working on Sunday, let alone moving around or blinking my eyes. It was just so bloody uncomfortable. Now it's Tuesday morning and so far so good – knock on wood.
Yesterday I cut out all the patterns for the 24 x 24 inch panel which is going to be the second composition down from the top, called Buzzard's Roost. I already have the fabric picked out for the roof:
So where was I in terms of my Art Plan questions? I'm sure you're waiting with bated breath to know what the next one is, aren't you?
Well here it is as I wrote it; it's a two-part question:
Is it okay to fail? What will I do if I don't succeed?
That one is a doozy isn't it? How to address this one? I don't even want to. But here goes.
First, is it okay to fail? Well, everything inside of me and in my deepest gut says absolutely not. Failure has never been an option for me. Not ever in my entire life. I don't have a "Plan B." But I'm almost pushing 50 now so should I rethink this? Did I get all the things I wanted by now? Did I fail? Am I failing? Maybe I have to take on the second part of the question and define "success" first. I think that's actually what's in order here. I must define success.
So what is success? I know it's defined differently for everyone. Basically, the dictionary says it's the favorable outcome of something attempted. Specifically, the favorable or prosperous termination of attempts or endeavors; the accomplishment of one's goals. So I guess I have to go back and look at what my actual goals are.
I sure hope I'm not about to go down a rabbit hole here? I'm going to keep typing nonetheless.
Over the years, I have set forth many goals for myself. And I mean many. In fact, each year I make a list of them, both small and large, some that are barely attainable. They just keep getting transferred over to the next year's list no matter what, because every once and a while I have achieved one of them — somehow — and each are almost like a fear I have to face. That's no joke. In fact, the bigger the goal, the more it's a lot like a deep seated fear. That is probably because the more unattainable it is, the more likely it is I will "fail" at it.
But when I look at my most basic goals and purposes that have been with me throughout the years, they have been pretty simple. My main goal has been simply (in a nutshell) to freely make the very best art as honestly as possible to my own satisfaction, or to my own standards. And this aligns with my basic purpose. The purpose has been rather simple too. It is to connect, ease pain, express everything, and  to explore and evolve. Basically to connect and to  learn.
I believe goals and purposes are a bit different from each other. What is a goal without a purpose? It's just an aimless task. I think it's important to have a reason for your goals. You have a goal to make a million dollars, why? I just think the Why is important. That's me anyway. Even if the Why seems obvious, everybody has a different reason for it.
I should probably have a goal to make a million dollars, but I don't. Maybe that's my problem. Ha! Some of my goals are actually more unattainable than that, yet they are more attainable than wining the lottery at least. Who is to say that one day I wouldn't be invited to the Fabric Workshop in Philadelphia to do an artist's residency, or win a Guggenheim? It's not impossible. If I don't ever get those things, does that mean I haven't succeeded? There's a ton of other things I can chip away at, and as long as I am staying true to my basic goals and purposes, how would I be failing?
Perhaps I was supposed to answer this question in more basic form, like, if I don't get what I want, will that be okay? Will I be able to live with myself and still be kind to myself for not "making the grade?"
Here's where I am reminded of a recent comic/cartoon I came across called Be Friends with Failure, which is a simple and cute way to remind us how to be good to ourselves when it comes to trying and not succeeding at our first attempts. I need stuff like this to remind myself not to be so hard on my damn self. It helps actually. It's true that you learn from your mistakes and failures, in fact you need to have at least some or else life would just be easy and weird and you probably couldn't relate or connect to anyone. Connection is a big part of why I even make art, so I need to fail sometimes. I need the experience. And I have a lot of that kind of experience, believe me. I might not write much about my failures here, but trust me, there's a lot. Way more than I let on.
Most creative endeavors are roads paved with rejection. I will not lie. It's not easy. I can get into a whole spiel about how you have to have a thick skin and all that, but I don't think that's necessarily true. You can fool yourself into thinking you have a thick skin. I've seen artists do that. I myself don't have a thick skin personally and I manage. But It is true that you'll have to expect a lot of rejection mixed in with the rewards you get. The rewards outweigh the darkness in my opinion though. Maybe not at first when you are trying to make a career go of it. I've probably replaced the skin thickness with the amount of expectation. I don't expect much.
Yes, it's hard, but you get to make art and you should be aware of the risks and know there will be failures. Just keep your eye on your purpose I guess. I think that's what has carried me through. My purpose.
So I guess the answer to this question is that it is okay to fail, but essentially, I'm not going to. And what will I do if I don't succeed? Just keep trying.