I feel like these last two have nothing to do with each other. Well, they don't. The first one, "The One with the Snake," I started over a year ago and it just sat on an easel as two circles for the longest time. The circles were dark, one brown, one a dark-blue-green. I hadn't decided where to go from there, but I did know that I wanted to somehow incorporate a stuffed snake on the outer edge, so I got one from the zoo and turned it inside out. That too sat in my office for a long-ass time.
Slowly, it came to me to add the collar patterns. I knew I was going to paint them darker colors as well before sticking them onto the canvas. They were bright colors of blue, green, red and pink. It wasn't until months later I had the idea to paint a thin layer of white oil paint over all of it and scratch out lines with a toothpick to reveal the darker colors underneath. I mixed that white with a good amount of Liquin so it would go on slightly transparent, then I had to scratch with the toothpick while it was still wet. Liquin makes the paint dry pretty fast, so I did that all in one day.
Then, it sat there for even more months because I couldn't decide if I wanted it to be completely abstract or not. For years I have wanted to go more abstract, but those little characters keep haunting me to be part of the paintings, so they finally came in, and it wasn't all that long before I finally finished the painting. I worked on a bunch of other stuff and did not give this one many hours all at once, which was good because a lot of it was dry before I'd come back to it. I had the freedom of laying my hand against the canvas while I painted it.
Yesterday I sewed the snake on and suddenly it was done. 36 x 36 inches. Oil, patterns, pencil and stuffed snake on canvas: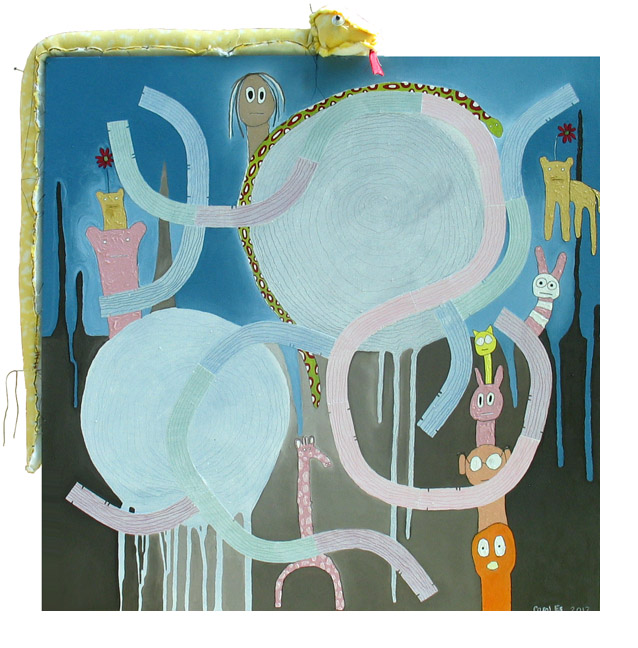 Just days before that, I finished this new one called "Edith," 20 x 16 inches, oil on canvas. This is one from the very different ones I started a week or so back.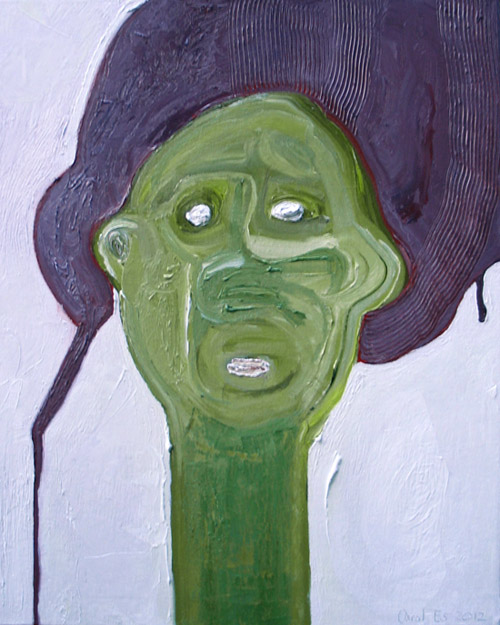 I am going to work on the ones that are figurative over the next few days. That will be odd, but I'm having fun.
I'm also really excited about the sketchbook exercises that Ellie gave me to do. Some great compositions are coming to light that I feel great about!