I may have mentioned recently that I've been doing the Noom program since late December. Hannah and I started it the week of the Christmas holiday, which was probably the worst time to begin since we went on vacation to Lake Arrowhead. I'm notorious for eating like shit when I'm out of town.
There wasn't much to eat around town. Mostly fast food. We had Kentucky Fried Chicken on Christmas Eve and blew our calorie budget. But Noom has a good mantra for fucking up like that, which is "oh well." It's not that big a deal if you mess up. You just start again and move on, so that's what we did.
Since then, I've lost about 19 pounds. Not too bad. Mostly, I'm just eating better, which is a good thing.
A couple of years ago, when Covid started, I started to lose weight before my surgery. I was at my all-time highest weight ever, and from that horrendous number, I've lost 44 pounds in total. But, I still have about 25 more to go before I reach my goal. I may even get there (or near it) in time for my show. No pressure though. I'll lose it when I lose it. Or not. I just want to feel comfortable.
The best thing about Noom is the psychological slant. I haven't been on too many diets before. I've lost and gained weight many times, and I've done this just by counting calories through the advice of my doctor. I've not received any other guidance from a nutritionist or anything like that. I originally bought Noom because I was referred to a nutritionist by the doctor, but there aren't any within my insurance network for 100 miles if you can believe that. And we wonder why so many people are obese. Our health insurance system is so screwed!
So Noom was the next best thing. It was cheaper than paying for a nutritionist out-of-pocket and you get your own coach, plus daily lessons that teach you everything about eating well, processed foods, hormones, breaking old habits, making decisions, and why you make the choices you do. It's inspiring, and they keep it interesting too.
So far, so good. I'm still pretty motivated. I get a little scared about when the program ends. And I've had some difficulties along the way. Weight fluctuates no matter what and that can be really disheartening. You hit plateaus where you can't lose anything for long periods of time. It gets frustrating, despite how much cheering on you receive to "hang in there." Because that's what you have to do. You only have to keep going and not give up.
It's a lot like being an artist, or a musician. So, I might be accustomed to doing that already. There's a ton of disappointment and rejection. A lot of depression. You feel like you're spinning your wheels for nothing sometimes, or most of the time really, but you have to keep going.
This is the advice I gave on the little documentary that was posted a couple of weeks ago on GroundworkArts. And I stand by my words. Never give up. So, I'm trying to apply it to this Noom thing as much as I apply it to the art thing.
It may have taken me a bit, but I finished the third aerial painting—a 24 x 30-inch oil on canvas entitled Over North Joshua Tree. I have yet to take these outside and take proper photographs of them, as it's still been freezing and windy here. It's even snowed on a couple of instances. But here's the image I have now: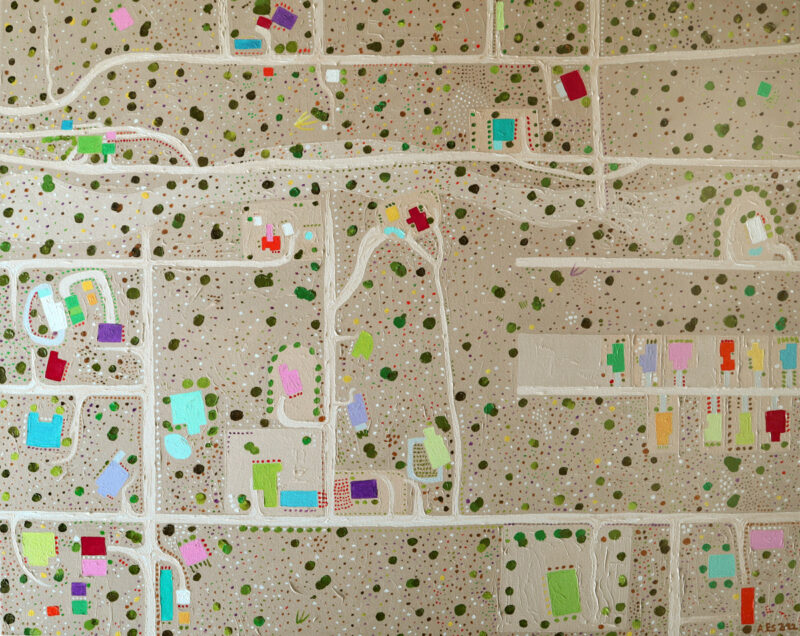 I also finished a large watercolor right after that called Worm Family Home. It's 22.5 x 30 inches: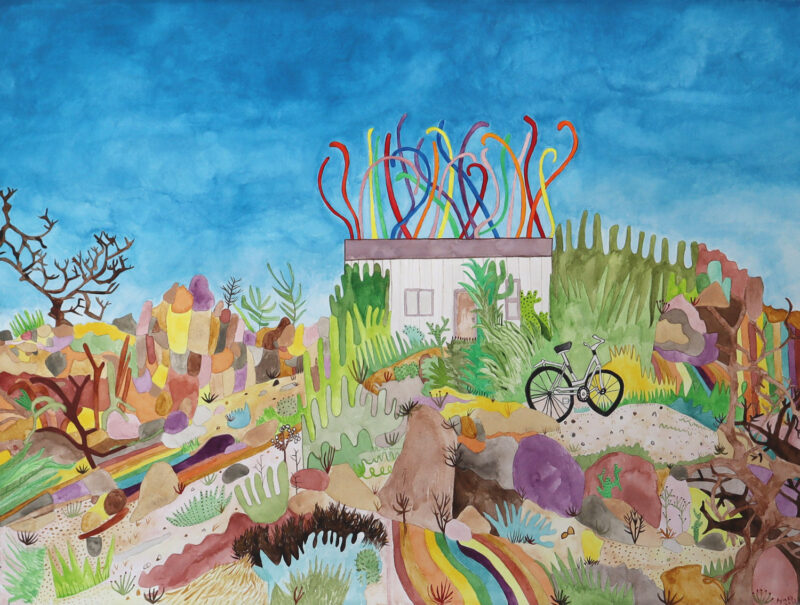 Then I finished the first of the two small watercolors (9 x 12 inches) called Somewhere up South I: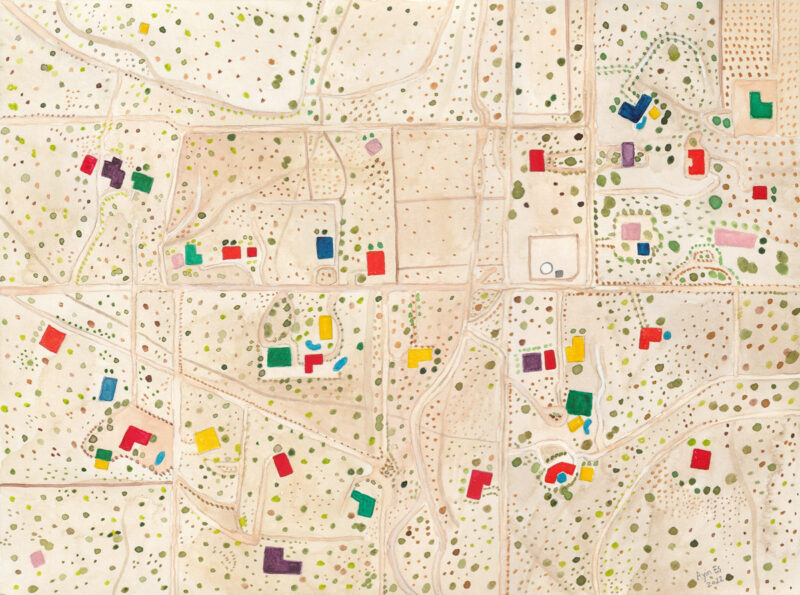 I'm now working on the second one, which has all the background part done. I will do the little colorful house-squares and start on the dots today sometime. It looks a lot like the one above, but the coloring is different and it has a lot more houses in it.
Once that one is done, I will start getting the framing done, which I decided to do here in town at Plaza Frame. Even though we will be going out to LA sometime soon, I'm not going to be spending any time running around doing work errands. We have other plans, which I'll talk about some time at a later date.
The watercolors that are with Craig won't exactly match the ones I'll be framing, but they will be close enough. I decided not to be so anal about it since none of the pieces will be hanging side by side in the show. Craig will have those framed on his end and he will try to match the way I want them framed. We'll see. But I'm sure they will be fine.
Whelp, that's it for now.