All good, no–great–news over here. Well, that's different!
I talked to the Gender Confirmation Center this morning and found out this: even if I wind up paying out of pocket, I'll be getting reimbursed for whatever the insurance ends up covering! So, that's amazing.
What a relief. I mean, even though I was letting go of paying/not paying, waiting and timing, this is the cherry on top. I'm so glad.
Not only that, the person working on my insurance there says that things are moving quickly with the insurance contract anyway. There's really nothing to worry about anymore. And I'm not used to not worrying.
But I'll have to get used to it.
Meanwhile, I've been drawing those compositions on the next five surfaces and just finished the last one this morning. I should have done the hardest ones first, but it didn't work out that way. The large watercolors took the longest.
One of them is on a piece of cold press Arches because that's all I had. I don't usually work on those. I like hot press (smooth), but I decided I'll try painting on that porous texture and see if I like how it turns out. That'll be the painting with the igloo.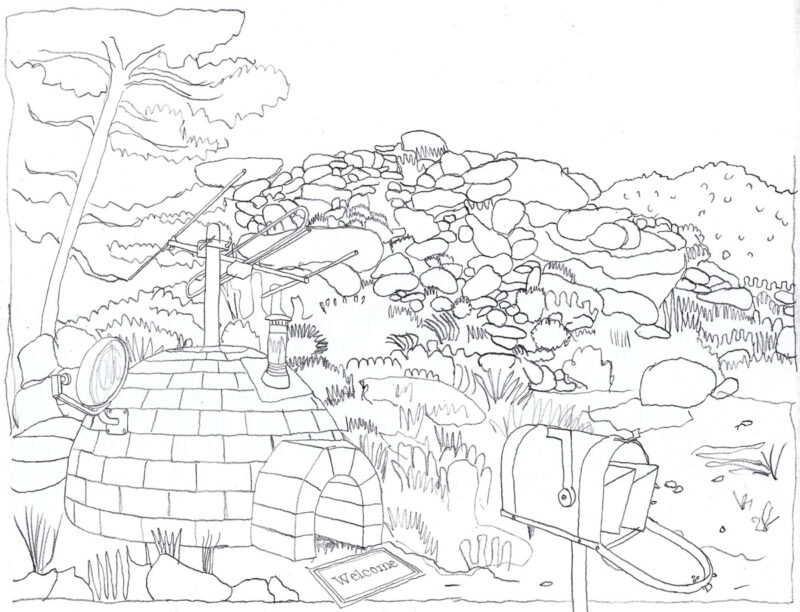 I replaced the left tree gesture with a large Joshua Tree. It looks better now. I'd take a picture of it, but you can hardly see it because I drew everything in super light hard pencil.
Now that all five are ready to be painted, I see they are all different techniques, which seems like fun. Though, I wonder if I have time to finish any of them before we leave for San Francisco. I have a lot to wrap up before leaving. I don't know how much time I can dedicate to work.
I have multiple doctor appointments scattered along the way, blood tests, physical therapy twice a week, psychotherapy, an EKG, Covid tests, house cleaning, laundry, car in the shop, plus whatever else. I think I'll pick the simplest of the paintings and try to finish that one at least.
I do wonder when I'll be able to paint again. I won't be able to lift my arms for a while. I'll be entirely relying on Hannah to take care of me. She does anyway, but now it will be for everything. I'm not fond of giving up total control like that, nor burdening another person with my needs.
I'm going to have to get used to that too.
Wow, now that I can truly move on with everything, I feel like I'll finally be able to get some rest and sleep at night. In fact, I feel like I can pass out from exhaustion right now.
And everything is so all good.