Ha ha ha! What did I call the last blog post? Change of Plans: No More Seven or Eight? I find that funny. Because I have changed my plans yet again! Call me crazy. Actually, no don't. Don't call me crazy. That would seriously offend me.
Not only will there be a seven and eight, there will be a nine and a ten and a so forth. The numbers will keep going up if you know how to count.
Number 3: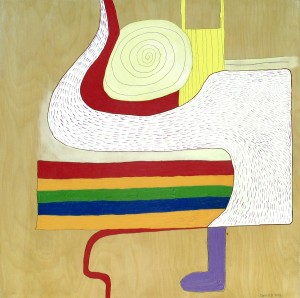 I don't care about size. (Who said women care about size?) I don't care about price. I don't care about rules or regulations.
When I was a kid, my grandfather – well, he wasn't really my grandfather – he was just Jack, my Nana's 20th husband or something like that. He was a genuine Fuller Brush man, but that's besides the point.
He used to come over to my house and grill me about how I should make a neat and tidy list of "RULES ANS REGULATIONS" and stick it on our refrigerator. I've probably mentioned this before. But it's because it's so ingrained into my head. Even the sound of his scratchy voice and Brooklyn accent, "Ya have to follow those rules and regulations so you know how to behave!" And all this because the fucking television was on in the living room when he came over for Thanksgiving one year.
It was probably on so we didn't have to hear him bitch and moan.
So, as usual, I digress.
I have spent the last five days going over this whole idea of rules and regulations, about galleries, the economy, painting smaller, and pricing. Other people's opinions, the "art world," the supposed tos, and all that crap. Even the opinions of real people in your life that actually do matter, like the people I love – even they don't even matter! Sounds harsh, but when it comes to your art work, YOU have to love it. If your mom hates it, too bad. And that goes for your boyfriend too.
I feel like I looked at all this shit from every angle until each element turned into a piece of fruit. Yes, I said fruit. Why? Because I have been eating a lot of fruit these past few months, and I have lost 25 pounds by the way. (Yaye. No one has noticed.)
So I chopped all this fruit up on a cutting board and slid it into a giant watermelon bowl (as seen below) and tossed it with some really nice, wooden salad tongs I got in a little, off-the-beaten path town in Italy that you will never find.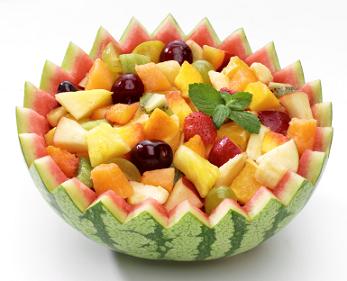 Then I served up this very interesting fruit-salad-of-art-quandary to both myself and my very opinionated boyfriend and… it tasted like shit!
It was so bad, we both could not eat it. I had to put the entire thing into the garbage disposal. Bye bye.
So I had to go fruit shopping, by myself, cut everything up, by myself, and eat it by myself.
The metaphor here means absolutely nothing – so stop trying to figure it out. I'm off the fruit thing.
Starting Saturday, I went through my entire database and repriced all my work, raising the prices for aaaallll the increments that were missed over the past six years — after I did the print residency at Self Help Graphics, which put me into almost a dozen international museum collections. Then, when won the Pollock-Krasner Award, landed a fourth, upscale gallery in Nashville and had two solo shows there. I had another important solo show at UCLA Hillel, and won two more grants from the California Arts Council, and most recently at the Artists' Fellowship in New York. Not to mention had my hand painted book, All Done But None purchased for the National Museum of Women in the Arts collection in Washington, DC and UC Irvine. Plus, I had more of my Artists' books purchased by The Brooklyn Museum, , Otis, UCLA, and a half a dozen private collections (both books and original paintings).
Never were my prices raised.
So at this point, to be shy about a crappy economy, taking financial and/or aesthetic advice from a gallery I no longer am represented by, or be scared to utilize my larger inventory of blank canvases – it's all a waste of time time. I'm moving forward with my own gut.
mjp was actually a great motivator on helping me to raise my prices, I have to say. He's been telling me for years to quadruple+ my prices, but I was too scared. I also wasn't free to do that either. And as an artist, you can't go backwards once you do raise your prices, so it is a big risk. However, I have nothing to loose now.
Learning to get Mad not Even
Some people may or may not agree that being mad, at times, is not only healthy, it's a great motivator.
Well, this has been a lifelong problem for me. I fear "mad." I fear anger. My own, other people's, etc.
We all gravitate towards the familiar, so if you're used to bad habits, of course it's going to feel odd to make a change. It's like learning to walk or something, but I'm working on it.
Because all it's gotten me is depression (turning the anger inward on myself) and rage (stuffing it down and suppressing it).
Sometimes I even wonder if I could deal with these kinds of complex PTSD issues, how much brain chemistry would be left to medicate? The same amount? Very little? None? It makes me think.
So I've been working on these "rage letters." I would never send them out of course. But they are starting to become healing and at the very least, getting me in touch with my anger.
The first ones I wrote, my therapist read them and laughed at them. She said, "This isn't rage."
I wrote things like, I am very upset and sad and feel you should take some responsibility for this situation…
I guess that is pretty funny. That doesn't even sound remotely mad really. It sounds like I was giving the person some sort of option. Ha!
Eventually, I've been able to write things more like, "you're a nasty bitch that deserves life-long baldness and your toenails removed with a rusty pliers…"
So at least I'm getting there.
Okay. Want to see the preliminary sketch for Number 6?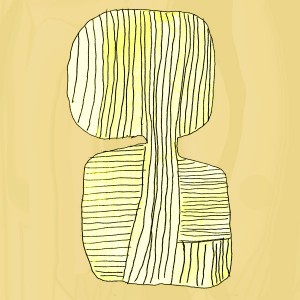 I'm working on Number 4 today. It's lots and lots of black outlines, so maybe I will take a pic when I'm done with this part of it. We'll see.