I've probably mentioned that I recently won the Wynn Newhouse Award, but didn't get too much into the fact that there was a winners' exhibition in New York City at the Palitz Gallery at Syracuse University's Lubin House on 61st Street on the Upper East Side.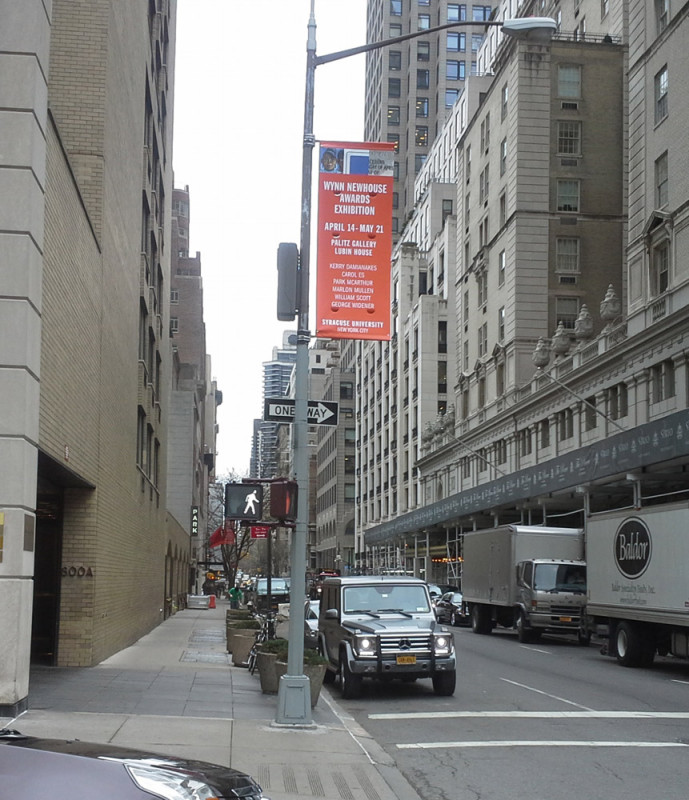 The opening was just this past Tuesday and I actually took a red eye on Monday night on Jet Blue. At least there were no stops along the way, but I landed at 4:30 am, or some such God-awful hour. I managed to get a little sleep on the plane, but I was really out of it. And I wasn't able to check into my hotel room for hours. However, they did accommodate me by letting me in sometime around 11:00 am. Technically, check-in isn't until 3:00, so that was nice of them. I think they saw the big black bags under my eyes and had mercy on me.
I stayed at the Park Lane Hotel right on Central Park South. It's across the street from Central Park, for those of you that don't know NY. It's a pretty tourist-y street where a lot of the horse and carriage buggies are, as the street is lined with fancy hotels, mine among them. The Newhouse foundation was nice enough to pay for my hotel and airfare to come for a couple of days, and you'd think this hotel would be at astronomical prices but surprisingly it was not. They have rooms that get up there in the several hundreds per night, but they also have rooms, like the one I stayed in – perfectly wonderful, for under $250. For that particular area in NYC, that is pretty incredible, and it was a very short walk to the Lubin House. Plus the park is right across the street – right at the pond with duckies and everything.
Short walks or not, walking is a big part of being in New York, and I wasn't feeling up for it unfortunately. I wound up bringing my cane, but even that didn't help much. I have been sore all over since I installed my show at Shulamit Gallery. Between the physicality of the installation and the stress, I have just been collapsedated since the show — just exhausted and feeling aches and pains in my legs. A couple of those New York nights I wasn't sure I was going to be able to deal with walking down the street the next day at all, but I found places to eat close by, like Sarabeth's (YUM!!!), and didn't wander off too far. I made no real big plans while I was there other than going to the exhibition.
Well, just one other big plan. To go to MOMA. I had never been there before!
MOMA is six floors and I was able to do less than half of that, but I saw the main parts of the permanent collection on the fifth floor that I had always wanted to see pretty much most of my life. Too many of those particular works of art to name, but Starry Night is there, and Les Demoiselles d'Avignon too. 
They also had Klimt's Hope, II.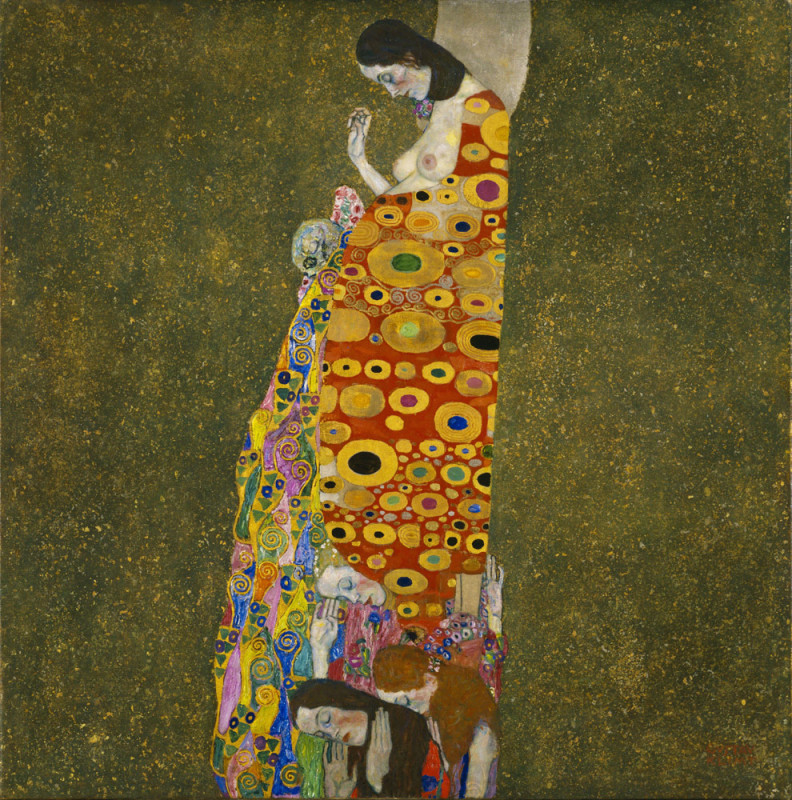 And another of Klimt's I had never seen before, but I can't find a decent picture of it because it's one of those paintings that you just have to see in person to fully appreciate, or maybe to appreciate at all because a picture of it just makes it look like it's nothing. It's called The Park. Maybe you might know it, but since he's done others with the same or similar titles, it's this one:
Something that I keep kicking myself about is the fact that I missed the Jacob Lawrence show while I was there. You can kick me too if you want to. You probably should. I deserve it. The truth is, I didn't realize it was there and I totally space it out! I saw nothing there about it. I must have missed the signs! All I saw were ads for the Bjork exhibit, which I did see, but nothing in the way of the Lawrence show. I even stopped on every floor to make sure there wasn't anything I had to see before I collapsed. I didn't even really have to see Bjork, but I already had a ticket, so I went in and was thoroughly disappointed. And I like Bjork too! But I was pretty bored overall.
It wasn't until I got home and started writing this blog post that I saw how I missed Jacob Lawrence and the whole thing hit me: that was one of the shows I wanted to see at MOMA before I even went to NY. What the hell is wrong with me?! I was so looking forward to that. I had looked it up on the web before I even went to NY. Now I am more mad at myself than I can express!
Oh well. At least I got to see a lot of amazing art that I could not see anywhere else in the world. And maybe the Jacob Lawrence show will come to LA. You never know.
Anyway, here is a view outside the window of MOMA that I took, just above their sculpture garden: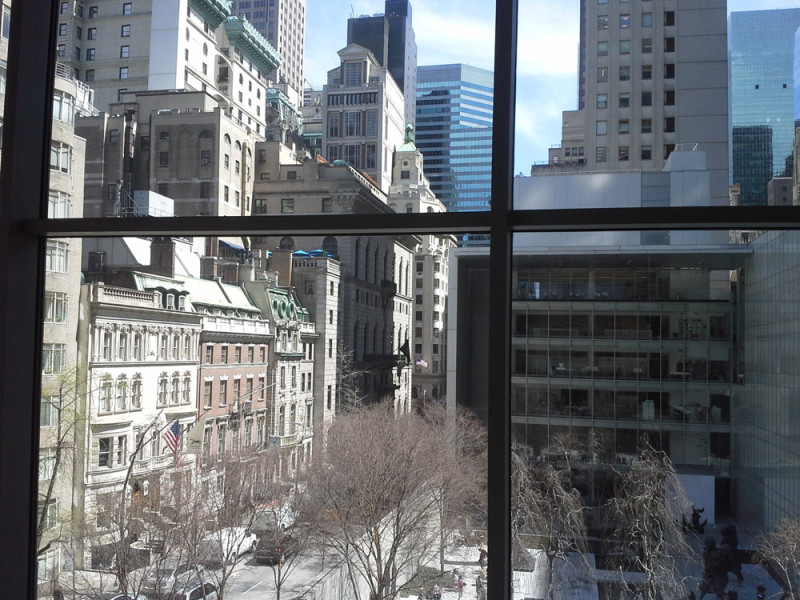 After I took this picture I took a taxi back to my hotel and took a three hour nap. I was spent. I really have to commend the average New Yorker for their stamina. I just don't have it.
This was also the night after the Wynn Newhouse Awards reception. I was "on" all night the evening before this –  after traveling those early morning hours. And I should note that the last time I went to NYC I really took things too far in terms of going and going. I landed myself in the hospital when I got back and nearly died, so that was one reason for taking the cane and making sure I went slower this time. I went to bed early and I slept a lot, but I also couldn't help it. A reception and a museum was enough.
The reception was amazing by the way. It really couldn't have gone better. I met so many nice people, namely Edward Shalala, a previous award winner of the Wynn Newhouse Award, and I wound up going to dinner with him and Domenic Iacono, the curator of the Palitz Gallery.
I also met another artist named Gordon Sasaki, who happened to get me into MOMA that next day because he works there. That wasn't the only thing that made him a sweet person. He was just a great human being all around and showed me some wonderful images of his art on his phone that I fell in love with, specifically this shark sculpture.
I met so many nice people at my show! It was so lovely. And my niece (via Michael), Bryanna Lee showed up too. What a nice surprise!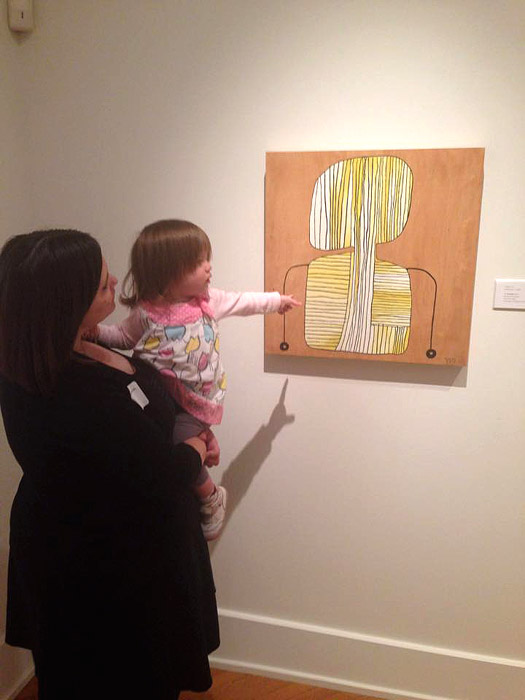 If you think these are all the pics I have, well, you're kind of right, but there was someone taking pictures the entire night of the reception and I'm sure they will be posted on the Lubin House or the Wynn Newhouse (Events) website soon, so I will make a new blog post just as soon as I get word about that and link you to them. I promise.
This is another picture that Bryanna shot. It is the "reception" area off the gallery in the Lubin House, which reminded me of a gentleman's smoking room you might see at Harvard or something. It is really fancy! The building is really beautiful and was constructed in 1876. All the little architectural details inside and out are truly extraordinary. I was honored to have my work showing inside of this building and I can't wait to show you more pictures.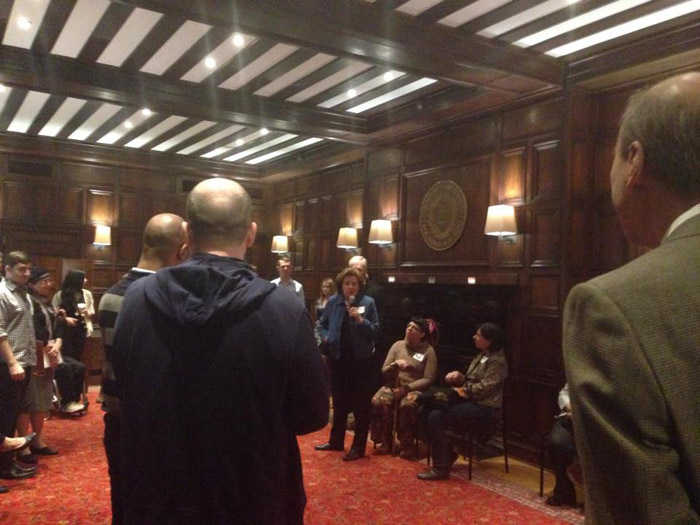 Another great thing that happened was that I was introduced to the manager of a NY gallery (I won't tell you which one right now) that I have been wanting to work with for many, many years and she really loved my work. This was most encouraging! I don't know what will become of this introduction, but it was a very positive experience and we are going to keep in touch, so we will see what happens. I'm trying not to have high hopes, but I also wouldn't know who I'd be fooling.
We shall see.
So until then, I bid you a temporary farewell.
And as always, thank you for reading.