You may remember me writing about how I'd have a new Artist's book out by now called, The Spark? But I've dragging my feet for obvious reasons. Well, good thing I didn't pre-sell any. I've been working on them recently and realized they just weren't right. So now I am starting all over — from scratch.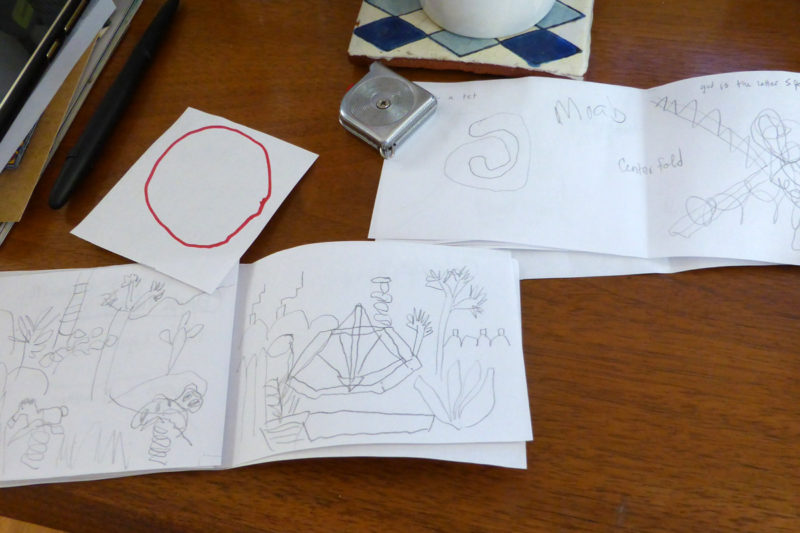 They weren't working out because the paper thickness in relation to the size of the book was not jiving. The book is only 3.25 x 4.75 inches because it fits inside of the flash drive case. It won't fold or bind if the pages are too thick…DUH! Plus, I didn't like the flow of the book anyway. I hadn't seen it in a while, and so, well…I changed my mind. Starting over is fine with me. I have the time. Why not?
The above pic doesn't look like much, but it's how I start my first crude dummy books. Before that, I may write the concept on a single sheet of paper like a story board, or do it in Microsoft Word or something, like this:
Then, no matter the eventual size of the book, I will cut enough small sheets of text paper and make a little booklet so I know what goes on what sheet. That way I can make changes (if I have to) for what page falls on which sheet (which type of paper, that is). It's a bit of a trick. In this case, I am going to be using only a couple sheets of the thick paper and more sheets of #24 paper. Plus, I removed one full sheet, which is four pages. I'm thinking this will fix "the problem," mos def.
It will still be a nice-looking book I think, with the case and the Italian paper. I'm adding a lot of original hand embellishments — drawings and such. I think that will make up for the missing pages.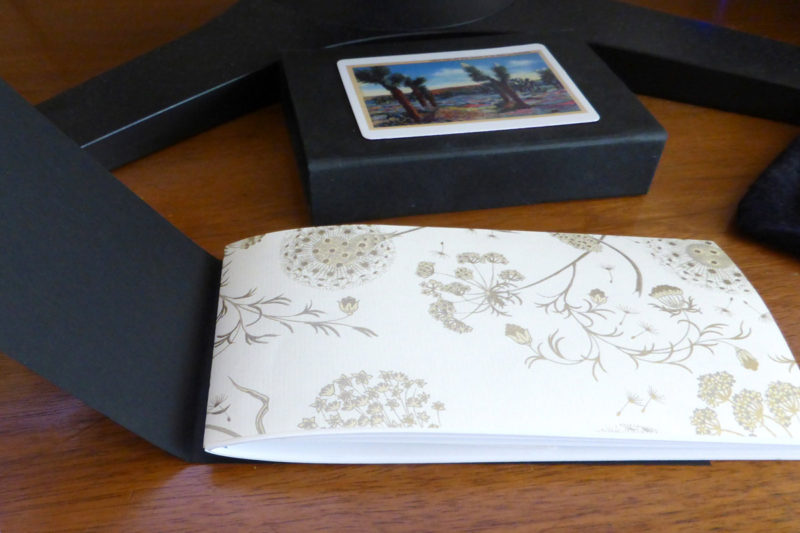 This Italian paper is so cool, I can hardly contain myself. I actually ordered this stuff and another, letterpress paper. The lavender flowers. They are indented, but you can't see that in this picture. I can't make up my mind which to use. I may use half and half for the edition — 10 with one and 10 with the other. Not sure yet.
In any case, a page and a half of this book takes up the Colophon, which makes me laugh, always. I am known for writing long, detailed ones, which some people annoyingly do. I may be up there with the worst of them:
"The Spark was written and handmade by Carol Es. This is a special Artist's book "insert" to accompany the six-minute movie, Up to Now, which is presented on a flash drive inside this black case with a magnetic closure. The case should be labeled with a playing card glued to the top, as the card has an intricate painting of Joshua Tree, California printed on it.
The Spark edition is limited to 20 copies and the books are signed and numbered by Carol Es. Each book includes unique markings made with Caran d'Ache Pablo colored pencils, Sumi ink, pen and graphite. An original circle drawing on 200gsm Fabriano Ecological paper is tipped into the centerfold of each book. Additionally, there are original doodles and notes created on antique labels, folded and placed inside the case, just because.
Calibri text is used throughout and is printed on both archival 90gsm Strathmore 100% cotton paper, as well as 205gsm Moab Kayenta photo matte paper for images using Epson Ultrachrome K3 inks. The end papers are special ordered and imported from Italy, while the book covers are covered in black textured linen. Each book is hand-bound in a long-stitch variation with natural waxed linen thread from Ireland by the artist."
How's that for annoying?
Anyway, the next step, if doing any inkjet printing, is to take it into Adobe InDesign and create a very precise document for printing. I will save it as a PDF, and print it, cut it on the chopper and use it with the rest of my more handmade pages.
I'll do more on it next week. I'm tired of thinking about it.