So I wrote something quite like this late last night on the Exodus Project blog. Please excuse me if I repeat some of this information, but I have had some sleep since then. I've probably thought up new stuff. Maybe I won't repeat it all. I know I'll repeat some of the "newsy" bits, like how I've been working on laying out my new artist book called, the Spark – which will be going inside of the Up to Now flash drive cases.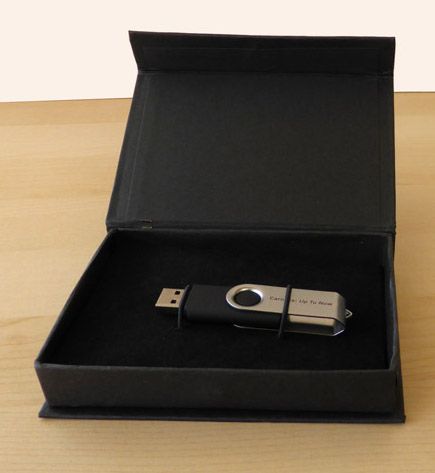 I'm only making 20 of these, and even though they're small, it doesn't mean they'll be any easier to make. Still, the task is not nearly as ambitious as my usual "thing," or Artist book.
That's what I've been doing the last few days and what I was doing last night too. Yep, while everyone was out partying at New Years Eve celebrations and most likely getting drunk (oh, for shame!), I was getting my stress-free vibes on. I will reiterate on how I really despise parties. I also don't drink anymore. I don't think I've ever said that out loud! Maybe because it's not exactly true. I will have an occasional drink  — every now and again, I guess. Not much though. Not like when I was younger. This is not the "reason" why I don't like social situations though. I just hate parties, and crowds, and get-togethers. All that stuff. Ever since I can remember.
In recent years, or months, and especially in recent weeks, my social anxiety is at an all-time high. I have not been able to see friends, have visitors, or go anywhere really. I am hoping I will feel better by the 11th when my artist's group commences though. We've been on a long break over the holidays, plus, I bailed out on the last few monthly meetings. I usually feel pretty comfortable with them, or, I did for a long time. I'm not sure what I'll do if I'm not "cured" in the next 10 days. I am so fragile lately. It really sucks ass. If I told you some of the things that are keeping me from going and some of the reasons why I feel so self-conscious, maybe you'd laugh, but one is that I seriously hate the way I look right now. I really do. These past seven months have taken a horrible toll on my mid section – my weight. Almost 30 pounds now. That's in seven months. I have not been able to control it. Maybe me quitting smoking was great for my health, but being immensely obese can't be good for me either. And I've come too far to go back to smoking (even though I think about it every single day!) At this point, I'd just be a fat smoker. I need to change my life, get my shit together, but being severely depressed isn't a great motivator.
Anyway, sorry to let loose again. Waa, waa, waa…
Last night I wrote a bit about the process of starting an Artist's book, or at least how I go about it. I don't know. Maybe it's useful, but I forgot to add a couple of pictures. These are not the greatest pics, but you can kind of see how I lay things out in MS Word here: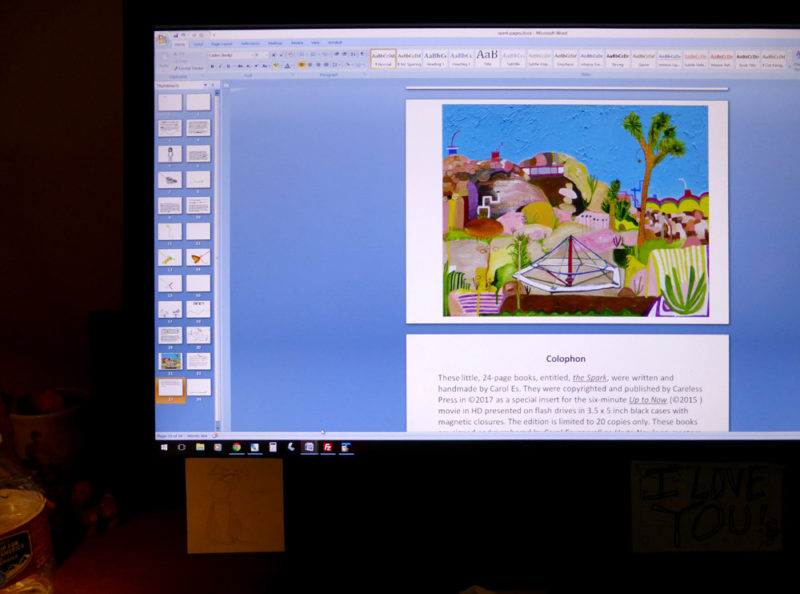 and as I do that, I follow along by making a "dummy" book so I know how the pages are going to flip: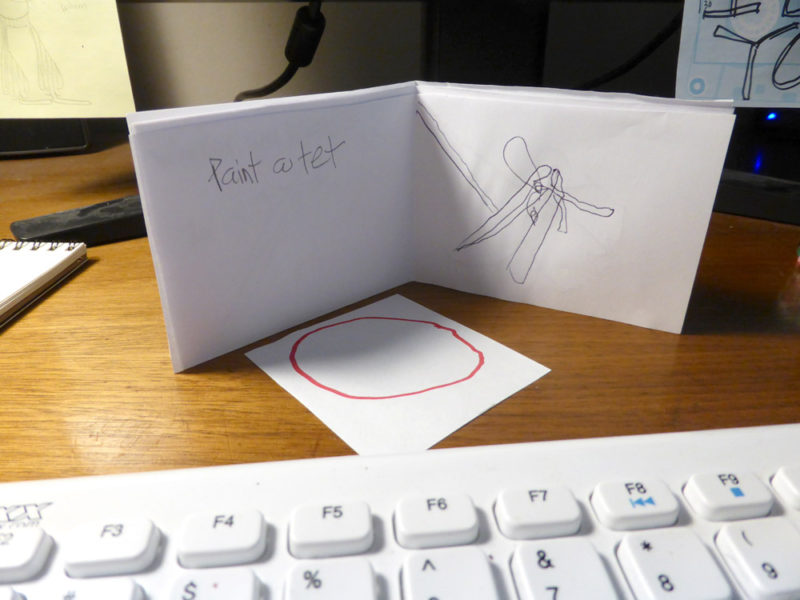 Obviously, it's pretty planned out, even if rough. It's not spontaneous at all. Especially if I can write the colophon before I even start cutting the paper for the books! I swear, that seemed to be a complicated colophon. Maybe the most? (Sans Houses) and it is not nearly as precious as Houses was. I think it was because I was obsessing, or was I losing focus? I am not sure. I do know that every little tiny decision I make feels important. At the time anyway. I needed to know exactly what materials I was going to use and how I was going to bind the book, etc.
Now that I remember it, I was probably just thinking I was focusing and obsessing. I actually really have a BIG problem with disassociating, something I don't talk about — a lot of people don't understand it and I'm sort of waiting for the book (my memoir) to come out so it can partially explain why I have it (along with everything else!) It's all coming to the surface since I've handed the book off to the editor. I'm going through a lot of mental crap! In fact, I was hoping to write all of this on the Shrapnel blog so I could kind of process it all, but I've been finding it difficult to reveal my very candid feelings. (And you thought this was candid? Oh no baby, it gets much worse.)
Sorry I keep ping-ponging back and forth between my mental illness(es) and making these Spark books. I'm nuts though.
So here is the colophon again, in case you missed last night's post:
These little, 24-page books, entitled, the Spark, were written and handmade by Carol Es. They were copyrighted and published by Careless Press in ©2017 as a special insert for the six-minute Up to Now (©2015 ) movie in HD presented on flash drives in 3.5 x 5 inch black cases with magnetic closures. The edition is limited to 20 copies only. These books are signed and numbered by Carol Es, as well as Up to Now's co-creators, Jonathan Nesmith and Susan Holloway.

The edition somewhat varies because of original touches and unique markings made with Caran d'Ache Pablo colored pencils, Sumi ink, pen and graphite. Then, one original 3.125 x 3.125 inch circle drawing on Fabriano Ecological paper (200 gsm) is loosely inserted into the centerfold of each book. And additionally, there are surprise doodles on the backs of all the colophons.

Calibri text, the "Ladder to Dad" sketch, "Peyote's Walk," and the watercolors of "junk" were all printed on Moab Kayenta photo matte (205 gsm) using Epson Ultrachrome K3 inks. The end papers were letterpressed and imported from Italy and the book covers are card stock covered in textured linen. The books were then hand-bound with a slight variation on a long-stitch with natural waxed linen thread from Ireland.
I'm going to be making 23 books though. Three will not be part of the official edition. They will be A/Ps (artist's proofs), and will be kept for me, Jonathan and Susan. I suppose I will sell the edition of 20 for about $150 or so. In that range. But like I have mentioned before a couple weeks ago, or maybe I didn't make myself super clear, I don't exactly care if they sell or not. But I guess I'm just still going through the motions. I'll have to train myself to mosey instead of always scrambling.
I've had a "to-do" list for years. I mean many years. Whatever I couldn't accomplish at the end of one year, I'd just put onto the next year's list. Slowly but surely, I would get pretty much everything done. I may have deleted a few things that were out of my control, and I haven't been adding too much of anything to the list in a long time, but I've just been wanting to finish what's on that God forsaken list. I'll tell you, I have 10 last tasks, (nine after the Spark books are done). And when I'm done with these last 10 tasks, I will no longer put another "project" on the list. I'll be paying more attention to grocery lists, or a list of a few books I'd like to read. And the key word there is, "like!" I'm not going to make a stack of books I have to read. I'm going to read whatever the hell I want to read at the time I want to!
I'm also going to try not to care so much about how my behavior might seem to other people. I know that is probably the biggest, most impossible task of all (I have never even bothered to write that one down on a list because I know how impossible it would be to accomplish it), but I am at least going to TRY. As a tribute to this life-long dream I have always had but have never seemed to fully accomplish, I say the word, FUCK! <— It is bold, italicized and underlined. So that is for you, and you know who you are.
Anyway. Still looking forward to 2018. At least there's hope.