Really? A loss for words? Can it be true? Or is this just another way of saying, or hiding the fact, that I am too scared to divulge what's really going on around here? Perhaps it's a bit of both. It feels like I have been complaining a lot about being down in the dumps. But I don't think I've truly opened the curtain on just how ugly it's been.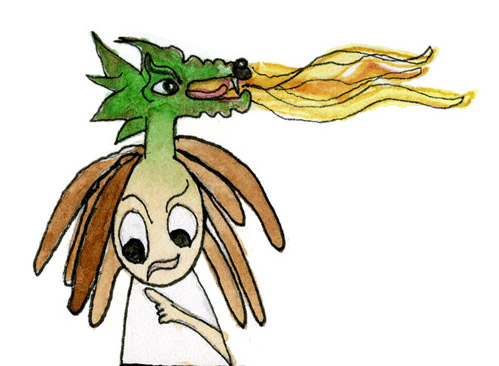 Mental illness is no joke. And there is still so much stigma and shame in revealing it to others. Having them actually know that you have depression or bipolar, or God forbid schizophrenia, schizo-effective or a personality disorder, is like telling them you have Leprosy. PTSD is pretty much all people feel comfortable with these days. Its been in the news for the last decade and there's no shame in having something that a war veteran might have too.
And who hasn't been molested when they were children? Buck up, right? Nobody cares. Empathy seems to have either gone out of style, or people are still just really uncomfortable with it. I'm not sure, but better keep your mouth shut.
In any case, all this only makes us want to isolate further, and it does not help to silence the monsters inside. In my case, my monster is more like a parasite attached to my head, growing out of my frontal lobe. He's a mean, fire-breathing dragon asshole sort of guy. Very rude. No boundaries. And nothing is ever good enough. He's always telling me what a piece of garbage I am. He's a bit like my family and Trump rolled into one. I'm not going to amount to anything more than a toilet because I'm not thin and beautiful. He's a real prick, not really a friend. Nowadays I only associate with real friends.
That brings me to yesterday. I was on the phone with my friend, Jonathan Nesmith. He's one of the co-creators of Up to now. I've known him since I was 15 or 16. We didn't talk for a number of years after our mid 20s, then we reconnected again about 10 years ago and it was like no time went by. We'd changed, yet we hadn't. Anyway, it was very odd that I was on the phone with anyone yesterday because I have been severely isolated. For months. No friends, no calls, just emails to a select few. I talk to one other person on the phone and that's Elizabeth Hoffman.
During our conversation, Jonathan made a suggestion to me that mjp and my therapist have probably made to me many times over the years, but perhaps hearing it from someone fresh perked up my ears. He suggested that maybe my whole low self-worth thing wasn't what I thought it was. Maybe I don't think I'm a piece of garbage after all. Because, if I really did think that, why then would I protest, or rail against all the outside forces that put me down? If it were so true that I was shit, wouldn't I just agree, "Yup. Okay," and move along? I wouldn't get so upset otherwise.
Interesting.
This got me thinking, or at least got me to contemplate the whole concept. So today, instead of crying, that's what I'm doing. I'm considering what it is I really think about myself. I may even paint.
I know I need more coffee.