Art-wise, nothing. Seriously. Sorry. Okay, I have done a couple of short sittings on this, which has literally been taking me a year? Jeez!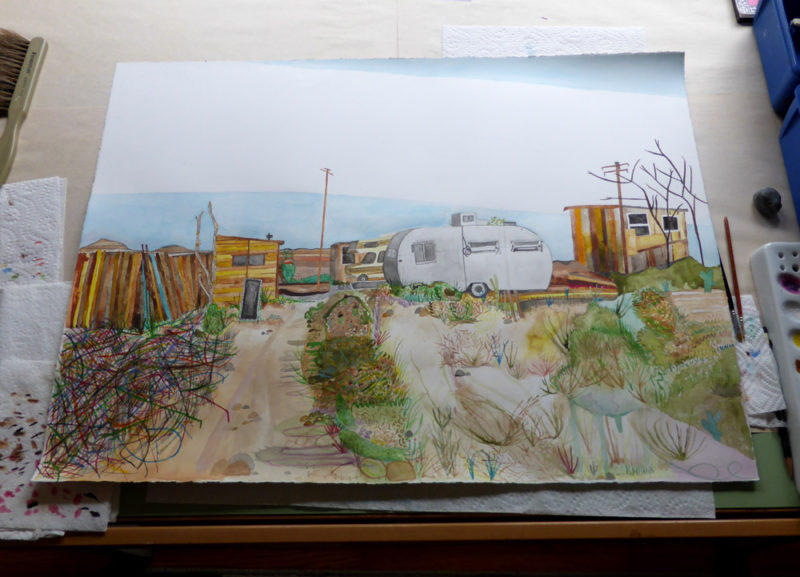 And other than the Conference Room, it's been all about the book…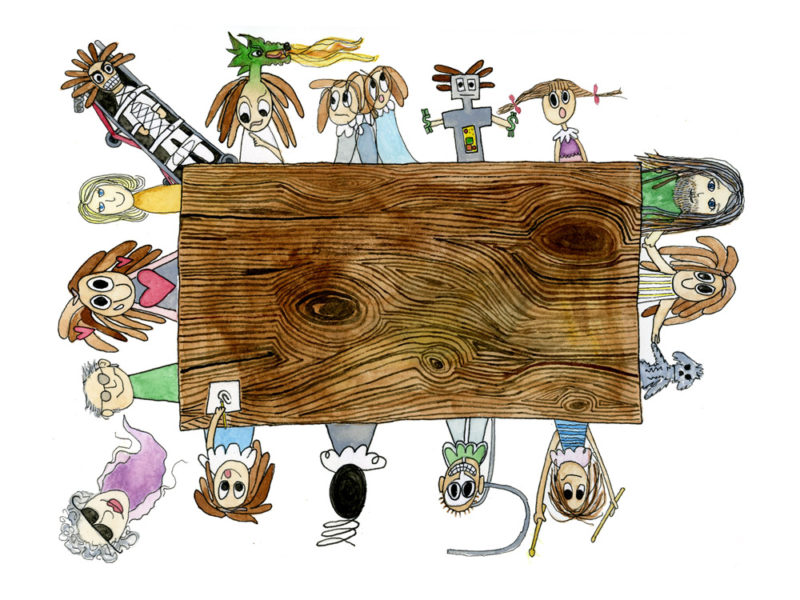 The book being, Shrapnel in the San Fernando Valley, if you're just tuning in.
The Conference Room is about the gathering of my team of helpers and my many "me"s. Maybe I will list out who those "me"s are sometime. Some of them are funny, but I'm sure any of you reading this can easily pick out which one "Ragey" is.
This last week has been a bit of a pinnacle. I have been severely depressed for the last (insert a long amount of time) with clouds getting even darker in the last (insert shorter amount of recent time), but even though it's been raining like mad, and the power went out for a whole 24 hours and we lived in darkness without any internet access — and — I still haven't left the house, I can report with some hesitation that I feel a little bit better today. It's some kind of fucking miracle.
It's sad and dysfunctional but the main reason for that is because I've been on a water pill (because I now have hypertension!) that took off seven pounds. I feel HOPE when the scale goes down two pounds, let alone seven. I feel hatred for myself when it goes up more than two. I can barely handle one. This is not very sane, but it's the truth.
Unfortunately, I have to go off the water pill now because I am in that stupid 1% that gets one of the serious side effects from the water pill – signs of optic neuritis. Makes sense with the whole MS thing. It makes my eyes strain in pain. It hurts pretty bad. I can't keep taking them. I guess I could really hurt my eyes. I have a new medication now — Lisinopril, or something. So we'll see. I'm sure all the weight will probably come back and it will make me very sad.
Anyway, the other part of why I am feeling better is that my book is "done." Well…I am tweaking it and it's done, I mean, it's been edited by Lisa Teasley, and I like the way it is reading. I'm just making sure it's formatted correctly and while doing that I'm tinkering with shit — but it's mostly little formatting errors that I am fixing. So, I mean…it's done. The book is done. Okay, the deal is, I am "proofing" it and I need about seven full time days to commit to it. Then, I will not touch it again. I swear, I will set sail to it. Then I'll have a few people read it, like trusted writer friends and agents or publishers and then we shall see if anything good will come my way. March 1st is the goal, and knowing me, I will make that goal. Because that's like 65 pages a day and today, or now I should say "yesterday," I did 100, so: easy, right? I have 450 more to go. It's a lot of pages when it's 12-point font and doubled spaced, but it's still around 178,500 words, which may change slightly. I've given up on caring about that though.
So stay tuned. I'll keep all three of you posted.