So I've been getting ready to set up my exhibition, which I install tomorrow at Craig Krull Gallery.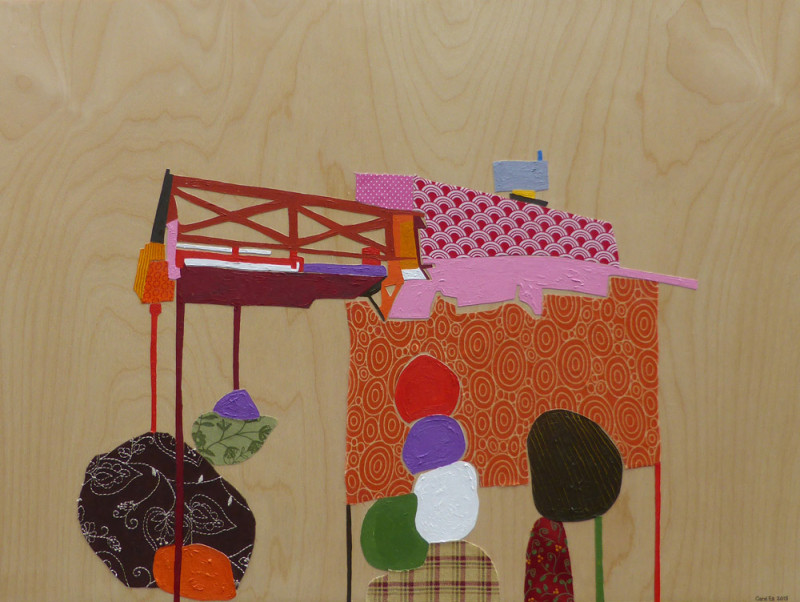 I finally finished all the drawings for the Journal Project installation. That doesn't mean that they are all new. I've only replaced about 10 or so. They will be a bit more relevant to the show.
Some of the drawings in this installation have been exhibited before, and some not. I have so many of them, it's hard to know actually. I have exhibited different versions of this installation in three different spaces since 2004. Once in Houston, Texas at Koelsch Gallery, I think that was in 2007, then once at UCLA Hillel in 2009, and once at George Billis Gallery LA in 2010. So it's been a while and I've made a lot of new ones since then.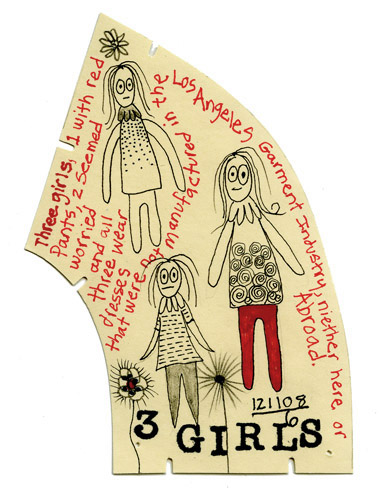 I recently wrote a whole blog post about plotting out these pieces and why I do them the way I do's, in case you're interested. The above piece was made on 12/11/2008 because, between you and me, I make the style number the date.
As for the paintings, they are all done. Most of them are small, but all in all, there are 20. Eleven left over from Exodus and 9 new ones that I've made since August. Of those there are five 10 x 10 inch pieces, but the rest get as big as 36 x 36 inches (most are in a square format, but not all). Maybe that gives you a pretty good idea of what the layout of things will look like.
The painting that's posted up above, Flintlock Terrace, is 18 x 24 inches.
I am going to be in the middle gallery. Craig Krull has three solo spaces (but he's also been doing a featured artist in his office lately too). I'm showing with Los Angeles artists Phranc and John Huggins. The artist that will be showing in Craig's office is Nicole Strasburg. I think it is going to be a great show all the way around. I'm excited to be showing with all three of these wonderful artists!
So this past weekend I went on that artist's retreat and it was pretty remarkable. It was intense too, and it took me a little while to process it after I got home. It wasn't so much "retreating" as it was kind of networking with the other artists there. There were tons of great exercises and workshops that enabled us to pull from each others' resources to help each other problem solve various barriers in our careers. I couldn't possibly explain everything in this blog post what we did exactly, but it was kind of like artist's career therapy – in a nutshell I guess. I learned a lot and found out things about myself, met 29 new artists – many who I might collaborate with in the future. There were also guest speakers that talked to us about grant writing, a rabbi (it was a Jewish retreat after all) that led us through a very creative exercise, and even an archery teacher. The facilitators were absolutely fantastic and made us all feel comfortable, like we could share just about anything about ourselves. The food was terrific too and the grounds were beautiful. It was really something else.
At first, I was really shy and had a rough time with the whole thing and even thought I was going to leave in the middle of the night. I couldn't handle all the socialization at all. It was traumatizing, especially talking and sharing in such a large group of 30 people. It was very difficult. But learning that I wasn't alone in feeling that way made me feel a lot better. We had plenty of chances to talk one on one with other artists, and were often split into small groups for different exercises, which made things much easier. It was all probably good for me and I wound up getting a lot out of it and learning a lot once I opened up a little.
And speaking of artist's retreats, or residencies rather, I finally heard back from Headlands Center for the Arts in Northern California. I was a finalist for receiving a one month residency there, as I had mentioned in a previous blog post (I even mentioned it in my newsletter too), and I did a Skype interview with the director and the head of programs about a month ago as part of that process. Whelp, I found out a few days ago that I was rejected. It really was a 50/50 chance though, so I wasn't totally counting on it or anything.  I mean, I wasn't shocked or surprised. I was one of 90 finalists for the year, and they had to hone it down to about 45. This doesn't mean I am not thoroughly disappointed. I am. I really wanted it. I will try again next year since I made it pretty far this time around. Maybe I'll have better luck next time. It just wasn't in the cards for me this time. *sigh*
Now my eye is on the Millay Colony. I applied this past October for that and will be getting the results sometime in January. I have only applied there once before, over ten years ago. I don't know why I haven't since. I think they were in the midst of renovating the place and making it wheelchair friendly when I was pretty bound to my wheelchair. I didn't get in, but I told myself to wait a while before applying again and then I just sort of forgot about them, maybe because I got better (no more wheelchair) and mistakenly only associated them with being handicap accessible. I didn't stop to think about what a great place they are otherwise. I recently re-read their website and rekindled my love affair with them and now I have my sights on being there next spring – that is, if they accept me. It's beautiful there too. So fingers and toes are crossed – as usual.
Well, I guess I better send out my email invitations to my show and make some kind of Facebook event for it. I won't have time to do it otherwise since I'll be installing my show for the next two days and then there's Thanksgiving. Then the show technically opens on Saturday (even though the reception is not until the 5th). Nevertheless, I better get going on promoting this thing! The day is almost gone.
Happy Thanksgiving everyone!