October 11, 2008 5-8 PM
Please join me for my solo show:
Carol Es
She Dreamed She Remembered
October 7 – November 15, 2008
Reception for the Artist:
Saturday, October 11th 5-8 PM
George Billis Gallery LA
2716 S. La Cienega Blvd.
Los Angeles, CA 90034
tel: (310) 838-3685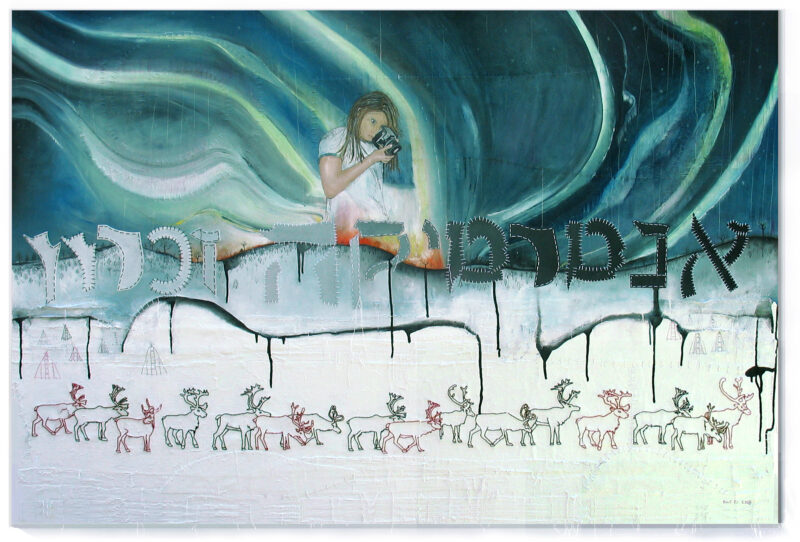 She dreams she is free, yet, connected. And she remembers she can do whatever she wants – because art has no rules.
Life is lived in a parallel facsimile – where her affections for everything that is alive (both here and non-existent) is as true as time is a lie, and reality, a concept.
The girl the artist calls "Moppet" appears in both canvases and panels in various ways: crawling out of black holes, flying between them, and hanging on to familiar behaviors. Some are just Moppet heads floating about – observing memories, dreams and thoughts.
Carol Es is a native Los Angelina and self-taught painter whose work intimately explores her Jewish Identity and the tribulations of childhood trauma. Her new works are witty psychological portraits and pieces such as "Arctic Memory" mark her past, while serving as a release. She uses language, both Hebrew and English to denote her message as well as embroidering directly onto the canvas adding a distinct 3-D dimensionality to the painting. The string acts like a literal thread running through her life's memories and tying them all together. These artworks embody multiple transitions in her art making, along with humor, pain, angst and reverie.
Es' works are featured in numerous private and public collections including the Getty Museum, Museum of Modern Art in New York, Brooklyn Museum, UCLA Special Collections, the Jaffe Collection, National Museum of Women in the Arts, and Centre Georges Pompidou in Paris. She has exhibited at Riverside Art Museum, Torrance Art Museum, Craft & Folk Art Museum, and Zimmer Children's Museum. She is also a two-time recipient of The ARC Grant from the Durfee Foundation and a grant from the Artists' Fellowship in New York.
Image: Arctic Memory, 2008.
40 x 60 inches, Oil, paper patterns, pencil, thread, embroidery on canvas.