My sleep times are all off these days. I don't blame the recent daylight savings thing though. Honestly, I've been sick on and off since right before my show, or rather, under the weather. The worse it gets is a slight fever and crazy exhaustion, and some days it's a stuffy head, runny nose and nausea. It's a bug that won't really hit full force, but won't really dissipate either, so it's really getting on my nerves!
I haven't been getting all that much accomplished. I am jotting down ideas and prepping some pieces for a couple group shows for December, while I get my head on straight for the book drawings for Bottle of Smoke Press.
I should mention that I got a GREAT review by A. Moret in WhiteHot Magazine, so I am very thankful for that.
The drawings I'm doing for the Finegood Gallery show are like brothers and sisters for this piece I did a few years back. It's titled Forgiveness on my Sleeve. It's on a sleeve pattern and the smaller clothing patterns are arranged to spell sloch in Hebrew, which means "forgive." So I am going to do a few other pieces like this one on different garment pieces that read in Hebrew.
For the Soft show, I am going to show piece(s) from my Ethereal Research Labs project.
Luckily, some of the work from my current show at George Billis will be in Miami during the weekend of fairs at the Red Dot Fair at his booth. I hope there is a good response, since he is bringing some very good pieces (I think). He will have both the Calvin Doll and the Mom doll, and a couple of Dan paintings too.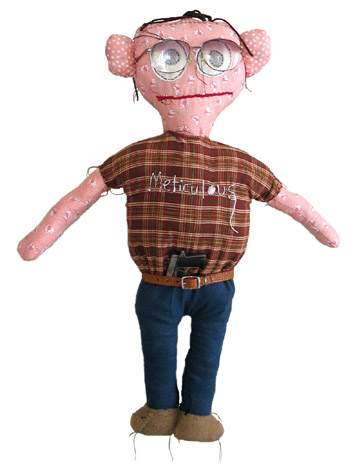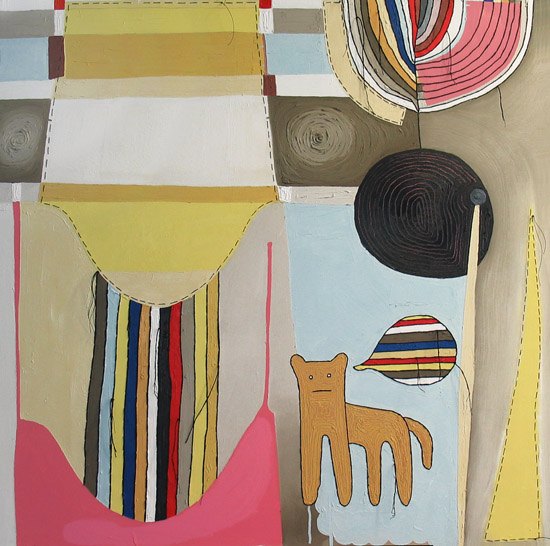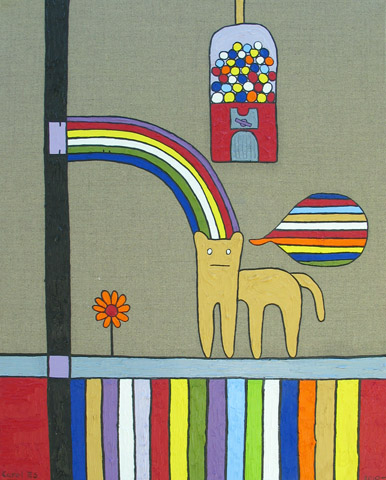 Today I woke up at 7:30 and took a nap around 5 after I watched Some Like it Hot (1959). I woke up again at 9:30 and now I am wondering when I will go back to sleep. I am just happy I can breathe out of both nostrils right now.
Now that I'm kinda done with this particular post — oh I was going to talk a little bit about some of my ideas for a drawing I have in mind for my book of poems. I had this idea to do some little watercolor and ink drawings of small items from my childhood: just random "things." As I was falling asleep the other night I had a good 20 items that seemed perfect, but when I woke up I could only remember 2 of them. Before my nap today, I remembered about 6 more and scribbled them down. I'm still on the quest to remember them all. So far I have:
a cigarette burning in an ashtray
a tricycle
Wheel-o
a fire engine pedal car
a fish with a knife in it
slinky
a swingset
cereal