No you di-int. You didn't ask me shit. You don't care. I often wonder who I am talking to, but it's not like I mind if it's anybody at all, or rather, nobody at all. I don't mind one iota. I just like to type. I just like to hear myself talk. Type talk. Whatever it is I am doing here. Thinking out loud through my finger tips. Yeah, that's what I'm doing. See, if you were here, you might think that was kind of cool and fancy free. Sort of inventive, or somewhat clever. At least clever for a moron.
Anyway, I've been working all day today. mjp has been, well he's been up and about, but he's supposed to be resting his fucked up hip. Instead, he's been helping the guys from Milk get their website back up and running. Why? Because he's a lot like me. He's a lot like a lot of people. He can't say "No."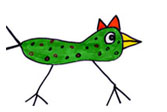 Speaking of websites, I have been dipping my brain back into picklebird.com again. I think I'm going to buy a better WordPress template and just tinker with it from there. I really don't want to code a whole new site from scratch, and there is actually a database running on it that all ready to go. All I need to do is snap pictures of everything I own and enter the data. Oh that won't take any time. Buuuuut, once I get it set up, I sure would like to start selling some work. Some art and some books. At least see if I can.
Today and yesterday, it's been all about Houses. I embroidered another one of the "Dishes" pages. I finished all the cut-outs on the covers, and today I made the blue pouches for the little Giclée prints. I also printed the Giclée prints. That wound up taking forever and you know why? Do you? Because I realized that the file I started off with on my computer sucked ass!
SO, I went into the back of my garage, right next to the dead rat that's been rotting there for months, and I pulled out the painting that is kept in back storage, Home is Near the Sea, 2001.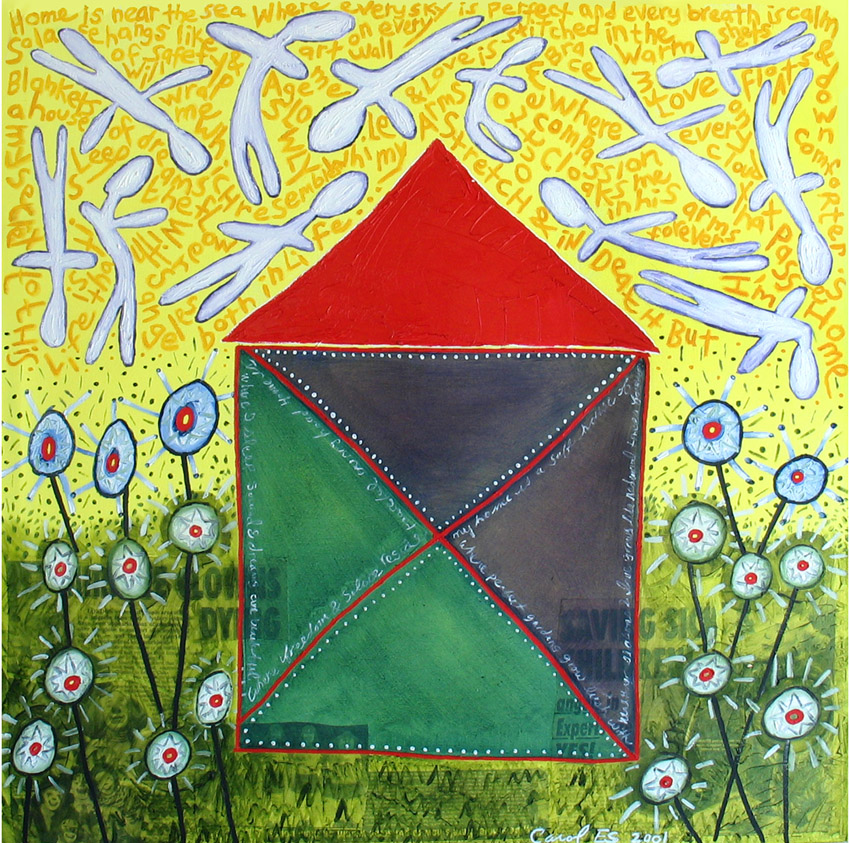 I brunged it out so I could re-shoot it, which I did. I mean, I had to unwrap it first. I was quite impressed with how well it was wrapped, I must say.
Then I pulled it into Photoshop and did a couple of tests before I was able to print up eight little 5″ Giclées. Nothin to it! I hardly wasted any paper at all. Not like before when I had a crap file to begin with. I wasted a LOT of VERY nice paper.
Let's see what the hell else did I do? Oh, I got the gold paper from Nepal and was able to slice those up into book sheets, so those are now ready to be printed on with my crappy block prints. I'd like to try those tomorrow with mjp if he's not too sore. I need him to assist me because he's a block print wiz. I bet you didn't know that about him, did you? Well, there you have it. He's really good at it. Remember his first three chapbooks? Well those covers were all linoleum block prints that were pretty pristine – and he made 50 each – so he got pretty good at it. Plus, he had been making block prints well before that. He's my Block Master Printer, I guess you can say.
I bet you're wondering how I'm doing on my smoking plans, right? Well, it's not going as planned, but better than it could be I guess.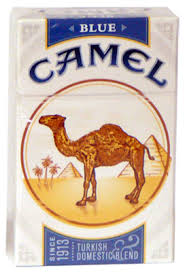 I used to smoke 1/2 to 3/4 of a pack a day and it's been eight days since I "quit" and I have since smoked about a half a pack in total. …I'll get there. My goal is to be fully and utterly a non-smoker by July 20th, which is my 45th birthday.
If you feel the need to get me something for my birthday, I mean, please don't, but if you're one of those people that treat adults like they are still children and celebrate their birthdays with "Happy Birthday!"s and presents and cards and balloons and shit, then you can waste a total of $1.61 on a #72 Chinese White pencil for me at Dick Blick. Or, if you're not racist, you can get me this #2200 Ink Black Inktense pencil for $1.79.
I was also hoping to lose more weight before I was 45 years old. I got up to 177. There, I said it. Some of you have known me to be a mere 100 pounds most of my life, so that might be very shocking to read. But that's what had happened to me over a long period of time. It happened for many reasons. Being with mjp for a long time (we like to watch movies and eat ice cream), laziness, bad diet, eating late, not exercising, medications, getting older, and genetics.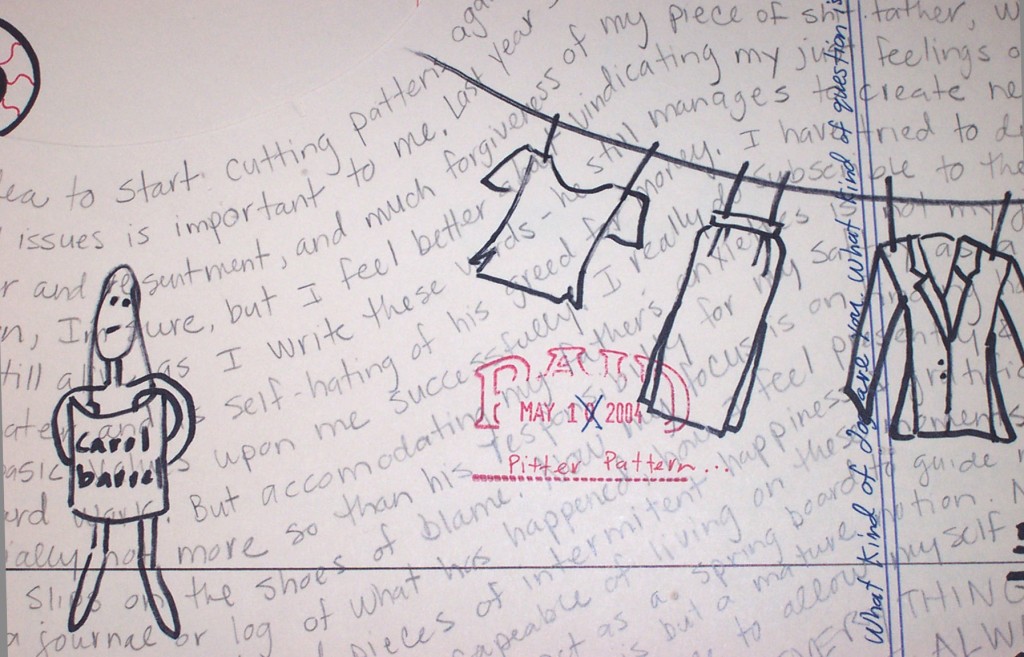 Since January I have lost 27 pounds. I changed my diet and my meds, and I started walking a little bit. I have 15 more pounds to go to get to my goal and the rest is just bonus because I was always dangerously underweight when you knew me before. My range is supposed to be 128-148, so I picked 135 because it was in the middle and most realistic.
Anywho. I'm tired now, so I'm gonna go. Bye.
Oh wait…
Recently on Wet Canvas, there was a thread where someone asked one of those desert island questions about which 12 books would you bring… but then it got expanded to films, music and art picture books as well (because this particular island had a dvd and cd player that worked in some magical way…) And if you felt like it, you were to talk about WHY you made your particular choices.
So here were my lists of 12:
My reads:
1. The Roominghouse Madrigals: Early Selected Poems 1946-1966, Charles Bukowski, 2002
2. Ham on Rye, Charles Bukowski (Novel), 1982
3. Hollywood, Charles Bukowski (Novel), 1989 (Funniest book I've ever read!)
4. Erections, Ejaculations, Exhibitions, and General Tales of Ordinary Madness, Charles Bukowski (Two Volumes of Short Stories in One), 1983
5. Wait Until Spring Bandini, John Fante, 1938
6. Full of Life, John Fante, 1952
7. The Big Hunger, John Fante, Stories from 1932-1959
8. Riding Out the Dumb Silence, Michael Phillips, (Poems/Stories) 2006
9. No One Belongs Here More Than You, Miranda July, (Stories), 2008 (UNBELIEVABLY great writing!)
10. Art & Fear: Observations on the Perils (and Rewards) of Artmaking, David Bayles, Ted Orland, 2001 (Changed my life!)
11. The Sun Also Rises, Ernest Hemingway, 1926
12. The Grapes of Wrath, John Ernst Steinbeck, Jr., 1939
Pretty Pictures
1. Friedensreich Hundertwasser: the Complete Graphic Work 1951-1986
2. Amy Sillman: Works on Paper by Wayne Koestenbaum and Amy Sillman (2006)
3. Amy Sillman: Suitors & Strangers by Claudia Schmuckli (2007)
4. Dana Schutz: If the Face Had Wheels by Cary Levine and Dana Schutz
5. Charlotte Salomon, Life? or Theatre? by Charlotte Salomon and Judith C. E. Belinfante (1999)
6. The Diary of Frida Kahlo
7. Vitamin D: New Perspectives in Drawing by Emma Dexter
8. Peanuts: A Golden Celebration: The Art and the Story of the World's Best-Loved Comic Strip by Charles M. Schulz
9. The Diaries of Paul Klee, 1898-1918
10. Paul Klee (Temporis)
11. Russian Jewish Artists in a Century of Change: 1890-1990
12. Mary Ellen Mark: 25 Years by Marianne Fulton
MUSIC
The biggest collections and/or box sets available for:
1. The Beatles in Mono
2. Bob Marley: Songs of Freedom
3. Miles Davis (during the period he was actually playing concievable jazz)
4. Stevie Wonder
5. Elvis Costello
6. Mozart
7. Chopin
8. Neil Young
9. Aimee Mann
10. Steely Dan
11. Van Morrison
12. PJ Harvey
…And perhaps I could trade in a Chopin compilation in for some Sly and Robbie productions?
FILM!
1. Citizen Kane, Orson Welles, 1941 – The FIRST, the ORIGINAL and the best. The film which all other films are based on, copied from and want to be.
2. Rope, Alfred Hitchcock, 1948 – A Masterpiece of stage acting and directing. Only one camera used, but the film is so good, you would never notice this. While modern-day movies wouldn't dream of doing this (keeping one shot going for more than mere seconds), Hitchcock sticks with the same camera the entire time and only breaks to change rolls.
3. Rear Window, Alfred Hitchcock, 1954 – Classic Hitchcock with (I think) the best of his two opposite actors with the best chemistry for tension and romantic banter.
4. The Apartment, Billy Wilder, 1960 – STILL funny! Timeless. Jack Lemon will always seem this way to me.
5. A Clockwork Orange, Stanley Kubrick, 1971 – The classic Kubrick. It had a great impact on me as a child. I saw it when I was way too young, just a few years after it premiered. I was eight! Of course again later, many times. It's a thinking film about what is more surreal: the violence or the blantent surrealism, and it continues to pose the same questions. It's just as difficult to watch now as it was when I was eight.
6. Barfly, Barbet Schroeder, 1987 – For observational sake, yet it has a vibe all its own. While it wasn't exactly what Bukowski had envisioned, it did capture some of the grit and a little of the secondary world of the mind of the writer – and how the world around him, whether rich or poor seemed like a dream. Perhaps because these are all semi-fictonal stories about stints of his drinking life (he did not write much about the many years in between when he did not drink). Rourke played an "idea" of Hank, but not a good job in any sense. Hank was very displeased. Schroeder was more concerned about getting the shots done and the movie fully funded. All in all, I found Dunaway riveting.
7. Swoon, Tom Kalin, 1992 – After "Rope," I became Leopold and Loeb obsessed, so I sought out this film and was quite surprised at how creative it was. I can watch it again and again, and even love the obvious plants of modern day gagets (new director-itus): it didn't bother me because it's excellent film making.
8. Pi, Darren Aronofsky, 1998 – Not only was this just a GREAT movie, when I heard about the budget, I nearly fell over. AMAZINGLY talented young man. This film had an intense impact on me, although I could have done without the ending. It had everything to do with bringing me back to my interest in Hebrew Mystisism.
9. Happiness, Todd Solondz, 1998 – One of the most hilarious films I have ever seen.
10. Tarnation, Jonathan Caouette, 2003 – Inspiring. I even bought my own DV cam and started to film my family, but realized that it was not as easy as he made it seem.
11. The Squid and the Whale, Noah Baumbach, 2005 – I wish every movie in the world was a LOT like this one. This is my kind of movie and I am always looking for this sort of dialog writing/dysfunctional, complex relationship/characters in film.
12. Science of Sleep, Michel Gondry, 2006 – Some people love Eternal Sunshine (I do too) but I liked the "handmade" quality of this one (which he started before Eternal Sunshine). There are a lot of quirky "behind the scenes" special effects that are like film school style that I like, that mix with what he brought back from doing Eternal Sunshine to then finish this film.
Now, bye!