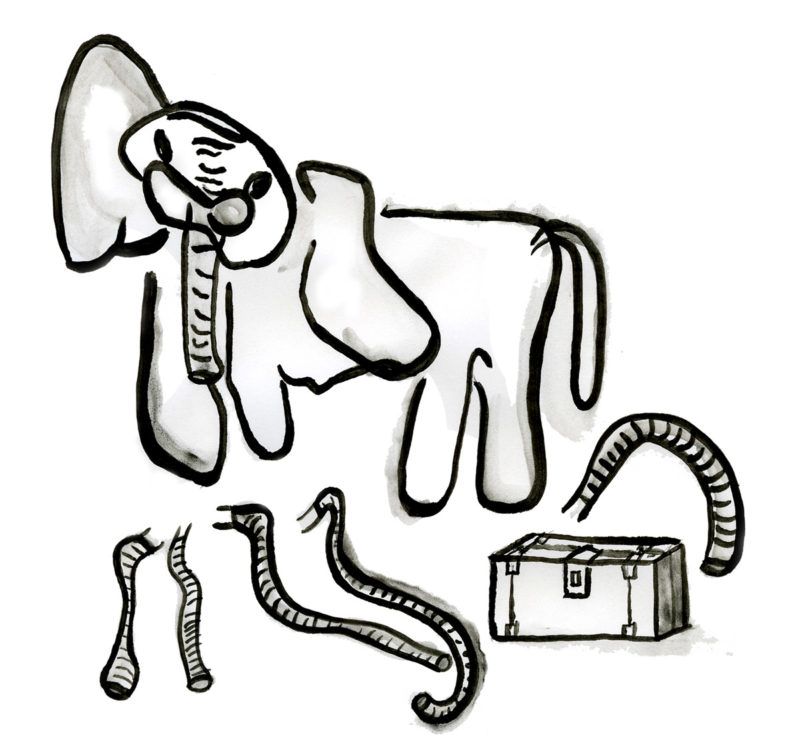 As I said before, I have some personal stuff happening, and you know me, I'm not one to hold back on being transparent. Though, I don't want to let the elephant fully out of the bag yet. Perhaps I need to break the news to myself before I can talk about it on my blog, I don't know. I do know that my life is about to change, and it's all for the better. It's going to be big too, but change is not always easy.
Before I knew I was going to be making such a big change, I'd been planning on one anyway. Everything was going to come to a head on June 1st. That was the day I had marked on the calendar to renew my life. I know it sounds silly–to make an actual date and make a decision to change, but it's not exactly like that. I wasn't going to change. Like I said, change is not easy. I was looking forward to starting a new life after that day. Kind of like from June 1st forward. My past would be behind me. My future, nothing but hopeful, before me.
It's not that the past isn't behind me now. Of course it is. Or that it wasn't behind me a month ago, or a year ago, or even years. But I spent a lot of time on my book rehashing shitty memories. Basically, living in my past.
Meanwhile, I was taking on a lot. As usual. Project after project. My life before was all about exhibiting and climbing a proverbial ladder. I began to wonder why I couldn't feel satisfied and just stop. Stop the constant anxiety, like the shark that has to keep moving. As if I'd die or fade out. And perhaps I would. But that's the art world. It will spit you out whether you try your damndest or not. It cares not.
It reminds me a lot of Hollywood. All that search for attention. How is it any different?
So why make art?
Artists make art because we have to. It doesn't matter if you sell it, or become a star, or if you change two people's lives–or just your own. I don't know why I felt so much anxiety. The career thing gets in the way of the artist sometimes because art and business are two different animals. You have to get your prescription checked every year or so. Maybe even get new frames. I've had the same eyeglass frames for years now. Time for Lenscrafters or something.
At 50, I am now nearing 1,000 paintings. For some, that's a lot. For others, that's nothing. I've been counting since I was 16 or so. That's my lifetime. My life's work (so far). Is that huge body of work just going to fade away if I don't keep pedaling the stationary bike that keeps the machine going? If I pedal slower, or even if I hop off the bike for a year, what would happen to all that work? I've created it. I've exhibited it. It's been documented and it's on my website. Three quarters of it are in collections somewhere or another. So would it all just disappear?
Here's how I know it won't.
This past Thursday, I gathered what was left of my life's work–about 250 pieces–from my garage and piled it into a U-Haul out to Riverside County to the cheapest storage facility I could find within 100 miles. I put it into a climate controlled 10 x 20 foot space so I could finally stop worrying about it melting in the heat. Maybe that's worth a couple hundred dollars a month, I don't know. We'll see. I know it was giving me constant nervous breakdowns about what the hell to do with all of it. The move was such a pain in the ass, it was all too real that these things can not just "disappear" into thin air. We rented a 17-foot truck and it was packed!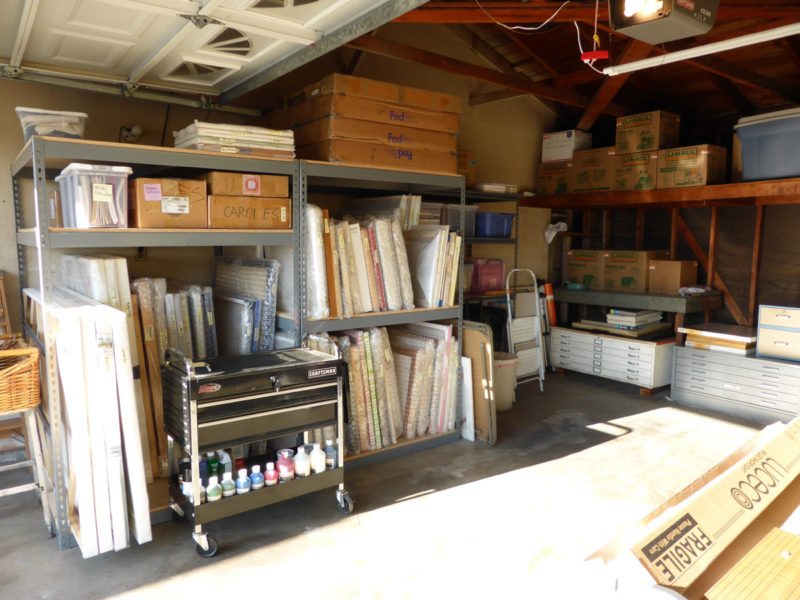 And this was only one side of the garage.
Anyway, this got me thinking. I know I'm not the only artist with a storage problem, but does all this work really amount to a storage "problem" or is the evolution of something meaningful–even if making art is never meaningful to anyone else? It's an existential question for the gods, I tell you. Why make it if it might go unnoticed? Isn't art a risk if nothing else? I believe it's akin to walking out on a tightrope, naked.
_ _ _
So why Riverside? That's pretty far away.
First, I should back up and speak of June. What's all happening after the 1st of June, 2019? It is a significant time for me in that it marks many anniversaries. Not only did I finish and publish my book after 10 years in the making, but it also marks the 10 year anniversary of my mother's death, which in turn marks the same for both my parents's death since they died so close together. The 1st was also their wedding anniversary. They would have been married 56 years, and my dad would have been 93 coming up on Friday (the day before the 1st). But he would've told us that it he'd be turning 95 or 100.
Also on the 1st of June, my old friend Buddy died one year after my mom did. Buddy was my 13, nearly 14 year-old border collie who I still cry over! One year after he died, I kid you not, again on the 1st of June, my parents's dog–who we renamed "Little"–passed away at 11 years-old after eating a nectarine pit in the yard. We'd inherited him once my mom died and he grew on me, and especially Michael. He was really broken up about it. We'd renamed Little when we got him. My parents had named after my dad, calling him "CJ."
NOTE: Do not eat the pits of stone fruits (drupes), like peaches or apricots. They contain high levels of cyanogenic glucosides and can kill you, and especially animals. And ANY part of avocado plants are also very toxic to dogs and cats as well as grape vines, even raisins. Avoid giving your animals fruit with pits!
June also follows the closing of my solo show, my blog tour, and I have nothing booked on the horizon. And, a week from tomorrow marks me and mjp's 20th year anniversary.
By the way, over the last week, here's what's been happening on the blog tour: an interview on I'm Shelf-ish, an excerpt from the book on She Writes, another interview on Nuttin' but Books, and my publicist made a trailer for me, which is not too shabby!
But back to June. Where I thought June would be a new start, it looks like I'm going to have to push it into July. That's not a big deal or anything. That's only one more month, and I'll still get it all done just as I turn 51, since July is during my birthday–not that I usually "observe" my own birthdays. I'm not a Jehovah's Witness or anything. I just think it's kind of stupid and don't care about carving out special days "just for me." I also hate parties. Turning 50, 80, or 100 might call for dinner or something, and one should always have cake, but I wish I could eat cake everyday.
Anyway, one last deadline, which is the LA Metro painting. I've always wanted to do something for the Metro, but there are no guarantees that I'll be chosen, and I frankly don't think I will. I just have a feeling. I'm not saying that to be pessimistic, though it certainly is pessimistic, isn't it? I should play to win. But I can only make what I feel like making. The mid-way check-in point went okay. I guess. The person I liaison with is not a decider in the final judgement panel, at least I highly doubt it. But she is able to offer valuable feedback. I might be overthinking it, but I believe A. I went too literal, and B. I didn't get across what I thought.
…And so, now I want to rework it and I only have a couple weeks. I don't know if I have enough time, especially because I am moving—again!
Alas, in less than four weeks, a new life begins. Details to come.