Where'd I go? Did you miss me? I don't even know where I was. I just know I was busy. And I've been nominated for a Wynn Newhouse Award.
Oh yeah, and I finished all of the watercolors for my show. That means all 11 of the little "junk" items tied to the yarn, and three kabbalah trees of life.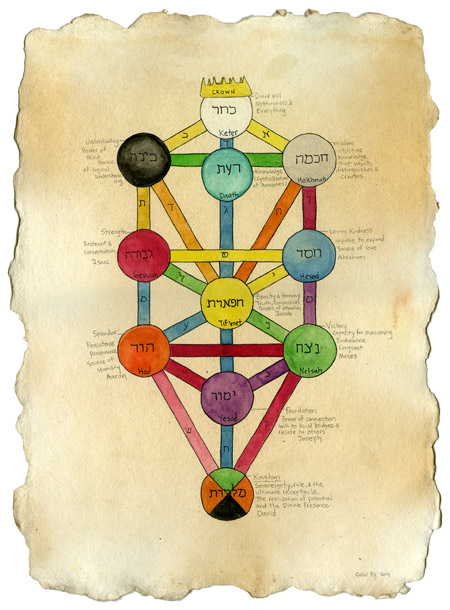 And I was finally able to glue down all of the pieces for the big panel I was working on, but the quick photo I took sucks ass because of the band of light that streamed across the top of it.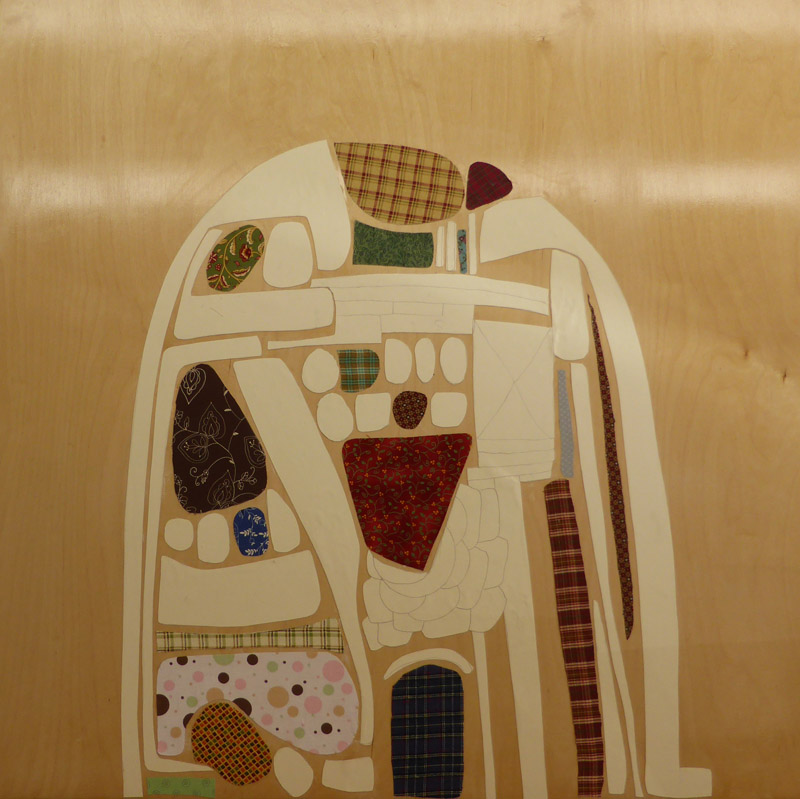 However, this gave me ideas! (And I love when and how these things happen.)
I was going to incorporate some flash of blue sky in this already, but not exactly the way I would have had this reflection not been on the photo. So, you gotta love Photoshop…
It's going to go a little something like this.
But I'm not working on this one right now, other than letting my wheels turn. Right now I am working on a 24 x 30 inch landscape and I am extremely stoked that it fits flat on my drawing table because flat is where it's at!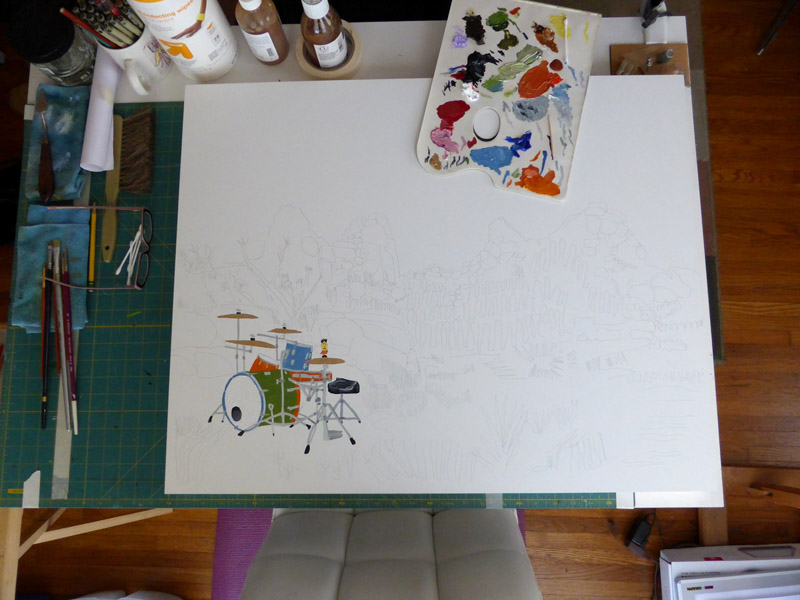 I've probably mentioned it before that not only am I in love with gessoboards now, but working flat as opposed to working at the easel is my new "thing" because it is about a million times faster, and I can see what I'm doing much better too. I'm pretty blind you know. I need both my glasses and the magnifier in my overhead lamp. Blind as a bat I tell you.
I would say that probably working on abstracts lends itself better to easel painting though. I like to be standing when doing those because of the freedom. I think the difference is the layout.
Lately these landscapes have been sketched out first. That's a major reason I can paint them flat – because I can start at one side and move across the the surface to the other. The layout already exits. If it didn't, I would not be able to do it flat because I would need to back off of it between brush strokes about 100 times. That's the difference.
Still, for now, flat is the new black.
Okay so, Recently I was talking about music. I didn't even think about how it all correlates with, well, everything that's been going on. I was referring to watching the Foo Fighters documentaries that have been going on lately, and then here's this painting, plus I've been addressing my loss of playing so many years ago in therapy these past couple of weeks — all of my lament and frustration around it.
And then something I've had to keep on the back burner for some time now has been the autobiography that I started more than four years ago now. Jeez, I think it's been five. But anyway, yesterday I remembered some stuff I wanted to jot down in there – just some notes about building my artist's mailing list some 25 years ago since I am covering a hell of a lot of ground in this book, about being an artist too. I may not keep everything I write, but for now I'm putting it ALL in.
So I opened the file, which is a Scrivener file by the way, and I look to see where I last left off and where I was about to begin again since the tabs are already pre-marked in chronological order. I look at the tab and it says "The Band" and my heart just sinks. Like I want to relive all that! I just think it's funny that all the stars are aligned right now. Plus, the CD playing in my car (don't make fun) is Aja by Steely Dan. I've been doing one of those listening intently jobs, for what reason I do not know. It's not like I'm going to sit down at the drums and have at it at Steve Gadd's solo portions of the album (like who can do those?), I'm just listening like a musician…listens.
Then, I've been doing Google Image searches for birch wood DVD cases because Shulamit Gallery and I may be making a special limited edition package of my video, and this beautiful maple snare drum keeps coming up in the search. It looks like the same snare drum I used to have for many years of my life and it makes me want it back!
Drums are on the mind!
But back to art –
Because I almost forgot that I also finished this little ditty. It's 12 x 12 inches and it's called Corner Lot. Sorry that the picture is a little blurry.
So yeah, I've been busy, but never too busy  to think.