Today was my dad's birthday so I went to my parents' graves, as tomorrow is the also the one year anniversary of my mom's death. Weird, weird, weird. It does not seem like it's been a whole year. I gave them each a giant rose I cut out of my garden and attached little notes and mementoes to them. A Bit-o-honey for Dad and a cigarette for my mom. Then my brother showed up and we all wound up talking about death, God, heaven and hell and the bible. I left feeling totally irritated.
Yesterday I updated my blog (as you can see to the right) and started a list of "artists I love" links. I'll add to the list as I think of more artists. I have a feeling the list is going to get pretty long.
I've been working on a few different pieces at once, all of Dan. 2 34-inch square paintings, and a 30 x 40 embroidery piece of many different fabric Dans that will take a while to complete. Those are at the studio. At home, I'm adding a few new drawings to the Journal Project for the drawing installation I will be showing in the summer show at George Billis Gallery LA in July. They are giving me a whole wall to install drawings and I am very excited to show a lot of work on paper.
Saturday the publishers from Chance Press came down from Oakland to show me some proofs for the upcoming book I am doing with them. We had a great time and the proofs and papers look amazing. This book is going to kick serious ass! I can't wait until the first few are printed. There will be some available at my solo show in October.
Tomorrow is going to be a strange day. I am going to draw a bit to keep my mind busy. I don't want to get too depressed. I'm a little afraid of that, yet I don't want to totally avoid my feelings either. Needless to say, I'm not up for phone calls – and I know I haven't been for quite a while. I'm so sorry about that by the way. Maybe I just needed a whole year to mourn them both. Maybe after June 1st is over, I will finally be better about getting back to people… oh who am I kidding? Have I ever been good at calling people back?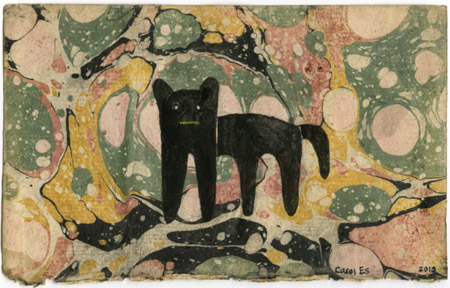 Dan en Negro
3.5 x 5.75 inches, Watercolor on very old book paper.