My new book, Monsters on Jasmine St. is now available for pre-order at Bottle of Smoke Press!
The book contains 5 poems and 5 watercolor, gouache and ink drawings, printed in full color. The cover is letterpress, printed in two colors. The books are limited to an edition of 86: 10 Deluxe hardcover signed & illustrated copies in custom slipcase, 26 signed & lettered hardcover copies, and 50 paperback copies. The official release date is January 22, 2011. Most of the deluxe copies are already sold out, so sorry about that.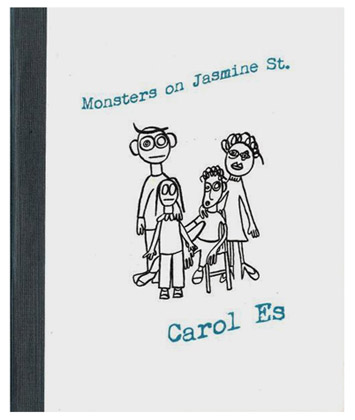 Tomorrow is also the official release date of Scribbles in a Sandstorm, and much of those are sold out as well, but you can still buy copies of those at the Chance Press Store.
Today is the last day of my solo show, It's Mostly About Me and Much Less About You. The gallery was only open by appointment today, so if you did not see it before 6PM today, you have missed the boat on that one. That ship has sailed. I got a bit of press on the show, so that was nice, and some of the work appeared in Miami at the Red Dot fair. The gallery will keep a few of the main pieces around the gallery for a while, otherwise the bulk of it comes back home to Rubber Soul.
Next up, I will be in a group show at the JCC in West Hills at the Finegood Gallery. The opening reception is Sunday, January 16th, 2011, from 2-4 PM, and the show runs until February 27, 2011. The exhibition is called, Jewish Ritual: Rethinking, Renewed and was curated by Georgia Freedman-Harvey. You can see the details on my news page. The show was featured in the Picks and Clicks section of this past week's Los Angeles' Jewish Journal.
That is all. Have a wonderful, happy, healthy 2011!!!!