Little by little, things are progressing: life, art, weight loss, the gaining of my sanity, the organization of my surroundings. All that shit.
For instance, I don't think I've ever been able to say I've been caught up on my email before, but I'm pretty much there. Meaning, I don't have to answer anyone in urgency at the moment. I used to have emails backed up for almost a year. That's been the usual. Sad, but true.
Lately, I've been trying to organize my art files on my computer–a task that will take months, if not a year, I'm guessing. I got sick of having to search for images every time I needed a picture because they're scattered all over the place: different sized files, different versions, taken by various photographers, etc. There are the raw files; each painting taken at differing stages while in progress. The list goes on. It's not easy to organize them all, but I'm trying to do it and not make them appear in more than two places, other than my website directories.
But there's no way around that really. All this might sound boring, but maybe other artists are trying to do the same thing? Seems like there's endless images to organize. My dreams are starting to go inside of yellow file folders.
I have an Art directory subdivided into years, like 2000-2003 for example. Each painting has a folder. Inside that folder are two images and two folders: a 300 dpi image, a 72 dpi image, then the RAW file folder, and the In Progress folder. I won't describe what's in each of those folders, but each directory basically looks like this: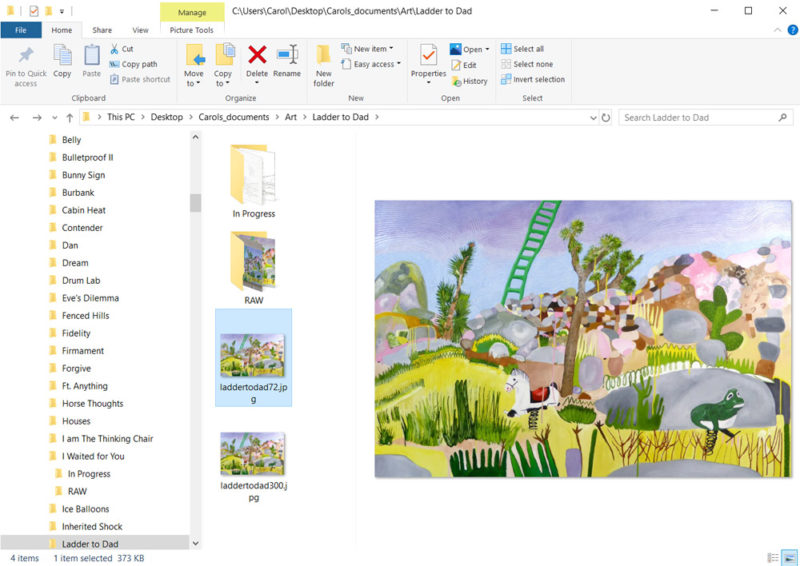 Each painting has nearly fifteen progress shots and at least a few RAW files. It all depends on the painting. It can be a lot more. Multiply that by 1,000 documented artworks and that's a lot of organizing. I don't even want to think about the books, the projects, the installations, or the drawings, but I'm working on this stuff little by little and probably getting nowhere. Ha.
The places where images have to repeat are in the directory of shows. Which paintings were in each show? each show directory have folders for those images, the pictures from the installation, the reception, files for the promotional and the press materials too. I gotta do this stuff or I won't be able to find anything. I'm tired of wasting my time looking all over the place every time I need something and I see 100 files–current and older.
Right now I've been doing this while waiting for some oil paint to be shipped. I ran out of cerulean blue, which I need to finish the bottom of my fishing boat painting. I still have to add some light blue and yellow colors in the "bricks." Then I'll complete the water and touch up all the outlines in black and raw umber. Then what? Oh yeah, move on to another painting.
A collector of mine is dropping off a painting today that I have to fix. Some of the paint came off because it was wrapped in plastic. I guess it got hot? Something. It pulled up some of the paint and now I have to repair the poor thing.
On the surgery front, I have been to two consultations so far. A virtual one with Dr. Lee, whom I paid out-of-pocket for, and Dr. Sinclair, the surgeon my insurance sent me to. I liked Dr. Sinclair better. He's more experienced with transgender patients and did not have any issues with my requests. Dr. Lee wanted my letters from my primary care doctor and my psychologist to be more specific to what I wanted, which I found to be odd. She also questioned my decisions two or three times during the consult. Like I'd go through all of this if I didn't know exactly what I wanted. Bottom line, she's never performed the type of surgery I want despite being a "top surgeon," so she's out.
As far as weight loss, I'm still chipping away, but ever so slowly. I am impatient, man. I hate this waiting, but there's nothing I can do short of starving myself, which is not the way to go about it. I'm at about 1350 calories a day and that's about as much as I can hack it without hating my life. That's about a pound a week with my shitty metabolism. I still have a lot of meds working against me, but now I'm walking a bit and doing some other little exercises. It's still not enough though. And not fast enough to make me feel good about myself. It's going to take a lot more hard work by January. It just seems like a million years away. 
It's a lot easier to put on the pounds than to take them off.