Carol Es
Visions, Dreams, Patterns and Memories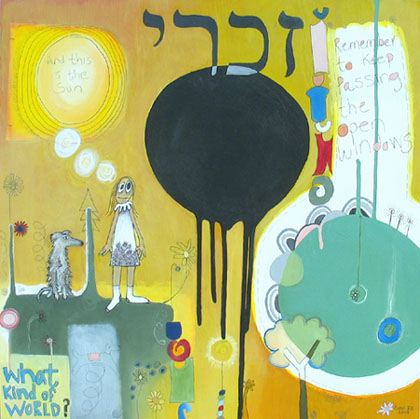 Slutzky Art Gallery
Merage Jewish Community Center of Orange County
1 Federation Way, Suite 200
Irvine, Ca. 92603 (949) 435-3400
March 1st – April 7th
Opening:
Sunday, March 7th 2:00 PM – 5:00 PM
Growing up in the sweatshops of the L.A. apparel industry is the thread that flows through the stories in Carol Es' work. She incorporate the tools of the cutting room trade with candid narratives, cartoons, shapes, abstractions, and dreams. Her work addresses female Jewish identity and family anecdotes by using garment materials and shapes to create Hebrew texts, characters and compositions that seem to truly resonate with viewers. For more information about the artist visit: https://www.esart.com
The JCC Slutzky Art Gallery's mission is to promote quality Jewish art and Jewish artists. Artists are selected because of their commitment to advancing Jewish life through the visual arts.