I'm making good progress on Outlander. Though, I'll sell you about a few setbacks. They haven't been fun.
I may have mentioned that I had to get a new printer. I'm not sure. Did I? The one I had would not print anything taller than 14 inches, and the book (before the trim) is 16.25 inches. But II wanted to get a wide format printer with a higher resolution printing capacity anyway, so I did. They are way cheaper than they used to be.
I got a Canon Pixma TS9520, which also scans very well. I highly recommend this thing. It's a great little machine, but I stand corrected. It's not all that little. We are giving away the old one, which was an HP.
We also have a Brother that only prints in black, and that is great for quicky things. I need a table that holds both printers now. I'm breaking the bank, but it's all good investments.
While I waited for the printer to arrive, I cut all the feet into the back covers of the book, glued on the handmade paper labels and side detail.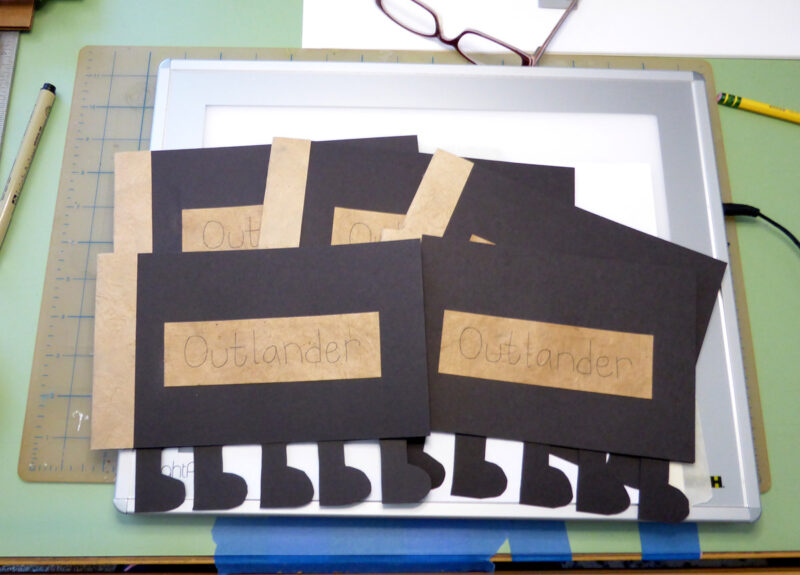 Next, I will be poking tiny holes where all the stitch marks are to be and embroider them (so I can see where to go in from the back).
Anyway, that setback with the printer wound up being okay. I got the printer and was able to print out all the digital pages within a day. But, not so fast, friend. I then made a big mistake. In fact, I made two of them.
The first was on a sheet (four pages on a full sheet) of all handmade art. One page was just handwriting—one sentence. Not a big deal. But I'd already printed this sentence on another digital sheet. Some pages have words on them, but most have images. Some pages are printed, and some are hand-done. I got confused about which words went on what pages. OMG, I was so mad at myself, especially since the handwriting was the last thing I did on the sheet.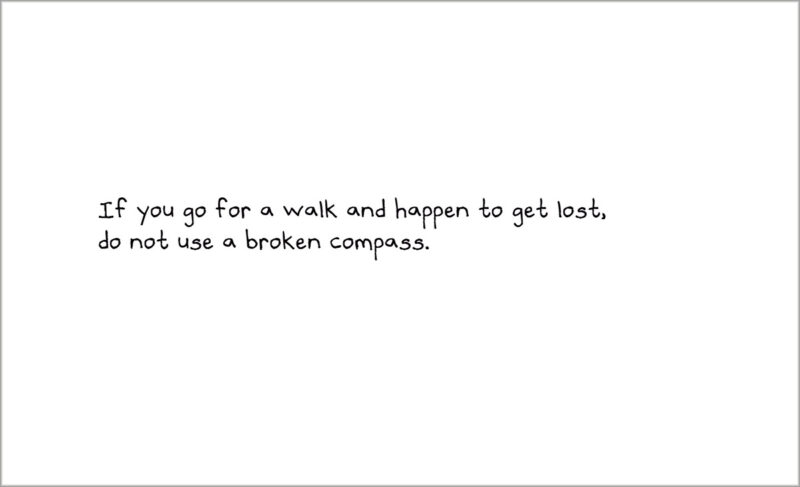 To fix the problem, I'd have to remake the entire sheet, which has two original landscapes (one in pencil, one in ink) and another pencil sketch.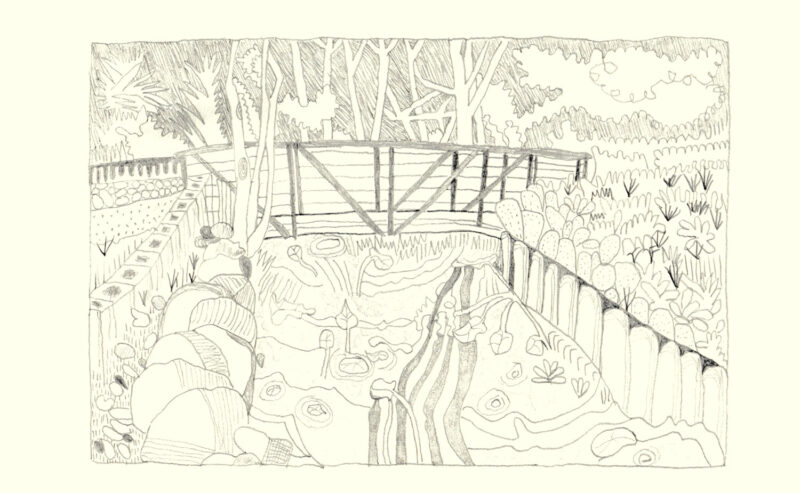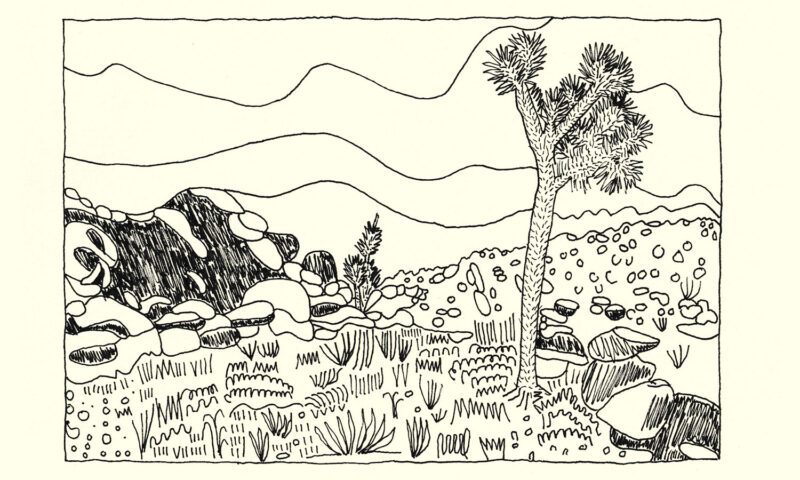 I'd have to do this five times—again!
Or, I could switch the pages where those words go and reprint five pages. Much easier, right? Sure. But I was short on that particular paper (81lb rag white text). Shit! I had to order more, damn it—what a pain in the ass.
If you think that sucked, just before I discovered that mistake, I went back to put final touches on those drawings by erasing some pencil (registry) marks, and my eraser slipped. I pulled the paper, warping it into a fold under the gum eraser. I was even trying to be very careful not to do that! I had my fingers on both sides of the edges of the paper to hold it down, but I guess I was putting too much pressure on the eraser as I pushed it back and forth. Fuck fuck fuck! It made a crease, which ruined it.
I tried to moisten it and set it under a stack of heavy books for hours, and that didn't fix it. We ironed it too. Nope. Didn't work. Now I'm remaking all four pages again. It was frustrating and hard to accept. But that's that.
That would have been a checkmark on my "done" list for the original artwork in the book, but now it will have to wait. However, I'll probably complete it today. I don't typically work on the weekends, but I'm a bit obsessed with all this now. I wanna getter done.
Embroidering the covers kill my fingers, so I'll casually take breaks and finish drawing little flowers on the backs of the flysheets—a Japanese paper that I love. These dandelions are so lovely.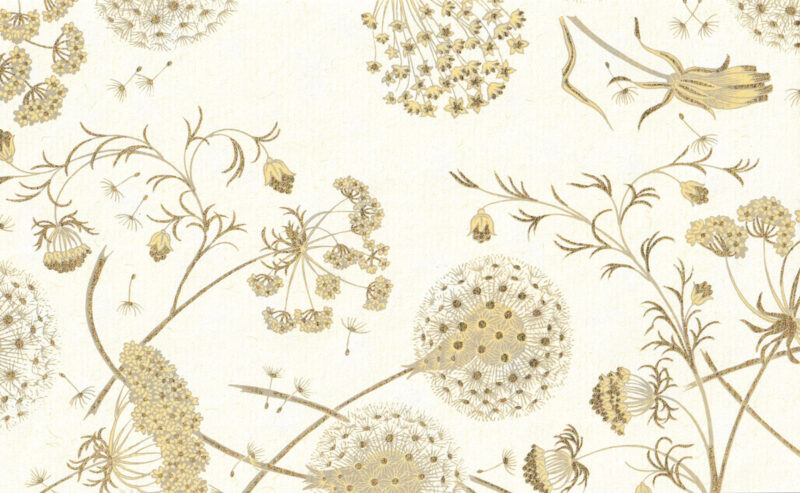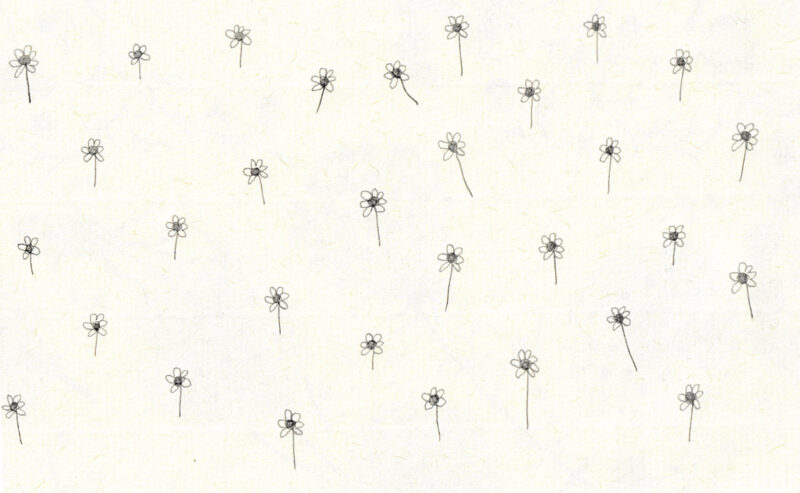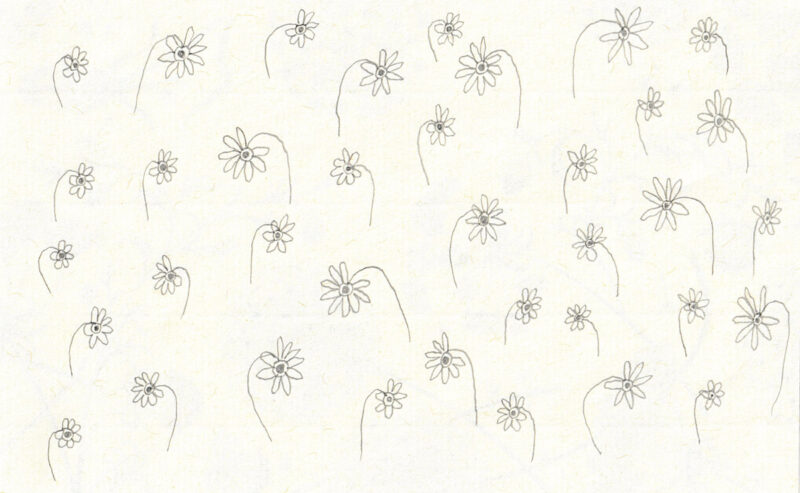 Lastly, I was able to write and print the colophon. And one of the reasons I had to reorder the "rag white paper" was because I'd already stated I'd used it in the colophon. I'm not printing that sheet again, or I'd rather not: 
The above looks handwritten, but in reality, it's printed. I made my own hand font a long time ago, which was fun. Some of the text pages are printed; some are written in hand.
And that's the progress of everything thus far. I'm getting much done, but there's still a lot to go.