Well, I should have known better than to get my hopes up for Skowhegan. That's the most challenging place to get into. (More difficult than Harvard!) Maybe I shouldn't have even applied, but I got my rejection letter on Monday.
However, if I didn't apply, the answer most certainly would have been "no," right? Is trying better than not trying at all? Maybe a little. You can't win the lottery if you don't play.
It's still April, so I'm waiting on the results for VCCA. Chances are better there, but I shouldn't hold my breath. Next month, I'm waiting on answers from the last two residencies (Millay again and Ucross) before I apply for Yaddo again. That will be the end of it for a while because I'm only going to apply for one or two a year from here out.
Why do I do it at all? Because maybe one day I can do one before I get too old. I feel like I might already be too old as it is.
I can only apply for Yaddo and MacDowell every other year. But every year, I'm that much older. And I don't apply for grants anymore. All I want is one of these two residencies. All the other ones I've been applying to are just my way of having better chances of getting into those two. That, and to have a fulfilling experience, of course.
Because I can't see trying to do this after 60, I didn't see myself trying to get into these things at the age I am now. It's really a younger person's game. I was in my early 30s when I did the Vermont Studio Center residency. That was a long fucking time ago.
Anyway, I've been moping around the last ten days because I was still dragging from being sick. I've made one lousy watercolor and doing minimal sketches in my sketchbook.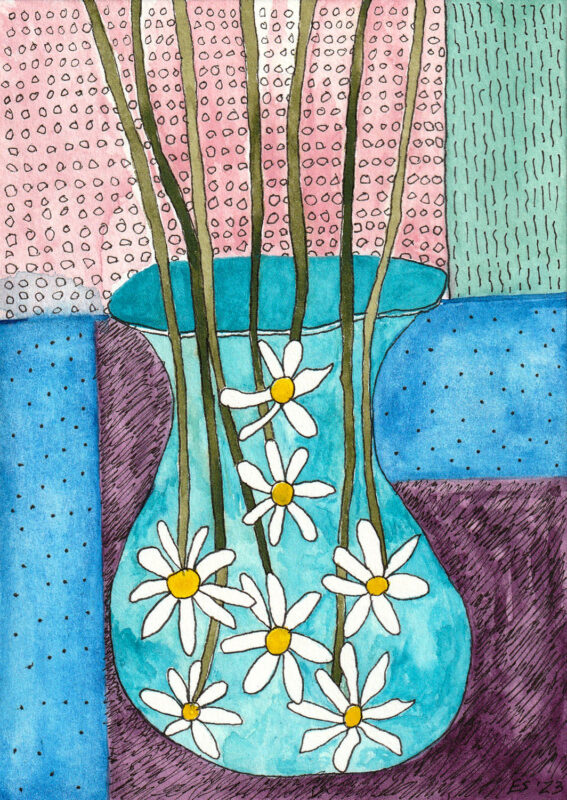 My ideas are slim. I guess I'm falling into a depression. Then again, I also quit smoking again nine days ago. That probably explains a lot. Last time I quit for 32 days. I really want to be done for good, but this happens every time. Last time, my psychiatrist even prescribed me extra medication to get through it, but I didn't feel much different. I was still breaking out in tears most days, and that's happening again. AND I'm on the patch! It just sucks.
Hopefully, I won't embarrass myself today because I do plan on going over to Teresa's today to draw with her—a plan I had a couple of weeks back that never happened because I was still too sick. If we do get together today, I have a feeling it will cheer me up a bit. Fingers crossed.