Today I'm going to pick up a few paintings from my gallery in Santa Monica, Craig Krull Gallery. They are for a group show I'll be in at El Camino College in February called Personal Matters.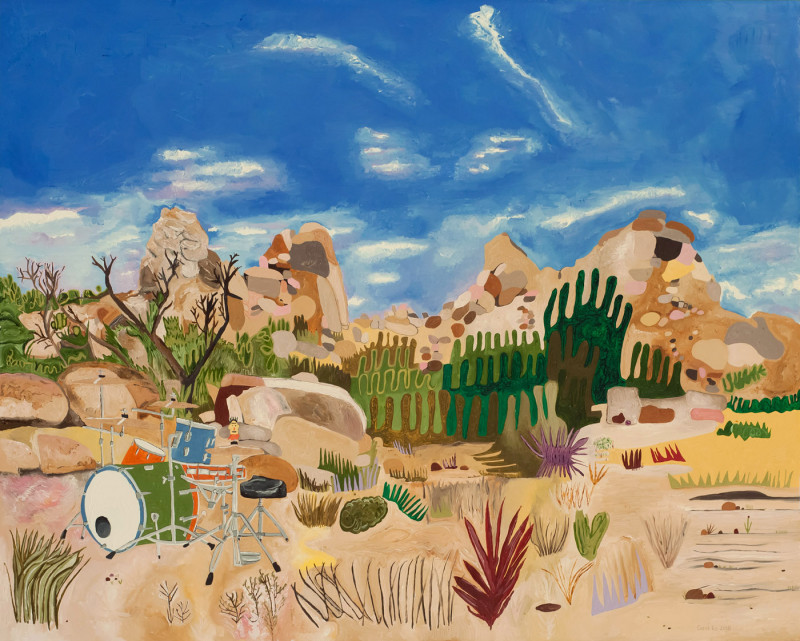 I'm going to have my own little room in the show, which is really kind of curator, Susanna Meiers. It will also give us a chance to play the movie, Up to Now on a screen in there with a bit of privacy/separation. Other than the few Joshua Tree paintings and the movie, I'm also including all of the tiny trailer watercolors on maps pages I did out in the desert this past fall. Maybe I'll use those tiny magnets to "pin" them to the wall to avoid putting little holes in corners. They are just a little difficult to line up is all, so I'll just bring a long level.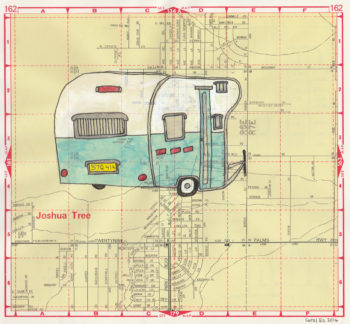 I am still working on the little Artist's book that will go inside the Up to Now flash drive box for the Spark edition, but I'm still waiting on a couple of things, like my printer coming back from the shop. They just finally diagnosed it and it's going to cost me $190 smackers, but I figure, even if I sell it eventually, it's a better investment to fix it. They are $1300 new.
In the meantime, believe it or not, I have put some hours in on that watercolor. I know. I can't believe it either. I guess I might be feeling a little better? I don't want to jinx it though. It gets my mind off things though, because whenever I'm doing something that's taking up my total attention, things don't go too awry in my mind. But here is the painting so far. All the basic foreground is there now. It still needs a bit of detail, but it's done enough where I can move onto higher ground on the right side and finish the rest of that dilapidated cabin and the dying tree. (You can't see that in the picture because the pencil sketch it so light.)
Sorry, not a great photo, and it's mostly the right side of the painting, but that was the side I had left undone for so long.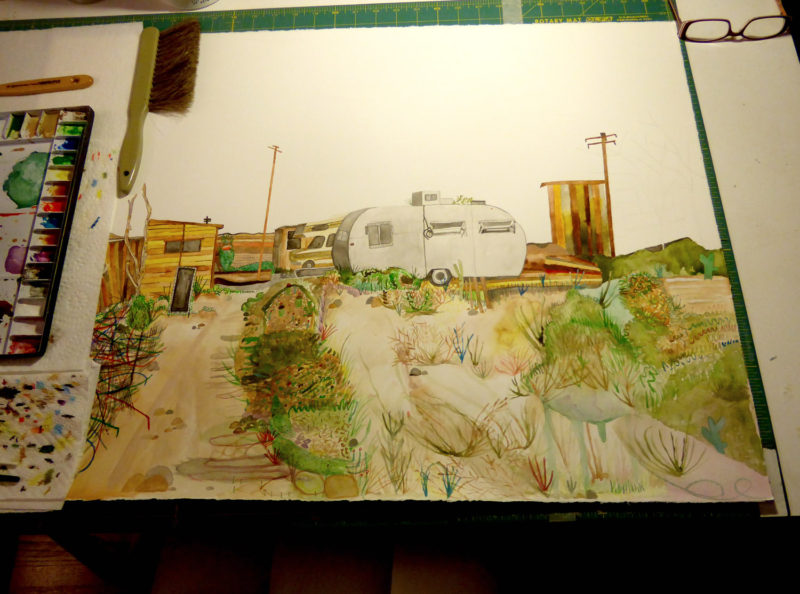 Here's was/is the left side before I started painting on it again. It stayed like this for so long:
Now that I'm looking at it, I guess I did make some progress after all.
Before I was painting, I was making web pages. I guess that's my new thing; writing and making web pages. Those two things have been keeping my mind very occupied and I enjoy doing it. Though, sometimes I wonder why. Why am I making these websites that no one, or very few, if anyone, will ever see? I guess I just like doing it. Because, you'd have to dig pretty deep inside my site to find some of the pages I make. For the last couple of days, I've been updating my Personal Sketches page. I scattered a bunch of new scrap drawings in there. Well, some are not "scrap." Some are rendered well I guess. Some are just funny little quickies. Check them out. You tell me.
Then, I ended up making a brand new page about my secret sketchbook process, which links from that page in the paragraph below the images. And now it links from here, too. 🙂
Okay, so today I have something to look forward to other than mjp coming home from work each day. This Saturday morning, my brother is bringing over that drafting table for me.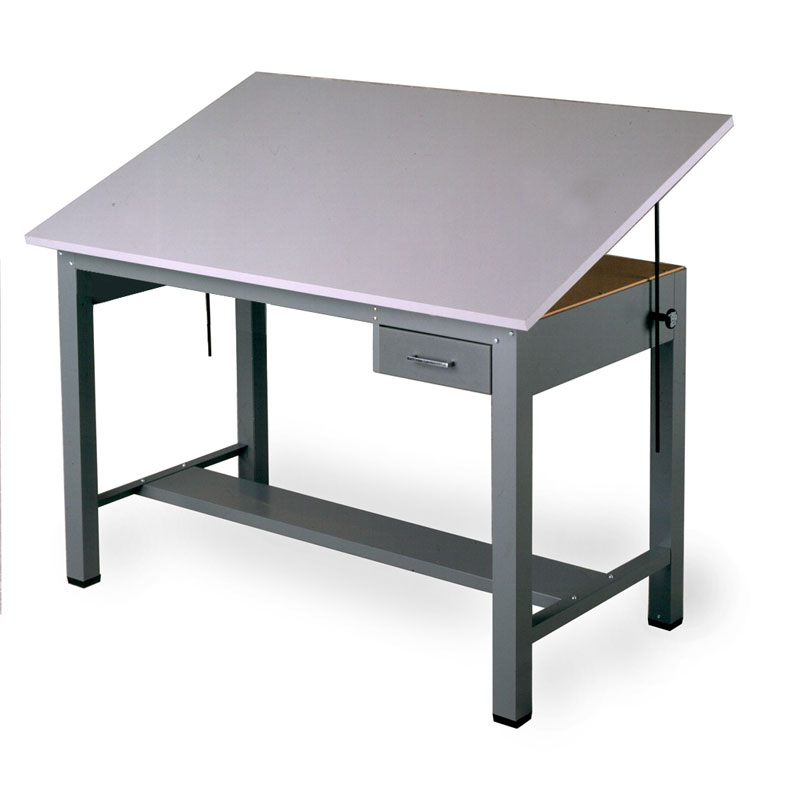 I decided, change of plans. I am going to use it in place of my watercolor station – meaning, I'm going to be putting it inside the house, not the studio. I know it's going to take up a lot more space, but I feel that I would use it more if it was inside the house because of the weather. Even though the garage, or uhm, my studio, is mostly insulated, and it has a little wall A/C for the summer, it's not great for those super hot days, and it's really cold in there during the winters.
I also think I am going to be changing over from easel painting to table painting (for physical, health reasons). This table might be just what I've needed. I am eager to see how it is going to pan out for oil painting. If it turns out I like it much better, I might as well sell Sanyi easel, unless I win the two outstanding grants that are pending at the mo, which are proposals to create larger pieces. I actually would like to make some whether I get a grant or not, even just two – to get it out of my system. I still secretly would love to have that smaller Sorg that was invented after I bought the first one. (Curses!) The one I have now takes up a huge footprint too. Those low ceilings in my studio just suck.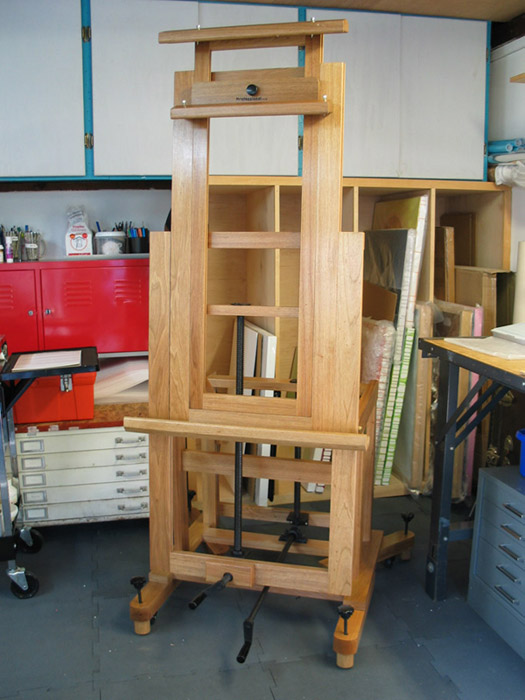 Well, I think that's all I wanted to say this morning. Oh, except to remind everyone that I have a show that starts on the 29th of January at the Craft and Folk Art Museum. It's called, Chapters. Lots and lots of SoCal book artists are in it, including some bigwigs (if that kind of thing impresses you). But please, check it out for all the cool and interesting books. I will have three in the show, and many artists will have multiple ones as well. It's the entire second floor. (Maybe even the entire museum.) It's going to be great because a ton of work has gone into it.
…Okay, so long, for now.