Hello bloggie. Haven't seen you in a while. I've been out chasing stars, going to concerts, and even a taping of a television show, among other things. You know? Business things. More business things than art things. Isn't it always that way. If only I was lucky enough to just paint all day – wouldn't that me romantical? I'm sure that's what you think I do around there though.
I did manage to put together my Summer Newsletter though. Have you read it? It's chock full of stuff. News mostly. Aren't they supposed to be? Writing those take me a long time and I usually have to wait on a few things before I can send it off, like clarifying specific dates and shows, and sometimes big pieces of news. That's why sometimes they don't get out until late in the season. Other times, like this past one, I was sitting on news I didn't want to talk about.
That's not to say I have found out about the travel grant to Jerusalem yet. I still have not heard anything about it, and I cannot contact the foundation about my status either.  Just no word on that yet, so I can still essentially get it and still essentially go to Israel, but the longer they take to tell me, the less likely I can use their funds. Prices for airfare go up – up – up the closer you get to the date you want to leave as many of you know, and I still have no idea how much they will fund me, IF they do. I don't know. The whole thing feels so unlikely.  But truthfully, I am just very grateful that my art will be in the exhibition. If I can actually go, that would just be icing on the cake really.
Speaking of cake, I just had a birthday not long ago and two of my gifts from mjp were going to see a live Big Brother episode taping (a stupid TV show I watch every summer), and also tickets to see First Aid Kit – one of the greatest musical performances I have ever seen in my life at a very hot and sweltering Immanuel Presbyterian Church in mid-Wilshire on August 5th. Man, were they ever brilliant! I can't say enough wonderful things about them. They were like two angels singing their Swedish asses off in that church, and the drummer and steel guitar player that accompanied them  made the four of them sound like they were made of 10. It was near perfect mixing too (it takes a lot to impress us). The drum sound was so amazing, it was just a little loud in the mix, but then again, we were a little close to the stage at row six.
If it sounds like I'm bragging, I am.
I got this nifty concert T-shirt by the way.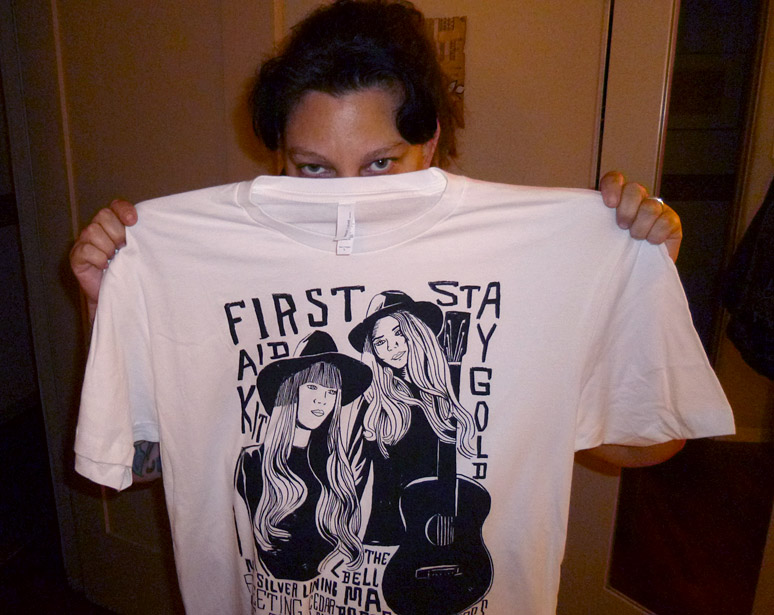 June and July have actually been a whirlwind for me, business-wise. I've had so much going on lately, and so many great things that have come from the Exodus show, it's hard to keep track. I didn't think things were going to pick back up so fast, but alas, they are again. I should have known better – there's no rest for me.  In fact the same day I went to the concert,  I got word about a another solo show I will be doing in December at Craig Krull Gallery. I'll be showing some of my mixed media abstract works with new additions that I'll be working on from now until November. I'm very excited! In fact, I will be working with Craig from here on out.
Some of you may have noticed that Shulamit Gallery has been changing their model lately and we've decided to part ways, so I am very excited to be working with Craig from here on out, yet I am also very grateful to have had the time I did with the Shulamit Team.
Now, I am trying to come up with a title for my new solo show and I feel like I have a vibe, but not quite a title. I'm close, but no cigar. The pieces I am showing are still about the area of Joshua Tree where I was "prospecting," i.e.: the architecture, and the way the houses are built into the rock formations. But as for a title, all I have are words and abstract ideas:
Copper Mountain
Mesa-Highlands
Panorama Heights
Hwy 62 Boundary
Baseline Borders
GIANT rock
The Lure of Gold
Lost Horse Valley
Homestead Propsector
Quail Springs Road
…I guess I'll have to figure out something in this pile of disjointed ideary.
So this weekend I was working on the two pieces for the fundraisers I am going to be in. One is for the Torrance Art Museum. This is going to be a pin drawing. I had to use my Dremmel drill press for this: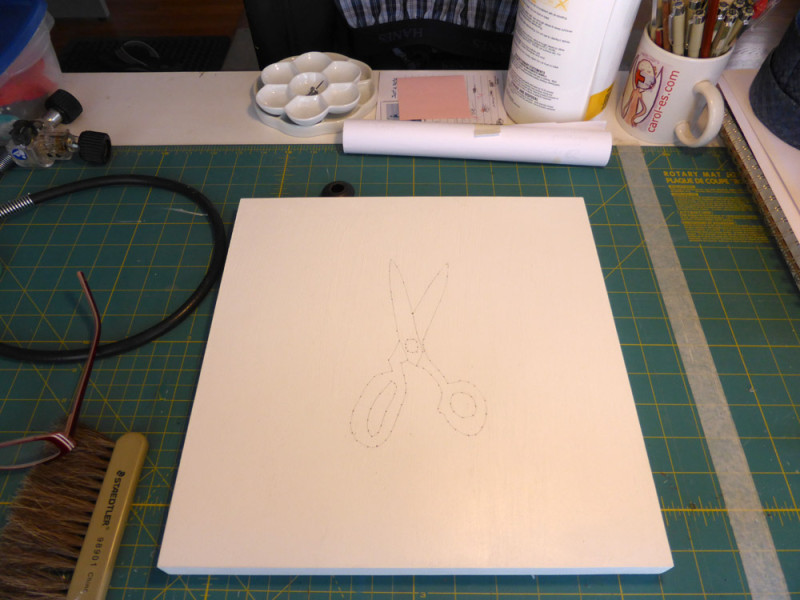 and I've also been working on another piece for the Room and Board show – a piece I started a long time ago that I decided to finish especially for this show. I am going to need a name for this piece too. I've been going blank on names and titles lately. Anyway, I mention this show in my Newsletter. It's called Art & Home 2015.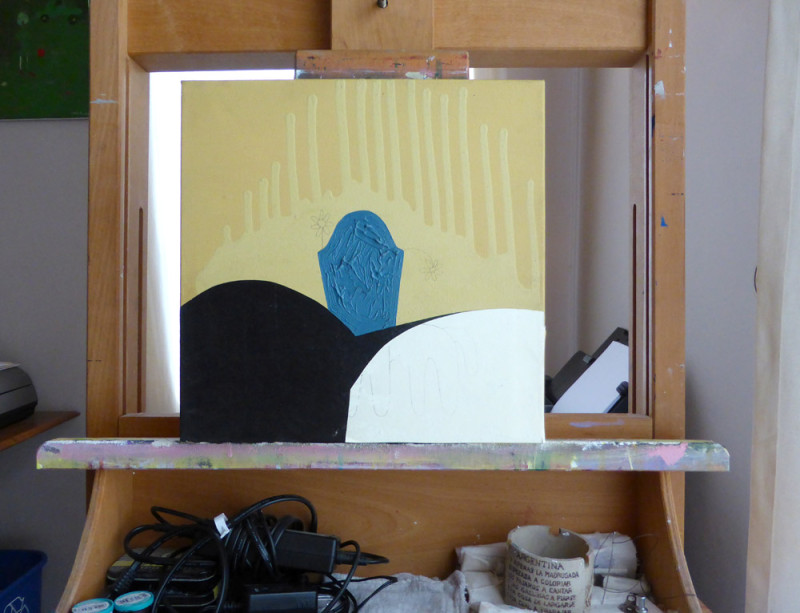 Pictured above is about as far as I got with it when I pulled it out of storage.
Then I played with it in Photoshop a bit:
And now I have added more collage: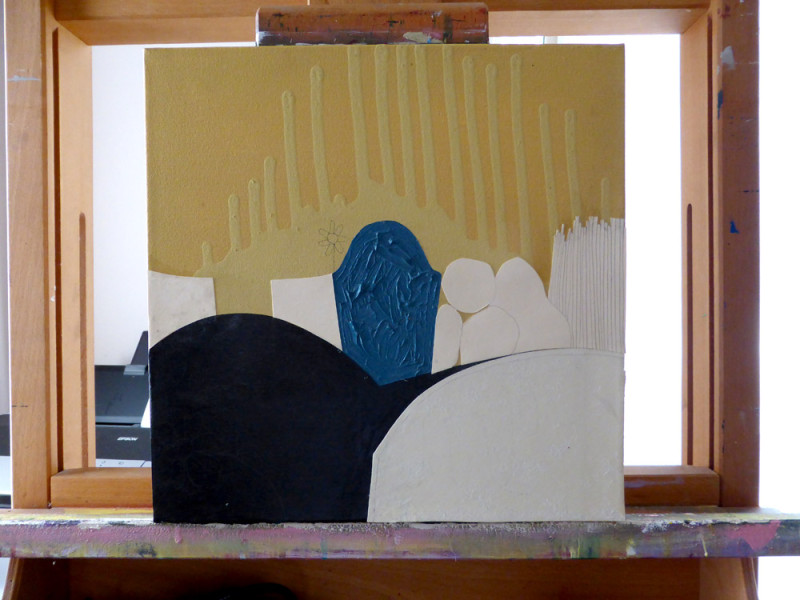 All I have to do now is paint it. I know it's hard to see where it's going, but I know exactly what I am going to do to it.  🙂
I also have to decide if I would like to be in Studio Visit Magazine. I applied and found out this morning that I got in, but there is a small fee to be printed. I think that it is worth it though because it's like direct or target advertising only way, way cheaper. The only thing is that I applied to be in New American Paintings too and I am still waiting to hear an answer back from them too. I wish I knew because they essentially send their magazines to the same mailing list and New American Paintings do not charge the artists to be printed in the magazine.
Anyway, today I am going to paint. It's been a while.