If you happened to stop by Studio 45 on the Art Tours last weekend, you might have noticed I wasn't there. But chances are, you didn't. I got word that only a couple of my friends from Los Angeles drove in. Oops! I should have considered that this might happen…
After sitting through the first weekend, I realized throughout the week I wouldn't be able to sit through it again. I'm waaay too mentally fucked up. The first day was slow, which wasn't such a big deal. But on the second day, I was dealing with anxiety levels I just couldn't handle. It took everything I had to keep myself from hyperventilating, bursting into tears, or passing out. I left a bit early so I could decompress.
It seems I have a time limit for talking to people I don't know and/or being social. There's much more to it than that, but that's the gist, I guess. Saturday was a nine-hour day, and Sunday was from 10:00 to 5:00. I also recently went through a medication change, which added some spectacular highlights to all the circular, critical thinking inside my head.
I can do art openings. Basically (with an anxiety pill). Those usually last up to three hours. They typically don't require artists to be sales representatives. I guess I've been spoiled for the last couple of decades in that way. That hustle has been over for a while now. I'm no longer a starving artist, nor have I ever been money-motivated. But I'd be lying if I said it didn't bother me that moving to Joshua Tree and changing my name has caused me a lot of invisibility. I'd say it's similar to feeling like a washed-up musician. Once upon a time, I was a somebody.
Well, all this crap got me too into my head, and I had a kind of mental breakdown. I couldn't show up for the second weekend. I'm trying to get my shit together to get strong enough for the last one. I'm not sure if I will be able to. But who am I kidding? Sometimes, I can hardly go to the grocery store and greet the checker after I've been standing in line. I'm such a basket case.
There's also the issue of where to sit and what to do while I'm there other than looking at Instagram all day. The three of us are in a very small studio, and I have the options of blocking my portfolios, blocking my Artist's books, or blocking the door to the house. And there are no surfaces for me to draw or write or anything, just a wobbly TV stand, which I'm using for my iPad to run any credit card sales.
So, on the second day I was there, I brought an embroidery to work on. However, because I'm as blind as a bat, I really couldn't see what I was doing. I need special glasses to do it. The special glasses are crazy weird and make me look like an alien, and I tried to do it with regular magnifier glasses. I made a mess of the thing and wound up throwing it in the garbage. It added to my frustration of being in the way all day and feeling like an elderly idiot. Ha ha ha!
I laugh now, but was it funny? Not at the time.
I haven't made a decision about attending the last weekend yet, even though my therapist suggested I don't go. I've not been thinking about it, and instead, Hannah and I put together this amazing utility table I got with my award money. It's beautiful, and it got my mind off things.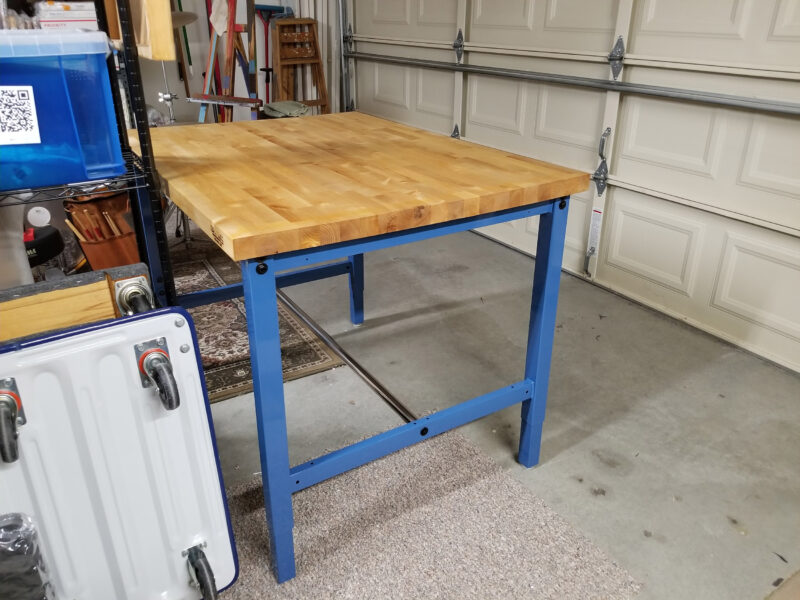 Sometime today, my new easel is coming on a freight palette—also paid for with NADC Award money. I am very fortunate for this and am just trying to focus on that.