Once I recovered from that stupid Covid shot, I've been slowly getting back to my regular work schedule. I was also able to get started on the big tattoo I'd planned to get across my chest for eons. In fact, it's very nearly done now.
Long before I got my top surgery, I wanted a large chest tattoo. Of course, I didn't want it until I got rid of my breasts. To me, the entire transition procedure included the surgery and the tattoo. I just had to wait at least a year after my operation. And since my healing process took longer than the average bear, I waited more than that to be safe. I was also looking for the perfect tattoo artist to do the job and someone who was relatively local.
I can't believe my luck since I found someone six miles away and someone who specializes in exactly what I wanted. It looks fucking amazing. I've already sat for two back-to-back sessions with her last week, and I'm healing nicely.
I didn't think I could sit for longer than two and a half hours in the chair—three at the most—since that's the longest I've ever been able to sit in the past. But I did two four-hour sessions. Not standing on my head or anything. It was a bitch, but I tolerated it. I honestly could've gone longer if she had the time, but we can't finish it until December. Oh yes, I did notice that I created a nice blood blister on my toe from wiggling my feet in my shoe the whole time I was going through the process. Ha!
Other than that, I've been able to get back to some painting and writing. I've done a few gouaches. Some were for the collaborations I'm doing with Niki Ford, but now, at least two will be my own. I'm finishing those up now. Today I'll finish a 19 x 26-inch one.
I finally finished the 30 x 24-inch oil painting which I'm titling Party Practice in Pink. That thing sat on my easel for far too long. Not to explain away my paintings— especially because I wasn't aware of this one myself until I finished it, but it seems to be about my social anxiety. There's a kind of balance of people-pleasing vs. trying to quiet the negative self-talk embossed onto my brain—something along those lines.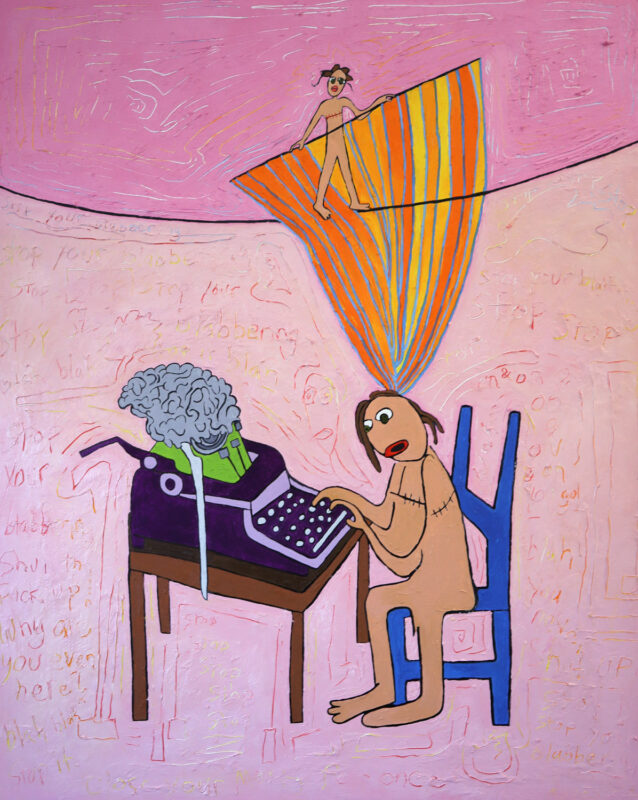 And I'm still chipping away at this new book, Queer as Mud. What it is, I don't know. I'm trying to get it all down as a rough draft first and worry about all that shit later. As of right now, I'm writing it memoir style. I can't help it, as that's what comes easiest for me. I can always fictionalize it later. Embellish it a little or a lot. Maybe not at all. 
I haven't wanted to talk about the last book I wrote because I did take it out of distribution. This hasn't been easy because the distributor has to sell the rest of the units that were printed. Plus, there are still plenty of used copies floating around. It's not like it's challenging to acquire. But there's nothing I can do about that.
I did this for a multitude of personal reasons. I also had some regrets about publishing it.
However, I recently reconnected with one of my best friends after more than twenty years apart. Now I can't regret it anymore. The book has helped her a great deal. I learned just how much these past few weeks, and I'm so blown away about it. I don't even know how to describe it, mostly because I can't speak publicly to what personal changes have happened with her. 
In a nutshell, she has made the same strides that took me decades in such a short time. I'm so fucking proud of her. She's even proud of herself, which speaks volumes because she would've never said that forty years ago. Never. It's really incredible to hear about the changes in her life, and she keeps thanking me and appreciating my book. It's weird and nice. It's goddamn lovely.