The next morning was Saturday, the day of my opening at Craig Krull Gallery in Santa Monica. Hannah and I got on the road from Joshua Tree at 10:30 AM and headed for LA.
I thought it could possibly take four hours again, but I didn't count for the time of day we were leaving, nor did I account for the carpool lane, so we got there by 1:00.
Of course, the hotel didn't have our room ready just yet, so we went and had some pretty awesome Mexican food next door at Socalo. Wow! It was damn tasty.
By 2:00, they had a room ready and we checked in. I had a good two hours to chill out and prepare, which was nice. I thought I'd only have an hour.
Craig held a parking spot for us out front. This was fortunate since every gallery at Bergamot Station had openings at the same time, from 4-6. There was absolutely no parking, and some people mentioned having to walk several blocks away from where they parked their cars. I didn't want to mention how I had a spot right out front in case jealousy ensued.
However, as soon as we pulled up, there was already a bit of a crowd gathering in front of the gallery. I spotted a few people I knew, and they saw me too. There was no escaping! I wound up talking to another artist for the first fifteen minutes out in front before stepping foot into the gallery. After the first five minutes of talking, I got preoccupied about how I should probably go inside and see the show, check in with Craig and Bridget (the director), and all that stuff.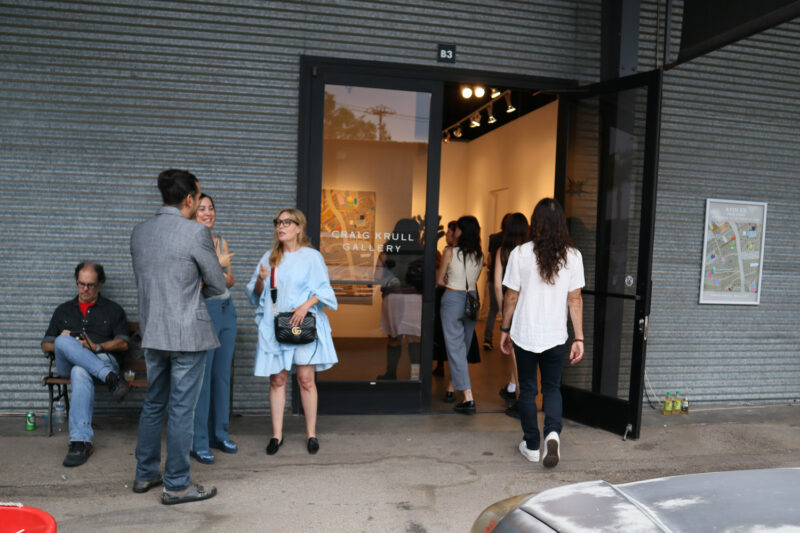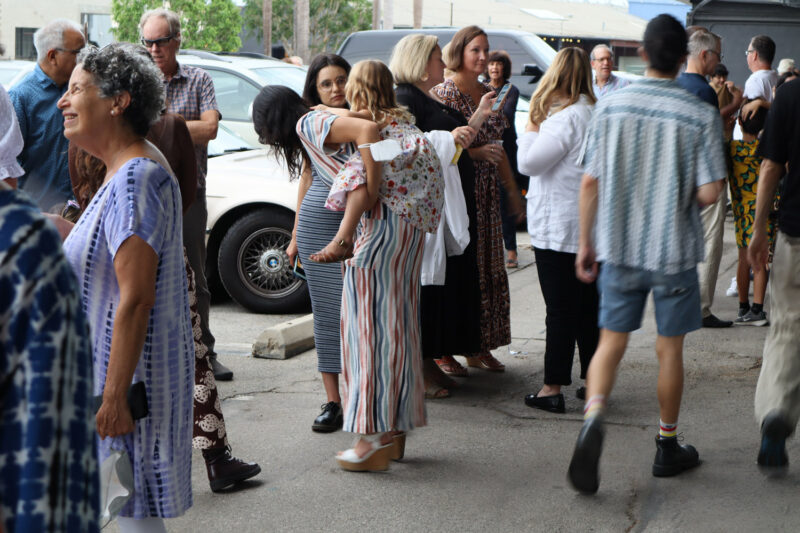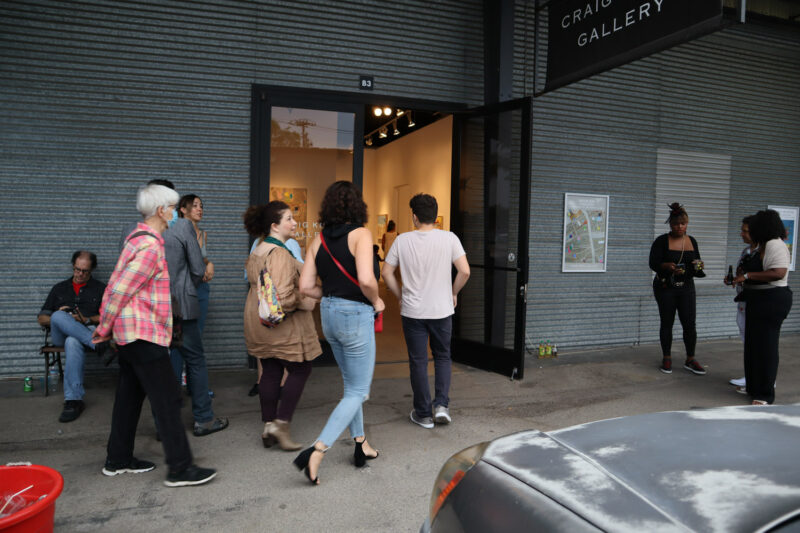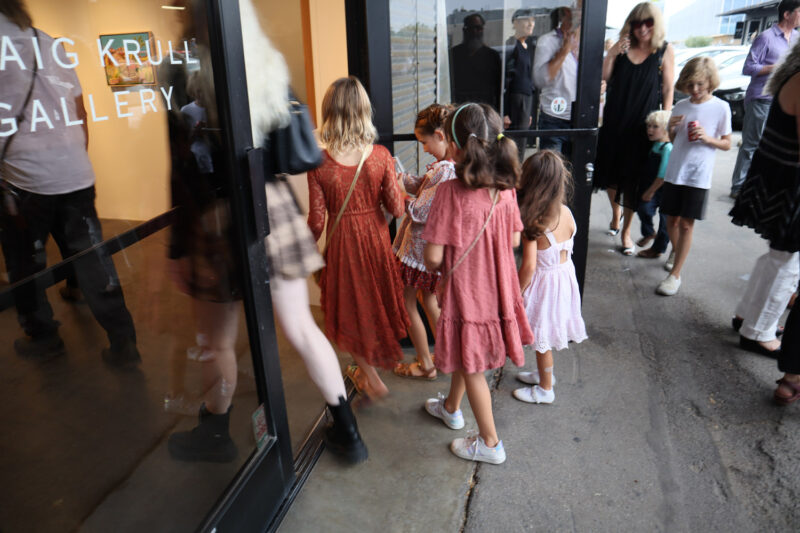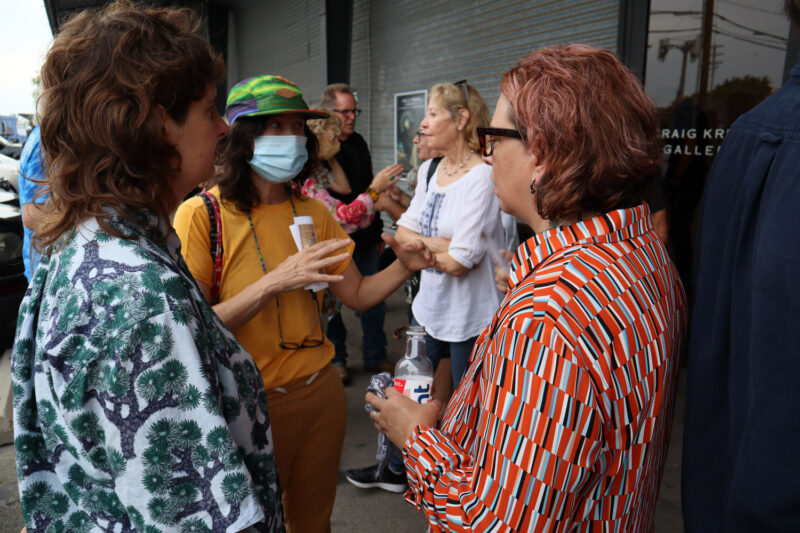 I was finally able to form the words, "I should probably go inside and see the show." This would be one of the very few times I would be able to stop myself from disassociating over the course of the next two hours.
I talked to a couple more people, but I couldn't tell you who they were before going into the back part of the gallery where I saw my landlords who came to the show. OMG. That was really nice of them. My landlords are amazing, special people.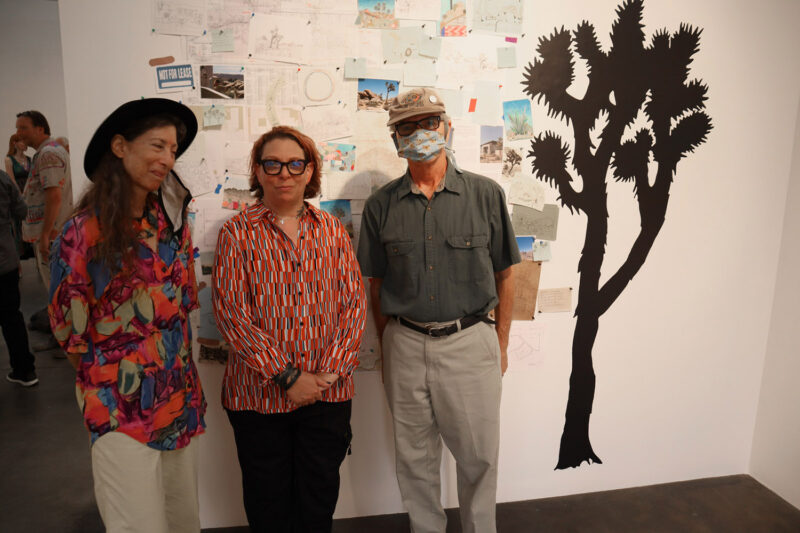 Honestly, it was nice of everyone to come. I was grateful for all the lovely support. Really. But I was fucking overwhelmed. I don't know what I said to anyone. I was inside my face, outside my body, anyplace but in the present.
And it was unbearably HOT! I was dripping sweat all over again. This time I brought a bandana to wipe the sweat off my face and neck every few seconds. That was all I could think about when I could be present. I was so self-conscious of how sweaty I was.
After talking to my landlords for another 15 minutes, I had to go back outside and get some air, and there the crowd seem to get bigger. Maybe everyone needed air. And people from my past began to show up. I mean people from way, way back like 35 years and more. Surprise!!!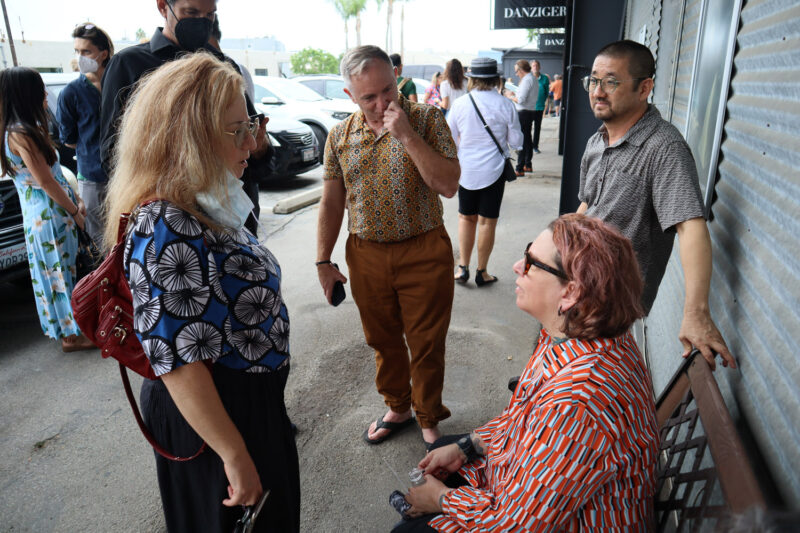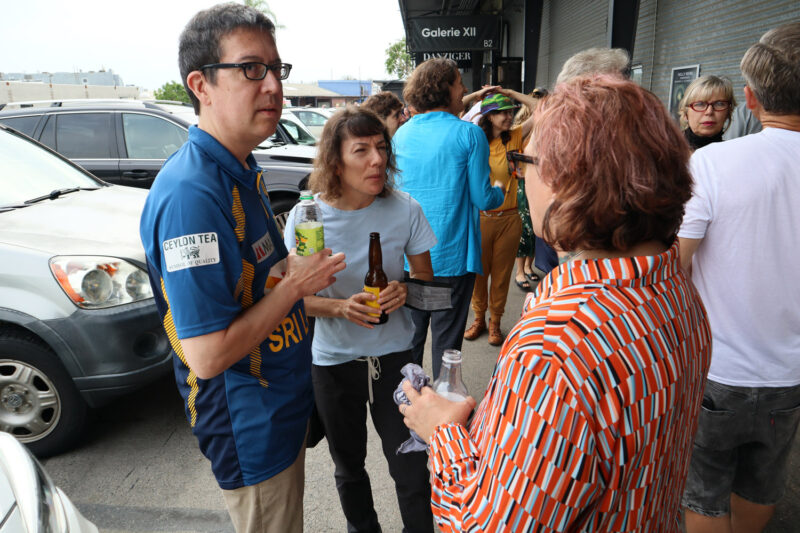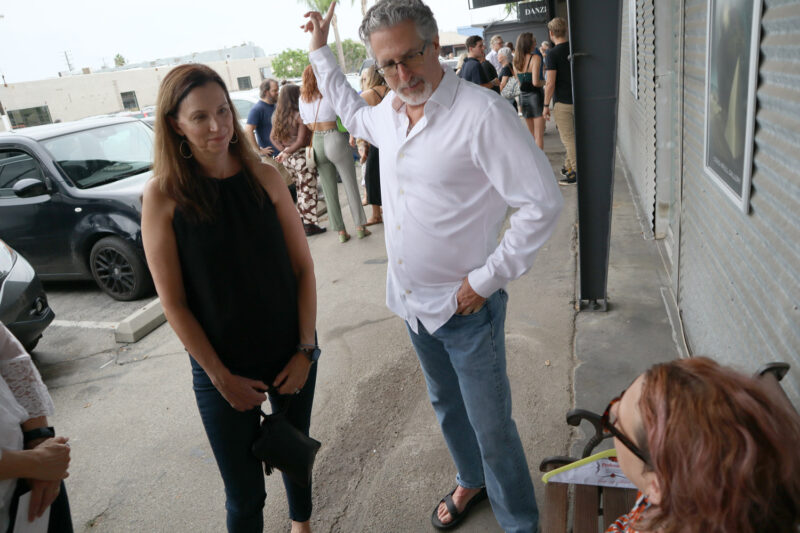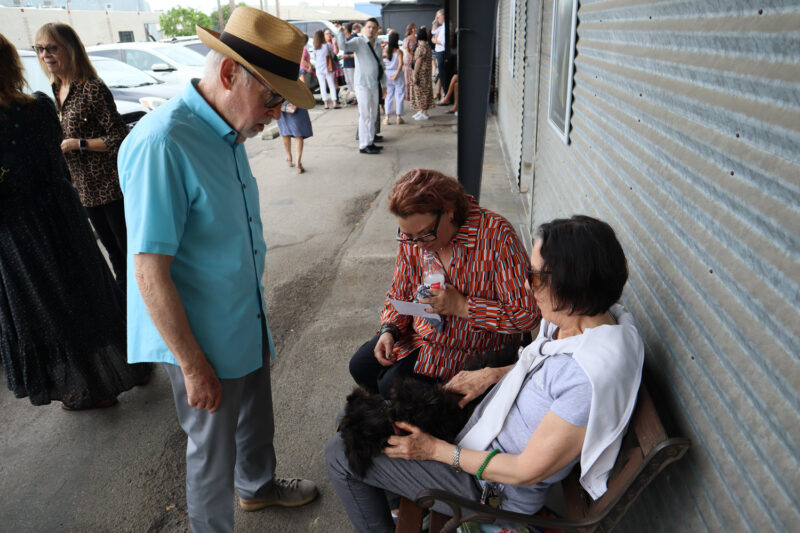 Luckily, one of my artist friends brought their new puppy, and I got to pet her for a little while, (she was so soft!), but I mostly got stuck outside on the bench talking to people I hadn't seen in a decade or more. That truly threw me for a loop. I didn't know what to do with that surprise because I felt bad if I didn't spend ample time with each of them.
It wasn't until the last twenty minutes that I went back into the gallery to try to talk to people inside. Oops!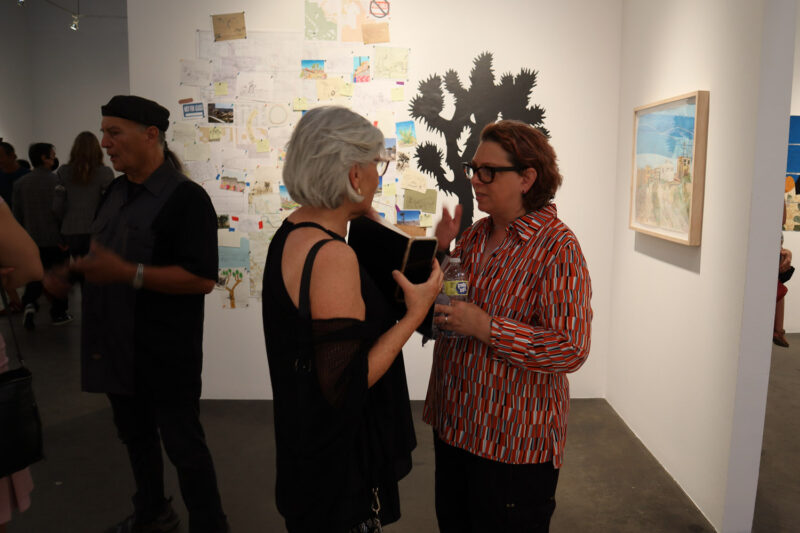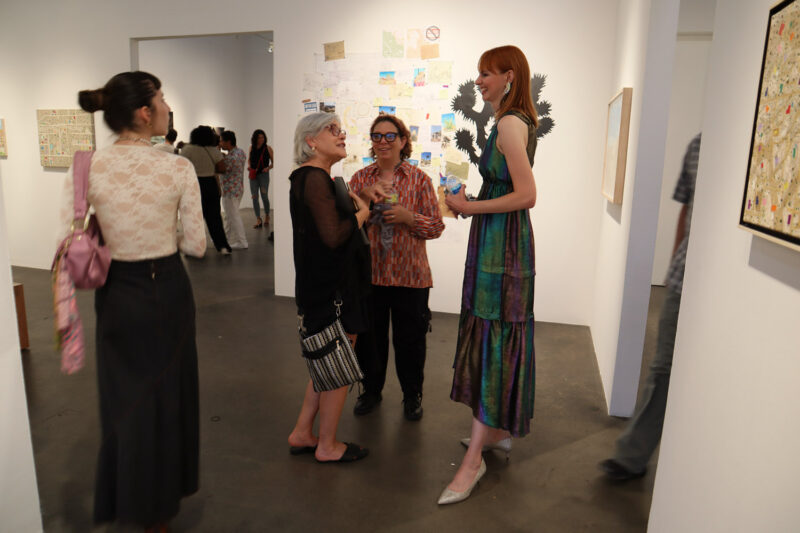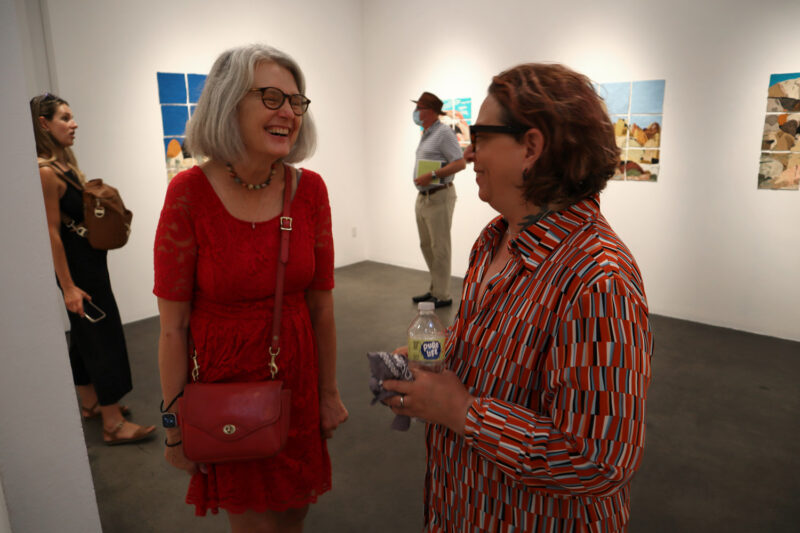 Part of me felt like I should have been doing more talking to the people that looked like they were interested in the art. Oops!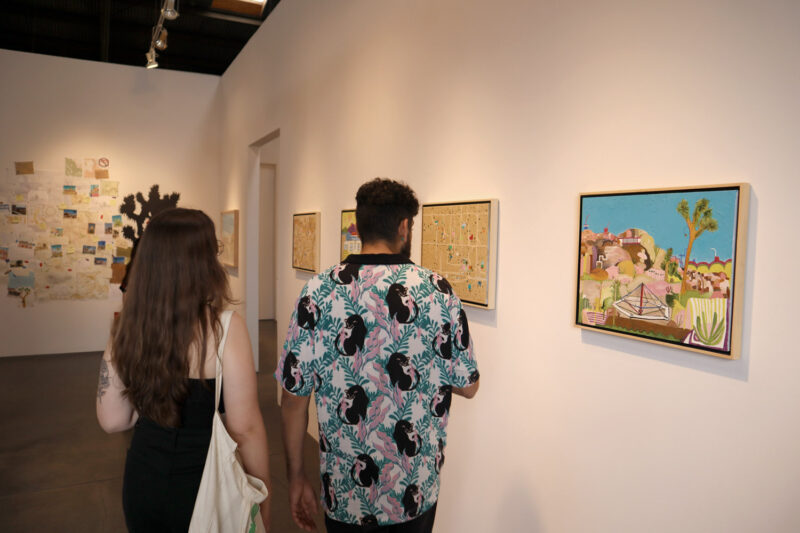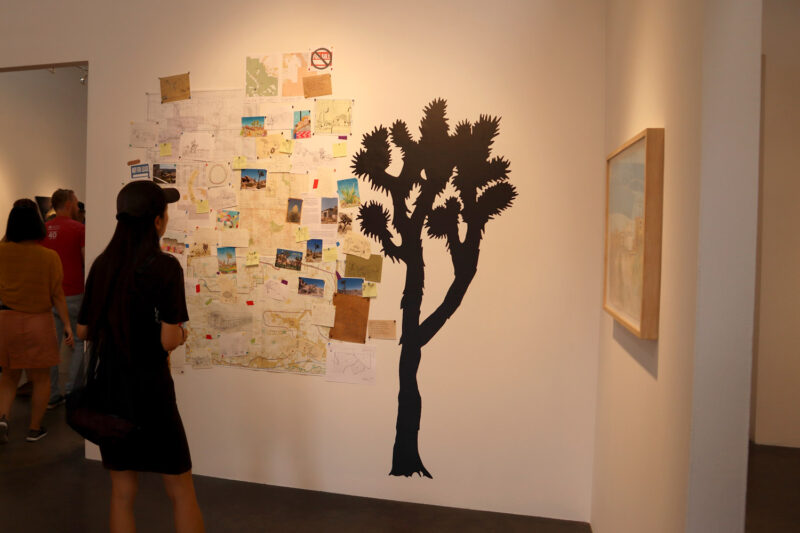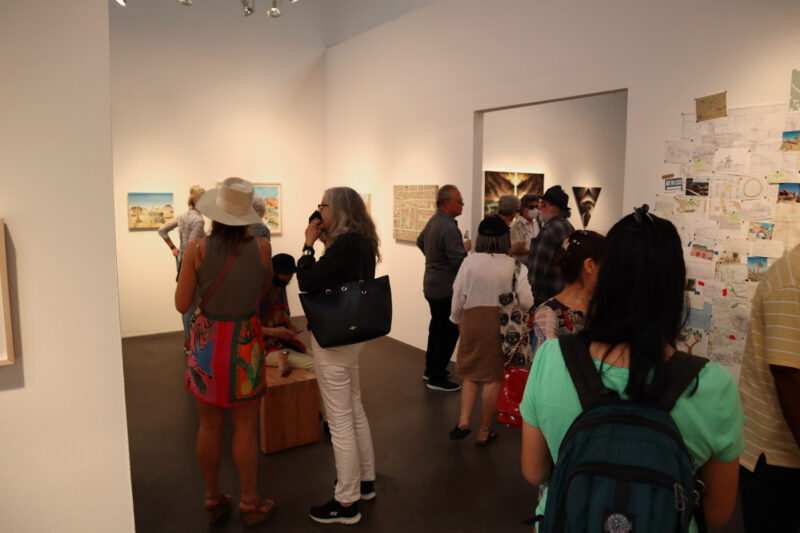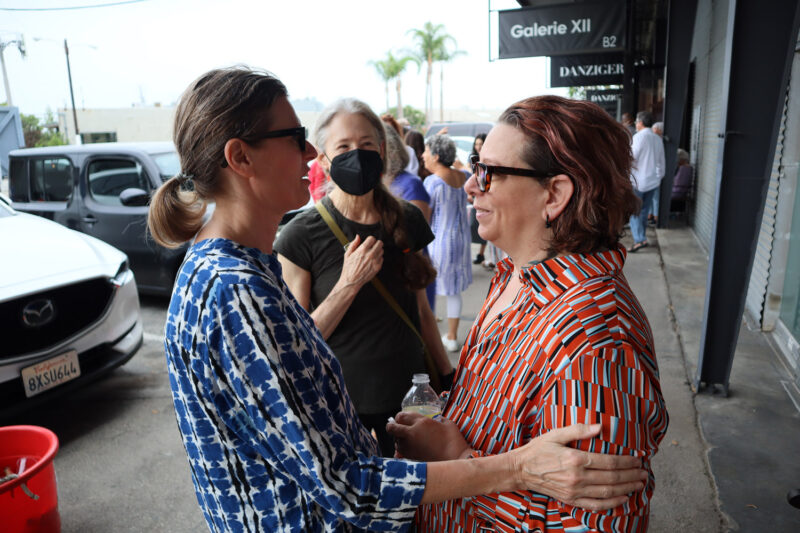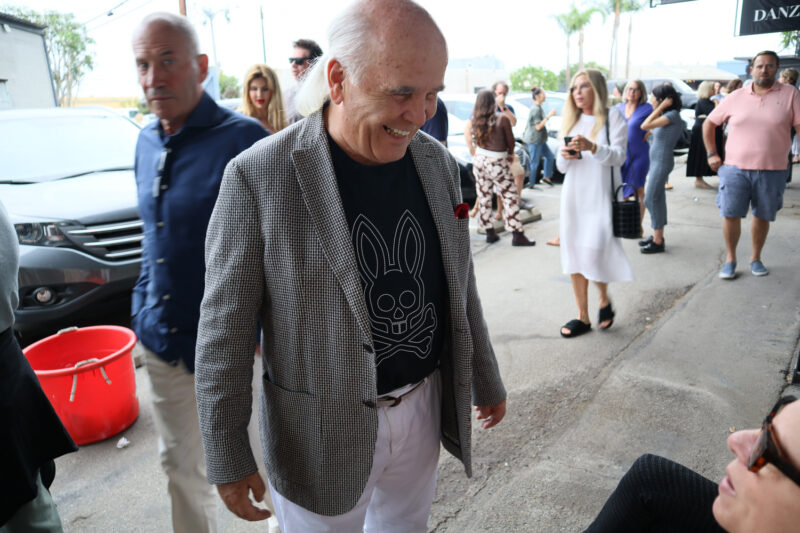 But my faculties were worn thin. I remember talking to very few people about the art itself. People said the work looked good, that the show looked great. That was nice to hear. Of course it was. Maybe it wasn't a good time to talk about the work any deeper than that, I don't know. I think I was just reeling.
All I know is that two hours seemed to stretch into a timeless void and go by all too quickly at the same time. This is the trouble of living in a nonreality.
I was able to sneak away for a smoke once. (Yes, I'm still smoking). But while I was gone, I kept getting texts from people inside the gallery who were trying to find me. I couldn't finish my ciggy. I had to get back.
There were times I was engaging with certain people and totally ignoring others and felt awful about it. I don't know how to navigate a crowd. I was having so much anxiety. To be honest, I feel like I probably squandered the whole opportunity. A year in the making kind of flushed away, or unwittingly self-sabotaged? I'm really not sure.
Just before I left, I saw art critic Peter Frank sitting outside on the bench. I had sent him one of my special promo boxes and asked him about it. He said he hadn't opened it yet. I felt a little let down and was too shy to ask him if he'd been inside to see the show. When I walked away, Craig was ushering everyone out of the gallery by then. The reception was over, so if Peter hadn't been in the gallery yet, that was that. Unless he comes back another time. Who knows? Maybe he will.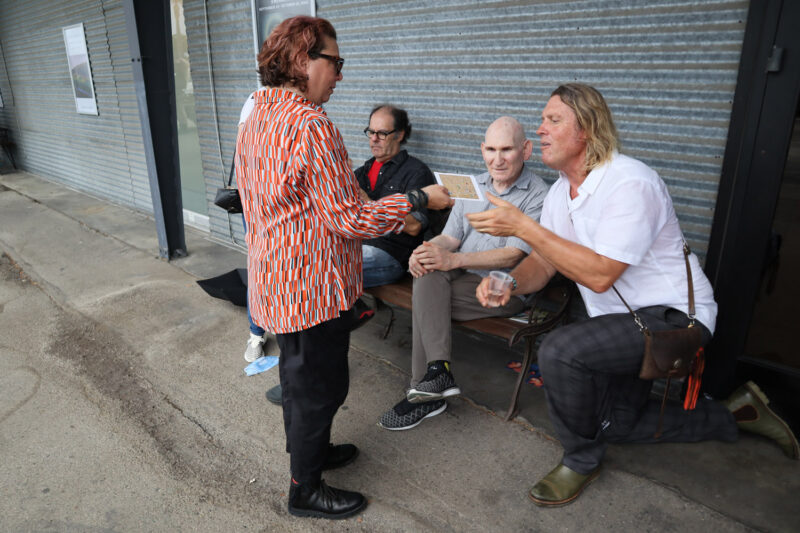 There were so many gallery openings that night. You just can't control these things no matter how much effort you put into them.
When we got back to the hotel, you'd think I felt a sense of relief, but there were a lot of conflicting feelings. I felt grateful, overwhelmed, guilty, spaced out, reeling, and filled with regret. I'm only being honest. I texted a few friends that I remember ignoring to apologize and thank them for coming to the show, but I still felt like an asshole for being stuck in other conversations—conversations I probably wasn't present for. People seemed not to notice that I did anything wrong. It's all in my head.
I get one more chance: the artist talk on October 1st, which will be Part III of this feature. At least I will get to talk about the art then. I just hope I don't blow it, freeze up, or get dumbfounded. I hope, when it commences, I don't get bombarded with friends trying to talk to me. I hope I get to talk to actual interested parties, potential collectors, people who want to speak to me about the art, and/or people who can offer opportunities. You know, work stuff. I need to better navigate these conversations and end them very quickly, especially with even more limited time.
Fingers crossed that no surprises arise this time. And I hope people will understand what I need to do. I think they will.