I've been working…too hard. I think I got overly obsessed. Manic. Laser-focused. Crazy. Now my back is tweaked.
Here is my entire Artist's book (so far) on a TV tray!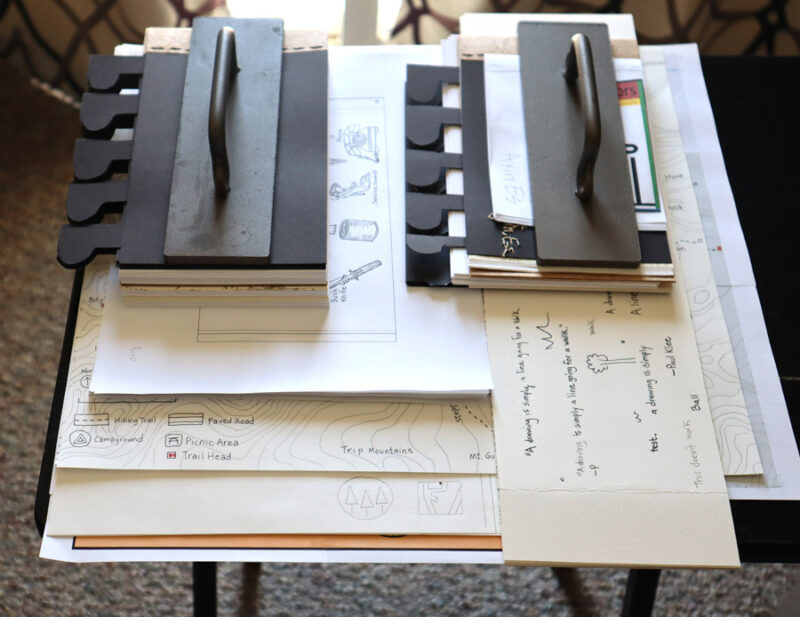 Outlander is starting to get close to the finish line. Sort of. Not sort of. It is. I just spent the last four days making the damn template for both the front and the back of the fold-out map. A lot of difficulties arose, but I did the best I could with what I had. 
I very much wanted to paint one side of it. For several reasons, I wanted to do that. For one thing, it would have been a helluva lot faster. But the paper I'm using is way too light. It's like a 50# sketch paper that's not precisely see-through, but it's not opaque either. Since the artwork is double-sided, it can't bleed through to the other side. That would not be good.
Also, the paper can't hold any water media without rippling. Also no good. If I used thicker paper, it wouldn't fold up like a map. You see, the map is going to be folded and glued to one of the book pages. Get it?
I'd dreamed of painting it so I could get bright color blocks on the text side of the sheet (map), but alas, no can do. I had to resort to colored pencils, which is going to take me forever. I'm not a huge fan of the look, but it is what it is.
It certainly looks handmade, which is how I want it to look. That's not the issue. I wanted the reverse side–the side that doesn't even face the reader, mind you–to look a lot more bright and colorful.
I have managed to finish one map so far, and here it is. This is the side that faces the reader:
And this is the backside, though the bottom, left quarter won't be visible at all, as it will be glued to the page: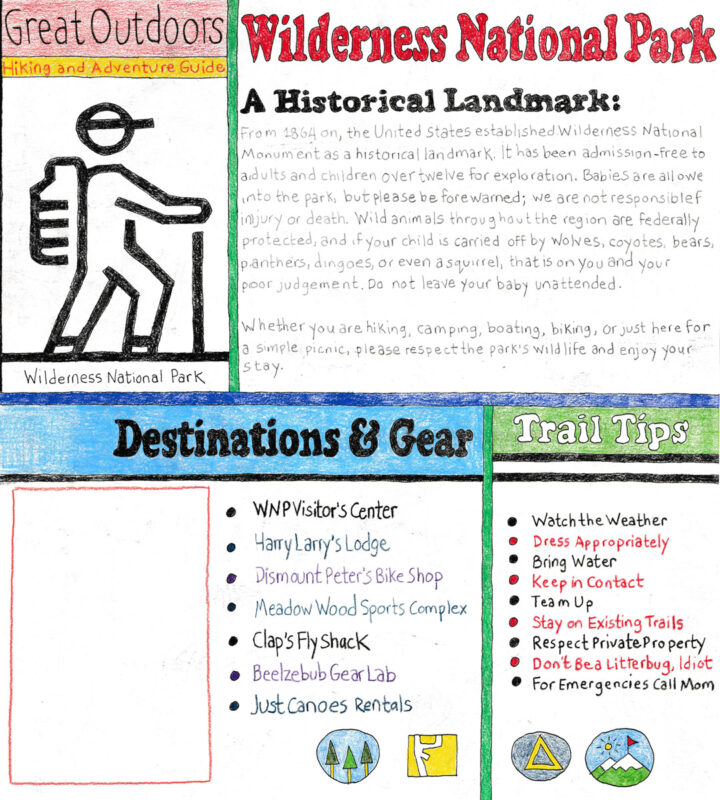 The upper left panel with the generic hiker (and "Great Outdoors") on it will be facing the page when the map is all folded up. All the text is not necessarily supposed to be read. It's just there as filler.
But anyway, I've been standing over my drawing table for days, hunched over like Igor, perpetuating my shitty posture. I am using the template I made on a lightbox that only utilizes a little more than a quarter of the sheet. (It's a small lightbox). I finally figured out how to attach the template to the blank paper and easily slide it around without taping it down to the lightbox itself. That only took a minute to figure out. (Duh!) If I didn't cut these to size, to begin with, I would've figured that out sooner.
I also made a mess of the first couple of maps. I thought it might be cool to color the topography lines. But that was really stupid because it made me lose all the itty bitty path marks and place titles. And that was the last thing I did–after I'd already made all the map lines, footsteps, placenames, and symbols. So essentially, I made a half a day of trash.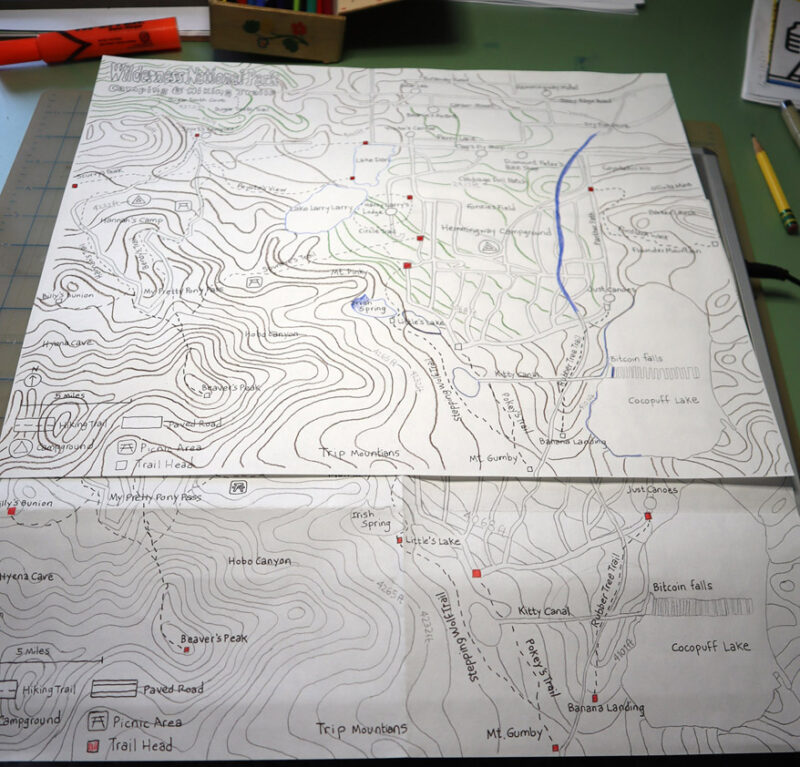 What a waste.
What did go well was embroidering the covers. All five of those are now complete. It didn't take as long as I thought, but it did some damage to my fingertips, pulling the needle through the cardstock. I had to start using plyers on the last one before my skin went raw.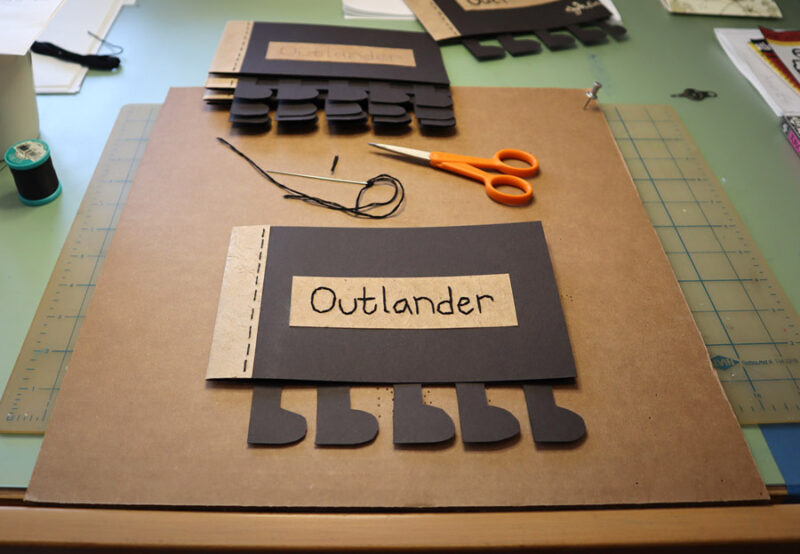 That's nothing compared to my back. I'd much rather complain about my back. Just in the last two days, I worked twelve hours without a break. I think I might be out of my gourd, or I desperately want to get this book done. Why? Part of me thinks I should get it done before I move onto making more watercolors for the Open Studios Tour this fall, or maybe having to spend all of September getting my garage ready for that endeavor.
Honestly, it might be a distraction from painting. Painting has been a theme in therapy lately. We've been addressing dark feelings, like fear and shame. Yea, you heard me right. Seems like those things shouldn't enter into my painting process, but think again. Painting isn't all guns and roses. Ha ha ha (made myself laugh).
Here's also a sneak peek at one of the centerfold pages. The others just have the footsteps leading up to the portapotty–something any lost hiker would be grateful for, like an oasis of sorts.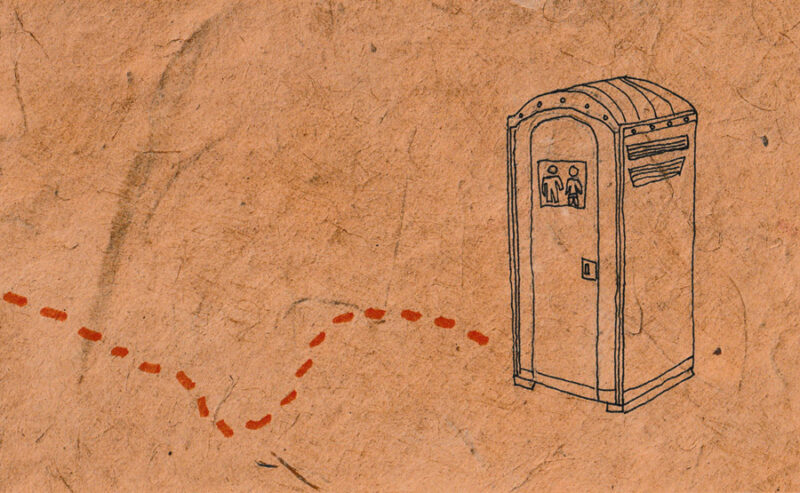 Also, here is the newly revised colophon. I had to tweak it slightly because the fold-out map was not painted and that's what it used to say.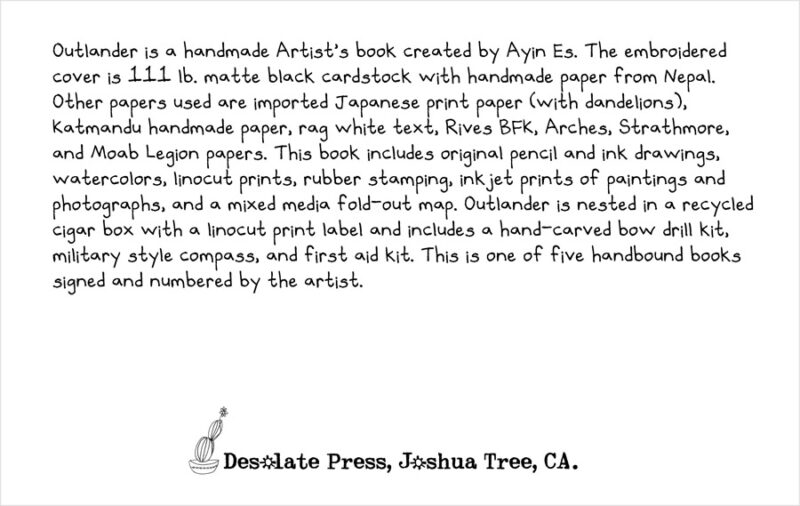 I also made this rubberstamp page and inked a print of the pencil sketch that will be watercolored one of these days in the not-so-distant future.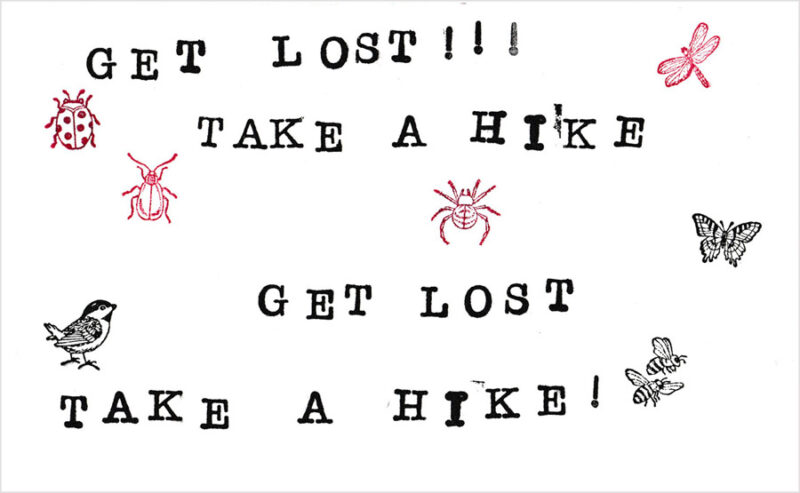 Once I'm done with the other four fold-out maps (which I probably won't work on consecutively to save my aching back), I don't really have too much more to do… 
Gotta paint those two watercolor pages (ten paintings). I have no idea how long that will take, but I might be saving that for last because it's the most relaxing part of the whole project. 
The cigar boxes still need to be spray-painted black. It's always so windy here. So, that's a waiting game. Can't do that indoors, ya know? But when opportunity knocks…
I have to print the lino blocks, which I can probably do in a weekend with Hannah's help. There are three of them: two in the book and one for the label on the cigar box. 
The block prints will be on Rives BFK paper, and on that same sheet will be a drawing of a bunch of hiker's odds and ends (I've shown that drawing on this post) and the handwritten story. I have to wait for those lino prints to be permanent before wasting my time drawing and writing in case any of the prints turn out crooked or something. It's all about how you time these things, right?
As for the handwritten story, I've posted it before, but I'm gonna end with posting it again. You know, for yucks.