My work is in Palm Springs but I'm in LA with the flu.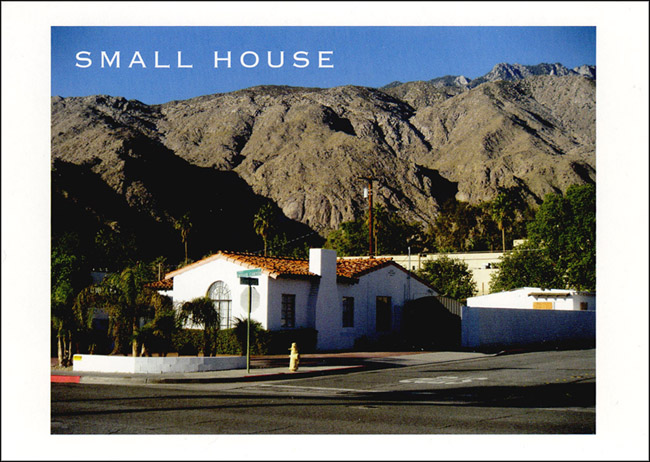 Believe it or not, I started writing a blog post well over a week ago about how I made some updates on my site and also about how I came into all the LA galleries that I have been involved with over the last 12 years, but every time I sat down to edit the post, I kept getting this nasty feeling in my throat and head. Then I'd get really dizzy and would have to lay down. It got so bad. I didn't realize that it was the beginnings of the flu from Hell. And now here it is.
I have been doing nothing but sleeping, so I will keep this short and sweet. Hopefully I will be able to edit this in one sitting because that's how out of it I've been. I have been missing out of everything. I can't work. I can't write, and I'm certainly not in Palm Springs right now, which was where I was planning on being right now.
I'm featured in two shows there. One is a "pop-up" exhibit called: SMALL HOUSE — February 11-14, 2016.
In a 1936 Spanish cottage on Indian Canyon Road dubbed "Small House," Craig Krull Gallery will present a four-day exhibition of six artists whose work focuses on themes of Palm Springs and Joshua Tree: Carol Es, Caroline Larsen, D.J. Hall, Jessie Homer French, and Julius Shulman. The patio area will feature music, a fire pit and libations.  In a tiny guest cottage in back, called "Very Small House," artist Rudy De Rooy inhabits a space that evokes a candlelit cowboy version of a Joseph Cornell box. This exhibition coincides with the Palm Springs Art Fair and Modernism Week.
The other show I'm in is called:
Oculus Clamantis in Deserto: Splendor and Disaster in the California Outback
at the Palm Springs Fine Art Fair's Special Exhibits  — February 11-14, 2016.
Curated by Peter Frank, this special presentation at this year's Palm Springs Fine Art Fair samples the work of several artists both local and Los Angeles based who have embraced the desert as a spiritual and/or social as well as physical site. They view the desert not as a wasteland but as a terrain as fragile and poignant as it is harsh and alien – an ecosystem stabilized by it's inherent contradictions and at the same time threatened by new ones.
Participating artists include Bill Leigh Brewer, Alexander de Cadenet, Carol Es, Doron Gazit, David Green, Mark Indig, Deborah Martin, Osceola Refetoff, Stephanie Schneider and Susan Schulten.
So I just wanted to get the word out about these shows this weekend before I went back to sleep. If you're in the high desert area, please check out all the festivities! It will be fun, I swear.
I will try to edit that longer blog post later today after I've had a nap, so stay tuned!
Thanks for reading!