Sometimes starting is the hardest part. I've been learning that lately more than ever.
My friend, artist Niki Ford, and I began collaborating on a new art project. I met them last year during the Hwy 62 Open Studios Art Tour. We've since been hanging out a ton, talking on the phone, texting, and playing show-and-tell.
We seem to talk about art non-stop. It's kinda freaky how much we have in common. We are both nonbinary and have a common artistic language. We've quickly developed a strong friendship and bond, so we thought it would be a great idea to start collaborating on something.
I thought this would be easy as pie. However, I haven't exactly done this before. Not with another artist in the same space. I work in solitude in the early morning hours and without any music. I'm pretty tidy, for the most part, too. Not every artist works this way. Understandably.
But so far, we are learning things. It was difficult for me to start the first time they came over. I stared at a blank sheet of paper, wondering what to do. I was overthinking. I froze up as if the red recording light had turned on like I was expected to perform at my best.
It wasn't Niki's expectation. It was all in my head. Like I said, I was overthinking. Meanwhile, they seemed free, as if they were furiously drawing whatever came to mind. I mean, it seemed that way outside looking in. I know I shouldn't compare myself to others, but I was doing just that. It happens.
For now, we've been working on collaborative drawings on paper. We've already learned that one of us should start something (on our own), hand it over to the other to work on, and then return it to the other to finish it. Between the time we hand over each drawing, we trade the one the other started, so there are two going at once. (For whatever reason, that was hard to explain.) Ha ha.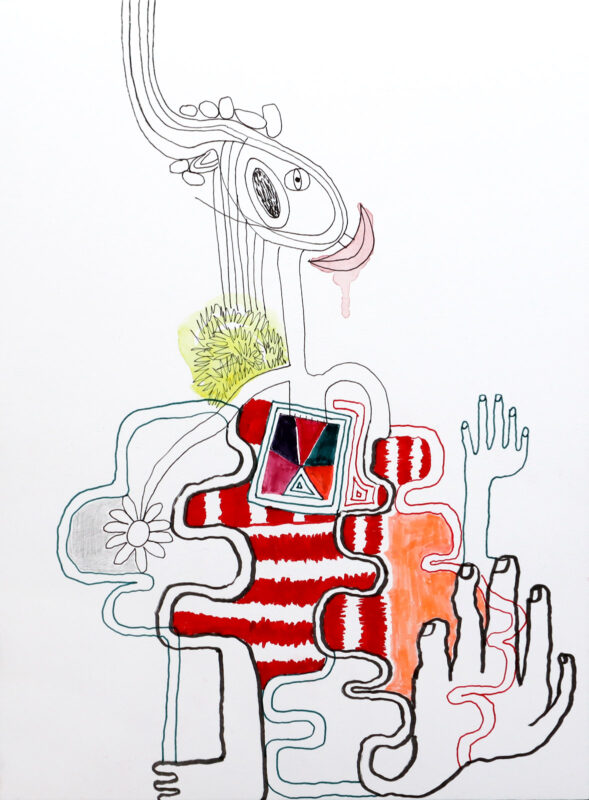 We are also doing some stream-of-consciousness writing and handing that over too. Usually, for me, this is how I get started with art. It's my "prompt" in most cases. It might be why I was sitting there with blank thoughts on that first day. I felt vulnerable and scared. And in my own space, no less.
But what's important is just to get started, despite being petrified of making something that sucks. That's what I ended up doing. I didn't like what I created, but that's okay. You keep going. What counts is I started. That's the hardest part. (It really is!)
I can't help but think about how I started working on my solo show. That wasn't completely easy either. It was a rough and rocky start. But once the first part began to line up, there was no stopping me. It was all written in the stars, just like that.
Maybe some people wonder how that happens. Well, in the case of my This Land show, the concept fell in line with the first few paintings. I suppose a concept, or a theme, is a good jumping-off point for me.
I'd already been interested in creating semi-abstracted desert landscapes—kinda surreal and wild with a little sense of humor and whimsy to them. They were a kind of fantasy in a way. It's because I live here now, and I contemplate the land around here and think about how it would be interesting if I ran across these things here, as it would not surprise me. It's a weird place.
But how to tie that into a concept? I wasn't sure. So I just started typing. I wrote down my thoughts and feelings. It was as simple as that.
At first, it was so abstract and super unclear. But in the meantime, I kept making paintings that interested me. I figured I'd tie it all together eventually in my writing, and I revisited the original essay periodically for a month or two.
Trying to get "perspective" on it all gave me the idea for the aerial pieces, which tied the rest of the work into assessing the land as a whole. That's when the drawing installation idea came together, and plans for that practically fell into my lap.
But that's when the budgeting began. That's one of the most complex parts of planning a solo show because I tend to get carried away. I don't particularly like settling for less. I want what I want, of course.
There's framing, and, of course, I can't not budget for that. Can I hang everything unframed? I suppose. Will I? No. I could back everything on linen and use UV museum glass. But that would cost almost as much as what I charge for the art itself. There was a lot to frame, and I'm not that wealthy, so they are all backed on fine, acid-free mats and UV Plexi. And some buyers tend to change the frame anyway. The frames themselves are very high quality, and all the works are floating inside. They look excellent. All that was pretty costly.
I also wanted a large, custom vinyl in my drawing installation, a promotional poster, a unique press package for VIPs, a small run of SAVE THE DATE cards, a couple of online ads to be posted during the run of the show, and to make a catalog in time for my artist's talk. More money, more money, more money! I wound up deleting plenty of shit because some plans might've been too ambitious and too much money, but it didn't stop me from wanting them and writing them down.
There's a bit of a time crunch on getting the catalog together because I'm not hiring my photographer (Alan Shaffer) until the day after installation. Then it takes a minimum of two weeks to get the catalog from Lulu completed and shipped, which cuts it pretty close. I gotta push to get those images from him in a hurry.
All these things have been happening a little at a time, jotted down on a giant list of "things-to-do" in chronological order, even paying for everything, including several trips out to Santa Monica.
In any case, I consider doing all these things necessary to create a successful show. It's all a risk I need to take. But my point of all this is that I had to start somewhere. You start with an idea, even if it's fleeting, and begin making a plan to carry it all out. I honestly didn't know how I'd carry out most of these plans, but I wrote them down anyway. Sometimes, that's all that's necessary.