This is the second installation of STUFF! the saga of my needing to get rid of my stuff–in a hurry. It started yesterday in my first post called Help Me Help Myself! where I began to beg, well, I don't know if I was really begging, was I? I think I'm really just informing people of needing to get this stuff out of my life and that there is a lot going on with my life at the moment. I will eventually speak about it, but I don't want to right now. I also don't want my issues to motivate anyone in taking my crap off my hands. Take it because you need it. Okay, take it for any reason you need to.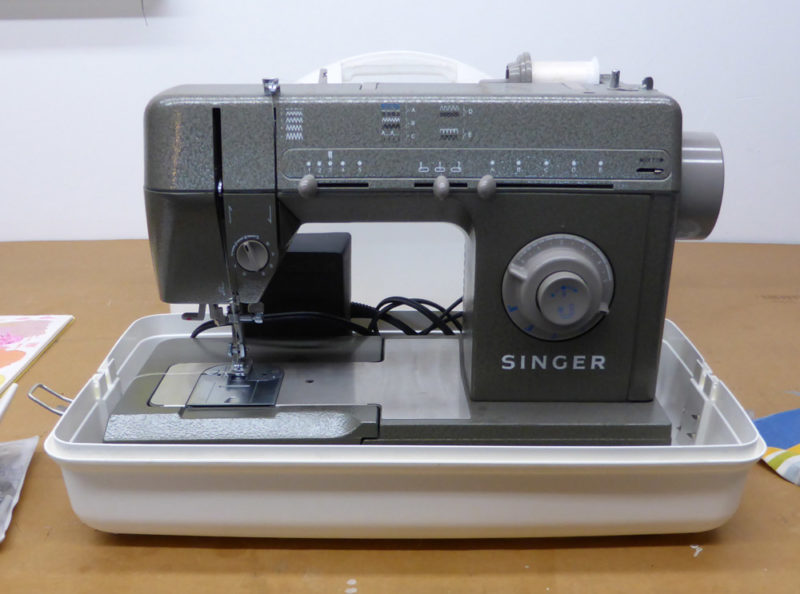 Pictured above is an all but brand new Professional Model Singer HD-110 C Heavy Duty Electronic Sewing Machine. What a mouthful. It has a hard plastic case too. Comes with everything. It has 10 built-in stitches, a top drop-in bobbin and a twin needle for two-color sewing.
Put your petal to the metal and sew like a pro, yo! At a thousand stitches a minute, even when doing a circular stitch, you'll be stitchin' equal to commercial speeds–wooosh! It has a standard needle threader, a 4-step buttonhole, extension bed and free arm features: a clear acrylic extension bed, which is 20″L x 15″D with a 16″ ruler imprinted on it. There's a stainless steel bed plate and a light—that lights up! Other accessories include eight presser feet, bobbins, spool cap, assorted needles, twin needles and the instruction manual, of course. What I'm telling you is that nothing is missing!
I would love to get $150 for this thing because it is in excellent condition. You don't even want to know what I paid for it, but I realize I can't get what I put into it. But let's talk. If you want it, let's just talk.
Next!—
I'm also selling this 1940s Underwood portable typewriter, in it's original carrying case.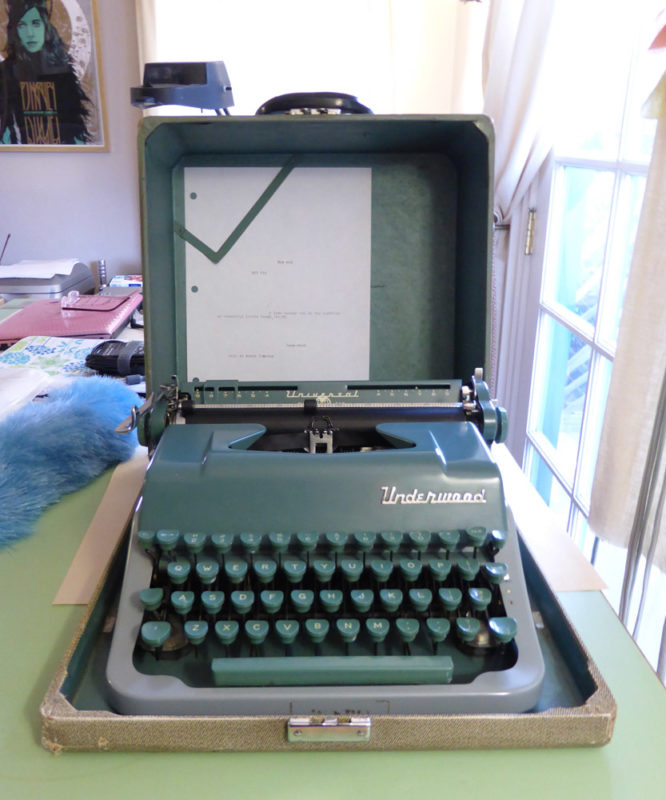 This thing is very clean, very cool and in perfect working order. It's also heavy, so good thing it's in the case that has a sturdy handle. A lot of these did not survive like this one. The case is in good condition, just a little worn, as expected for its age. A little discoloring. I think it's a damn baagan (use Boston accent) at $100. Seriously.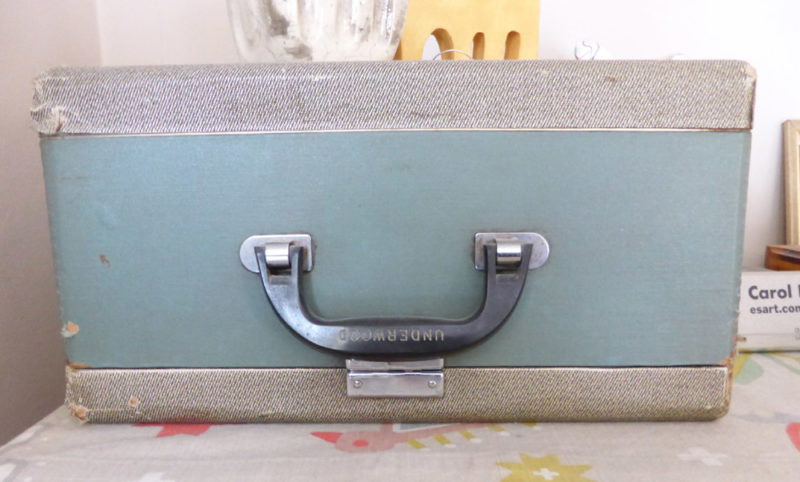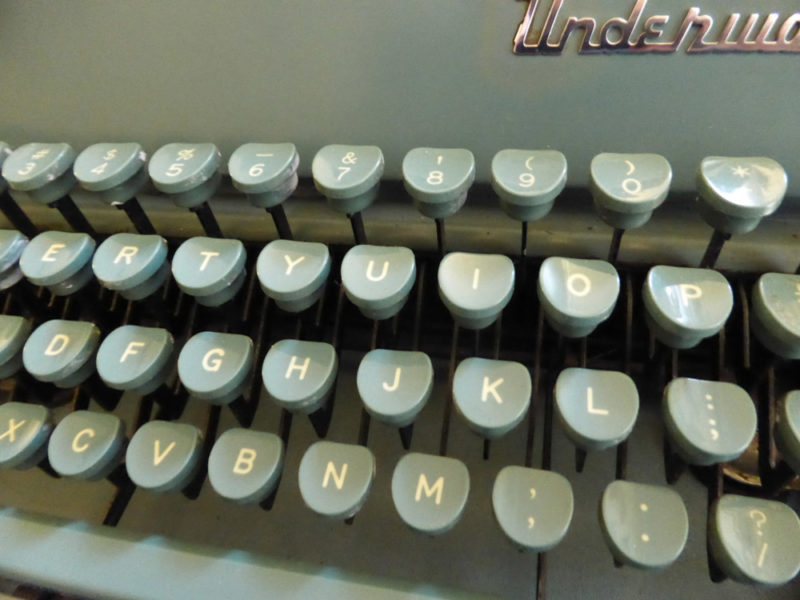 This is the same typewriter I used to make Horsebucket in 2008–one of my handmade Artist's books. I am crazy because I made an edition of 50, 24-page books, and typed every single page of every single book on this typewriter.  If you buy this typewriter, you'll get a book (that is, if you want one).
In fact, if you want anything I am selling, you can pick something of mine out (from a group) if you want it. Please, do not take it if you do not want it, or to be polite. You will not hurt my feelings. I repeat, you can not hurt my feelings. Please, don't want? Don't take. These pieces need loving homes only. So, these would be NO CHARGE.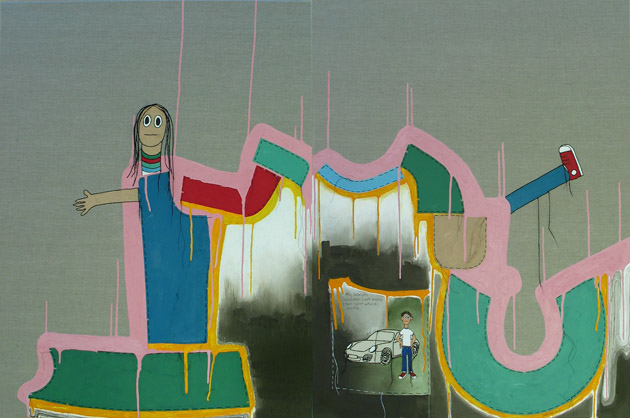 Also, if you don't care for my art, make your own. I have some blank (although in need of dusting and maybe a last coat of primer) canvases I'd like to sell too. I have a few panels too. But I think I have to go now. I'm wearing incredibly thin, but I want to get as much communication "out there" as I can so I can feel just a tiny bit better about my predicament. I'll figure out the prices I will need for the canvases and the panels soon. For now, I have to get back to stressing out, breaking down, losing sight, and getting lost.
See you in crazy town.
Oh, and there are still more things to come. Cameras are coming. Lots more STUFF!