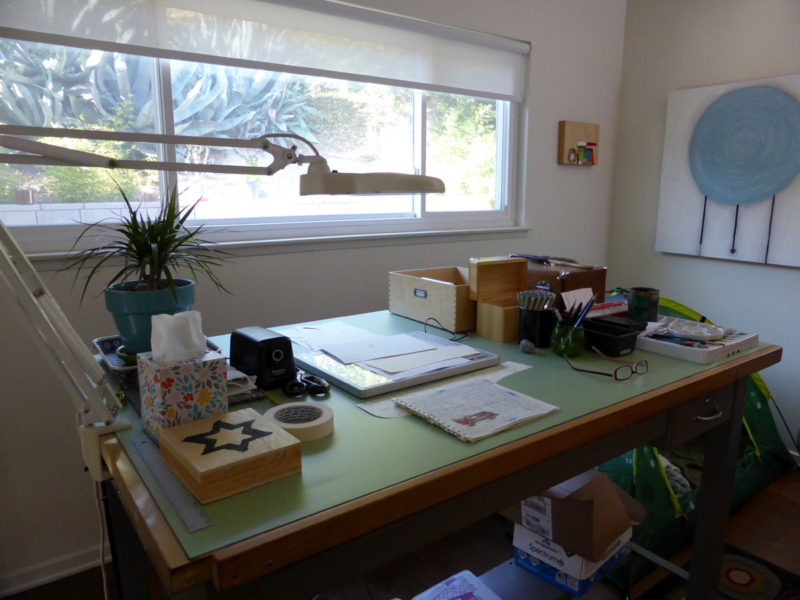 What on Earth? Time keeps ticking. I keep losing it. My deadlines are fast approaching and my "ToDo" list stays relatively the same: around 25 things I have to do (right away!). Every time I turn around, I forget that I have to add something. At least I'm set up to work on the last of the drawings now. This table was an absolute catastrophe yesterday. Now it's all better.
I woke up this morning a little bit before my usual 4:00 am and worked on those drawings a bit, but then I had to make the page for my show with the basic PR on it HERE. I still had to Tweet and shout about the article I wrote for Anthony Avina's blog. He posted it yesterday and I've been remiss in spreading the word. I wish I had an assistant who would work in exchange for hearing my complaints! Ha ha!
Most of my books are arriving today: all the paperbacks for the opening and all the special edition copies. The hardcovers are still printing.
Those individual Journal Project drawings must be done before FRIDAY, not the 20th. My framer needs them ASAP. So that puts a big wrench in things too. I only really have to make eight, but I only have six hours of energy a day, truthfully. I fade around 1:00 pm. I can hardly keep my eyes open and need to take a nap. I have to. I kind of pass out. It's funny, in a way, all last year I did not sleep. All the while I wondered if I could die from that. I was a bit baffled how a person could go and go without hardly any sleep and not have something very serious happen to them. Now I wonder if these sleep attacks are what has resulted from a year+ of sleepwalking through life. I should look into it and see if there are studies on these things.
Anyway, I still have to make web pages for purchasing the books on the pub site, update the news on there, and the news page on esart.com, as well as update the Shrapnel site in general. Updates up the yin yang.
I'm also about to post something somewhere about my virtual book tour. What's that? A book tour? A virtual one? What?
That's right, I'm doing a three-week blog tour beginning April 4th, just a couple days before my book goes on sale on April 6th. The tour will go nearly everyday from the 4th to the 26th. Soon I'll post all the dates of when and where, so stay tuned. And I have to prep for that as well. More time I need, but don't have.
And then there's the newsletter. That needs to go out before March 21st and I only just started compiling. Finishing all the little watercolor paintings that go inside the special edition books need to be finished by April 6th, and the last oil painting for the show needs to be done and dry before April 9th (installation at Craig Krull Gallery).
I'm not even giving you my whole list. But now I'm starting to get very sleepy!
Talk to you soon.