As usual, I've been up to no good. That's "slang" for being overly busy.
For the past couple of weeks, I've been working on various aspects of the THIS LAND show, specifically the drawing installation wall. This part will feature (primarily) prints of small preliminary sketches of the paintings from the show and photographs of Joshua Tree.
At first, I wasn't planning on using any original drawings, only prints. The main reason I'd planned it like that was because I didn't want to sell anything with tape or tack holes in them. I'll be strategizing a way not to put tape on any original pieces. Not a problem really. But I still don't want that wall to be for sale.
All of these pieces will go on top of a few area maps next to a large black silhouette of a Joshua Tree—an ink drawing I had made into a vinyl decal. So, I've been busy gathering, creating, and printing the drawings, taking photos, and searching for maps. All have been time-consuming. Explaining how all this is going to look to my gallery had been kinda abstract, so I made a very rough mock-up in time for Craig's studio visit last Tuesday and showed him my giant folder of all the paper pieces that were going on top of the maps.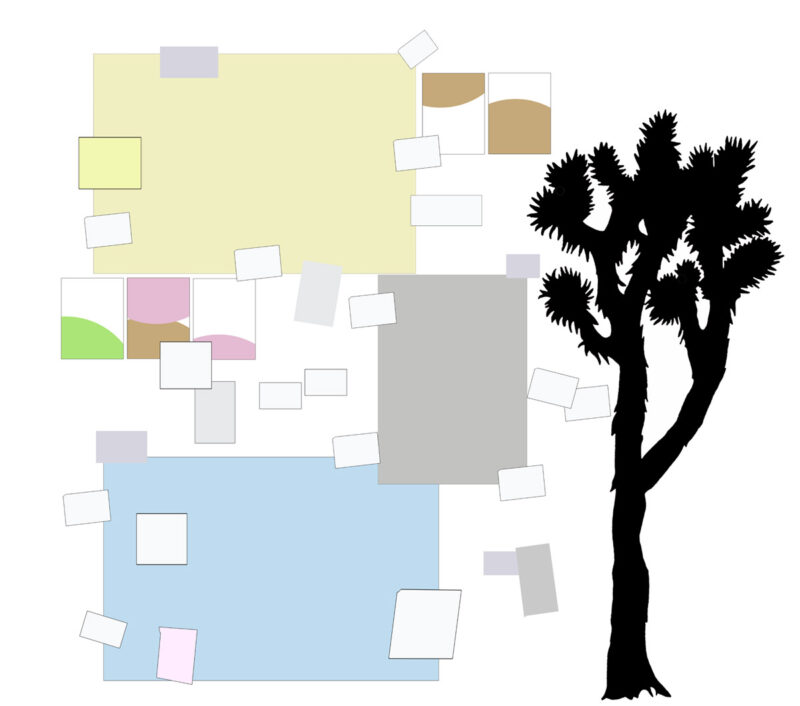 Then Thursday, I drove to LA to see my good friend's art show and pick up my framed artwork from Jeff Kies the following day. I picked up seven works on paper, two of which are going in a group exhibition called HIGH DESERT CARNIVAL taking place at SIP Art Space Gallery in San Marcos (near San Diego) in July. That show is being curated by Anna Stump, another high desert artist who lives in Twentynine Palms.
Thursday night was incredibly super amazing seeing my friend, Niki Ford's exhibit, KNEELING AT THE MOUTH at The Lodge. This show runs through June 18th and it's really a must-see! Niki is a ceramist and mixed media genius who makes some of the most inspired and authentic pieces of art I have seen in years. It's gritty, it's honest, and the work is ageless, yet child-ful, spiritual, and exciting. This goes for both their ink drawings and the ceramic pieces.
Their sculptural vessels are like beating hearts with ventricular magic pulsating in every artery flowing in and out of their own universe. There is an innovative, Zen-like world that lives inside every nook and cranny that seemingly passes through Niki's fingers as they push their distinctive marks into the clay, molding something raw and pure in every indention.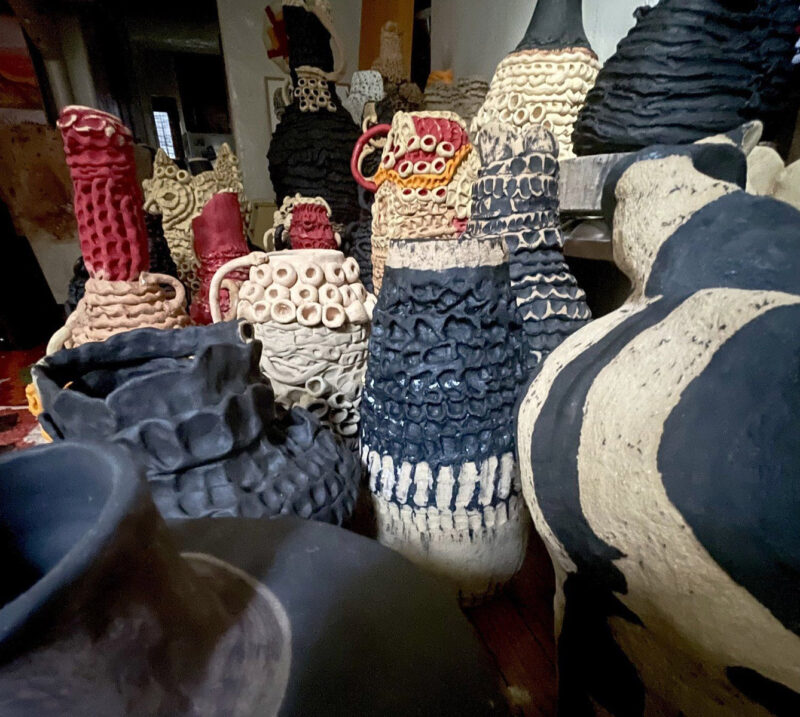 And I can go on and on! I'd love to own several of these beautiful objects if I could.
I met Niki during my open studio last October and they bought one of my large paintings. Needless to say, I was thrilled and we became fast friends. It was great to meet another queer, nonbinary friend in the desert, as they split their live/work time between LA and Landers. And with Niki comes their other friends who they were nice enough to introduce me to. I've been lucky in this way. Truly lucky, as each of them have been the most lovely people ever.
Saturday I had a studio visit from a couple of my collectors from Indio and they pre-purchased one of the pieces from the show. They will lend it back in September so I can still exhibit it, as I feel it is one of the better pieces. It is a 22.5 x 30-inch watercolor on Arches called Worm Family Home.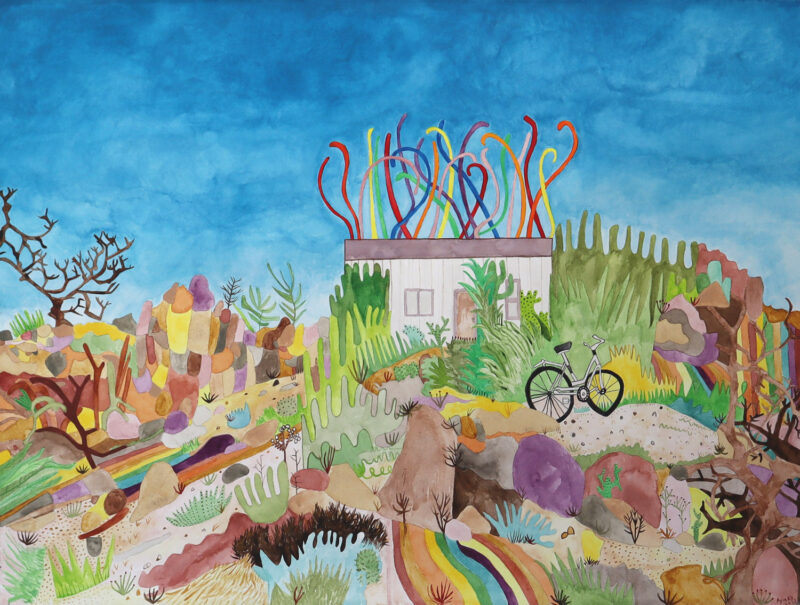 I only have two last oil paintings to do now and then I'll be pretty wrapped up, but each will take some weeks to do, and both much be fully dry by August. Once I'm finished with those, I can start focusing on promotion and prepping everything. And I still have to work on the entire composition for the drawing wall. I'll have to work that out on the floor, take pictures of the layout, and bring them with me on installation day so I have some kind of a map to work with.
I'm also thinking, that if I get to be way ahead of schedule, I can start experimenting with a new goal—something that's been on my mind for a long time. I mean a really long time. I've put it off for long enough, ever since the brainstorming for THIS LAND.
It goes way back to the beginning of Covid when I started those grocery bag pieces. I'm not exactly sure if I want to add to those or not, but I most definitely want to do a series of abstract paintings based on those compositions, whether I fail at them or not.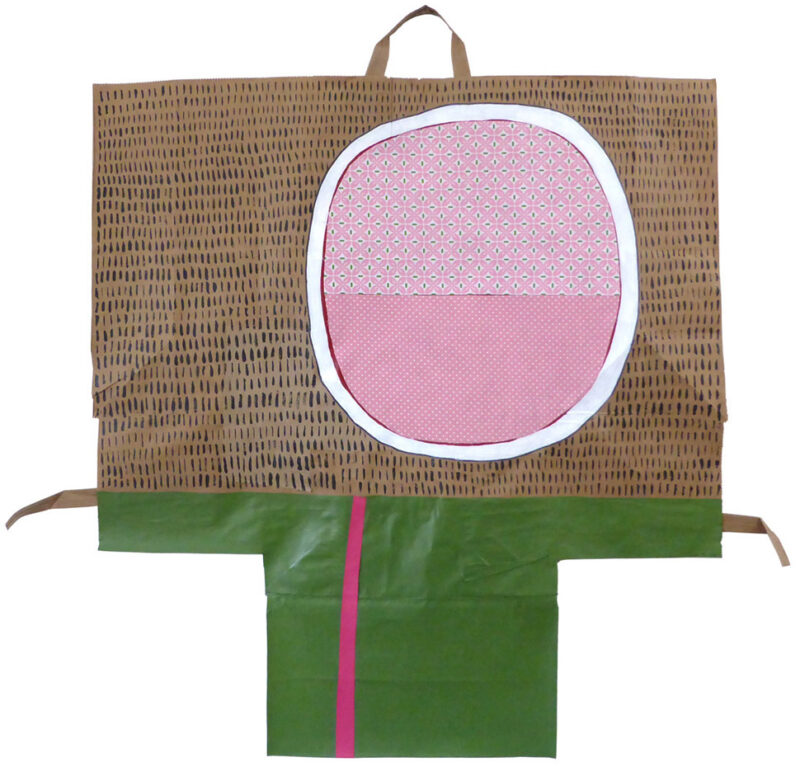 The fact that I've felt apprehensive about doing them is all the more reason I want to embark on them. I've been keeping a special sketchbook that's dedicated to these ideas and add to it every few days. There are bound to be a few that are workable. I hope and we'll see.