I'm glad the holidays are over, other than the fact I'm not able to spend as much time with mjp. He gets more days off on xmas and New Year, and then it's back to the grind again. I should be back to painting, I guess. Or, at least I should be doing something else instead of what I have been doing, which would be what, I'm not sure, but I should be doing something else instead.
Some of you might be wondering about the new dog, Ruffles. Do we have her? Is she coming? Did we meet her? Did we pass the audition? Perhaps you couldn't give a shit. Too bad, I'm going to fill you in anyway.
We got our home check right before Christmas from I.C.A.R.E. Dog Rescue and were approved to adopt, provided we get a couple things fixed first. Of course, we'd already planned on fixing those things. Her doggie door situation isn't set up yet because we didn't know what size dog we were getting. We have to install a custom-made dog door below a dual-pane glass insert for a sliding window. It also needs to be an electronic door that gets activated by a chip she wears around her collar.

A few days after the home check, we drove out to Orange to meet Ruffles at her foster parents, Chrissy and Scott. Ruffles was a little scared at first, which didn't seem like a great sign. I began the meeting a little sad and let down, but she was still so adorable. Then, not even two minutes in, she was calm and she kept staring at me. She stared at Michael too. She got really comfortable, stayed laying at my feet, gave me kisses, and asked me to pet her tummy. All great signs. She seemed to like Michael too. She let him pick her up and she kissed him. A number one prerequisite is that our dog must like Michael just as much as she likes me.
Check.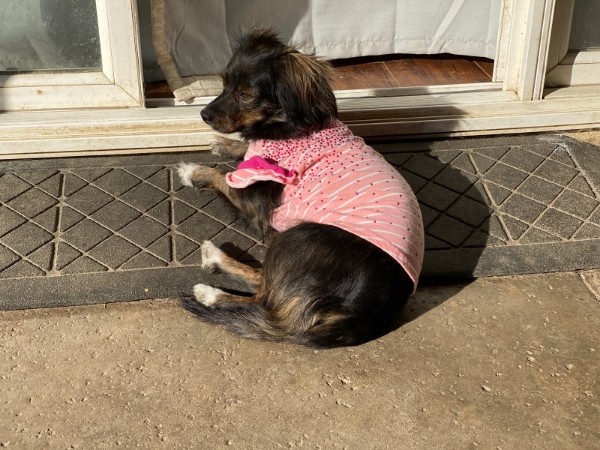 We had a nice visit. Ruffles's foster parents are so sweet and loving. Her foster dad, Scott is in a wheelchair and Ruffles sleeps with him. They are adorable together. The family also have a few Golden Retrievers there, and Ruffles plays with them. Chrissy is always sending me cute videos of them rolling around together. Ruffles likes to steal everyone toys. She hoards them and piles them up in her own area, then falls asleep nearby or underneath them to perhaps guard them. She's so funny.
We couldn't take her home with us on the day of the visit. We wanted to be 100% sure, plus we didn't have the doggie door ordered yet. But, by the time we drove the two hours back to Joshua Tree, we were certain we wanted to be her forever family.
The following morning, we found out how long it would be before getting the dog door. A long time. 🙁 At least, it feels that way. We can install it on Tuesday, but Wednesday I'm at the doctor all day, so we can't go get Ruffles until Thursday. Until then, all her adoption papers are complete and she's ours.
To bide my time, I guess I've been on a roll writing a lot of short stories. Nothing on the novel, but I'm about 35,000 words into twelve short stories now, which would make for a pretty good size for a small collection. That is, once they're all fully polished. Some of them are and some need some work, but they're coming along.
I guess I got a huge boost of confidence when I got some great news on New Years Day that one of my stories was accepted into Santa Ana River Review, a publication out UC Riverside. It should be showing up in the FALL/WINTER Issue of 2020. And my artwork is now up in the current issue of Lunch Ticket: here. That publication is out of Antioch University.
Oh, and I get to finally show the little Thomas Bros. map page commission I did for a little boy's room during Christmas. I made sure I didn't have it showing on my site until after the holidays, because I didn't want to spoil his surprise. So, here it is:
I keep meaning to get back to painting proper, but I still haven't. Just doing lots of writing instead. I guess that's not the end of the world, right? That's where my mind has been, only I'm a little on the fence about my current writing plans in regard to the novel I'd been working this past summer.
I'm wondering if I should start breaking it apart and rework the sections into short stories instead of making it a book, then I can add them to the collection I'm working on now. I'm actually leaning that way for a couple reasons:
I'm about 30,000 words into that novel (Queer as Mud), but the whole thing is, more or less, written in vignettes. Some parts are more fictional than others, and I don't mind having a hodgepodge of genre in a book of stories: memoir, fiction, even fantasy. AND the title, Queer as Mud, could still essentially work for either book no matter what it is.
I'd just have to find a better cover than this: